treocentral.com >> Products & Reviews >> Accessories
Palm Pen/Stylus replacement combo 3 pack For Treo 750 and Treo 680
Overview
The Stylus Pen combo is a simple and effective tool. In the package you get three replacement stylus/pen combos for the Treo 750 and three extra uppers for use with the Treo 680.
Design
The stylus pen combos match the design of the stylus included with the Treo 750: a plastic black upper body and a metallic lower third with a black plastic tip. However the replacements are more of a matt black than a glossy black, though youíd be hard pressed to tell the difference. The black plastic tip is exactly like the one it replaces. Itís smooth and easy to work with. In the Pilot 1000 days, the screens were prone to scratching and pitting. Palm replaced screens for free if they were still under warranty. At least that problem is far behind us. Still, you should always use a screen protector.
Functionality
Unscrew the tip of the stylus to reveal a small pen tip. Itís just basic black ink, but it will get you out of a lot of jams. Iíve been a huge fan of the stylus replacement combo for a long, long time and I consider it an essential accessory to any touch screen device. Iím often caught without a pen and have used this in many a situation. Is it extremely handy, yes it is. Is it perfectly comfortable? Of course itís not. Handling a pen the diameter of spaghetti is never the best option Ė itís the best option if you donít have another choice. The only other problem Iíve noticed is that itís easy to lose track of the pen cap once unscrewed. With the older Palm/handspring models, the cap would snap onto the other end, however new styluses are designed differently.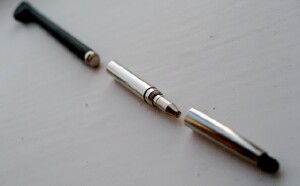 The stylus also unscrews at the middle allowing you to swap out different sized tops and these work with the Treo 750 or 680. Youíll need to make sure the middle is tight enough so you donít accidentally unscrew it.
If youíre shopping here at TreoCentral, throw a set of these in your basket. Jay Gross recently reviewed the multi-colored replacements, but the ones he reviewed are not multi-function. Also, he found the replacement did not fit flush with the Treos he had on hand. With the combo stylus, it is a perfect fit. Iíd always recommend substance over style any day.
A final note. Only once have I ever run out of ink back in my Visor Deluxe days. Youíll certainly run through your device before youíve either run out of ink or have lost all of these styli.
Conclusion >>
Copyright 1999-2016 TreoCentral. All rights reserved : Terms of Use : Privacy Policy

TREO and TreoCentral are trademarks or registered trademarks of palm, Inc. in the United States and other countries;
the TreoCentral mark and domain name are used under license from palm, Inc.
The views expressed on this website are solely those of the proprietor, or
contributors to the site, and do not necessarily reflect the views of palm, Inc.
Read Merciful by Casey Adolfsson