treocentral.com >> Products & Reviews >> Software
Mercora M: new source of tunes for WM5 Treos
Overview
We have AM, FM, satellite, and Internet radio, plus iTunes, Zune, Napster, Rhapsody and more for music downloads. Now we have a whole new source of sounds with a suite of products known as IMRadio and Mercora M.
Mercora is an ambitious undertaking with a new concept. Mercora's goal is to catalog the largest collection of music and artists ever assembled online. Mercora M only works with Windows Mobile 5 devices, both Pocket PCs and Smartphones. It performs as a tuner that connects you to what is obstensively the world's largest legal online music radio network. People acting as DJs and artists themselves create the content in hundreds of diverse genres.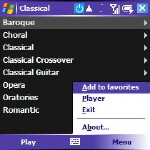 If you ever wanted to be a DJ, here's your chance. You can Webcast music that has been ripped from CDs or downloaded from any other network—as long as you legally own it.
Listen to music in near-CD quality from all over the world live. You can search for the artist, song, or album, and save it as a favorite or put it in your library. Once you have found the music you want, you can find similar artists, read artist biographies, and view artist images. You can listen to music residing in your library on your desktop remotely. You can also listen to friends' music through mutual agreement to expand your musical horizons using this universal tuner.
Mercora M is also setup to allow you to chat with current friends and to make new ones online to discuss your favorite artists. You can tailor the tuner to your specific tastes so that it will find your favorite kind of music and play it for you.
Mercora boasts that its specialized OGG/Vorbis encoders/decoders produce higher quality sound than MP3 and WMA formats.
You can download Mercora M mobile version and its companion IMRadio desktop version. The desktop version acts as a client for the mobile version in some respects and behaves a bit differently. For instance, you can only add friends by using the desktop client. While the desktop version will continue to play music in any given genre or search results, the mobile version stops after each song has played, and you have to restart it to play another selection, which is annoying.
Mercora supports Internet Explorer 6 and beyond, plus Firefox 1.03 and above. But you must download the ActiveX Plugin for Firefox and the Mercora Music Search Firefox Plugin.
All of this functionality is free during the Beta phase, but there will be a very reasonable charge for this service when it comes out of Beta: $4.99 per month, $14.99 per quarter, or $49.95 per year. Mercora expects that because this price is significantly lower than any other music subscription service, that subscribers will quickly embrace it.
MercoraM $4.99-$49.95
Remember to download the Pocket PC version, not the Smartphone version: WM5 Treos are Pocket PCs, not Smartphones.
Observations >>
Copyright 1999-2016 TreoCentral. All rights reserved : Terms of Use : Privacy Policy

TREO and TreoCentral are trademarks or registered trademarks of palm, Inc. in the United States and other countries;
the TreoCentral mark and domain name are used under license from palm, Inc.
The views expressed on this website are solely those of the proprietor, or
contributors to the site, and do not necessarily reflect the views of palm, Inc.
Read Merciful by Casey Adolfsson