treocentral.com >> Stories >> Special Reports
Live from MacWorld: Steve Jobs Keynote
Michael Ducker, live from Macworld SF
Last updated: 1:00pm, PST
Welcome to Macworld SF! TreoCentral's Michael Ducker is live on the keynote floor in San Francisco for Apple Computer CEO Steve Jobs' much awaited keynote. Much of this news may not be Treo related; however, the possibility of a phone by Apple would be worthy competition to the Palm Treo, and thus of great importance. And, a good portion of the TreoCentral userbase uses Macs, so sit back and enjoy the show.
A photo gallery of the event, including photos of the iPhone UI and hardware has now been posted on TreoCentral
Thanks for following TreoCentral live from Steve Job's Keynote at MacWorld SF. The live coverage has ended. Look for us to update this article with images soon, and then have a followup article later in the afternoon.
John Mayer is coming on stage to give a performance to end the keynote.
Wrapping up. Jobs is reminiscing about Apple Computer. "Thank you very much". Crowd gives a standing ovation. Jobs has Apple employees stand up for recognition. Now he thanks the employee's families. Job's entire family, including children, were earlier seen walking to the keynote.
Jobs is now announcing that Apple Computer, Inc, is renaming themselves as Apple, Inc, to reflect their new ventures in iPods, Apple TV, and iPhones... as well as the Mac.
Jobs handled the tech hiccup very well and resumes. The normal mobile phone market is huge. Apple's goal by 2008 is to have 1% marketsahre = 10 Million units (957 M phones out total out there).
Job's is adlibbing. "when I was in highschool, Steve Wozniak and I -- mostly Woz -- would make a tv jammer device. And just as they went to fix it, Woz would turn off the jammer. And he would repeat doing it until the person was ready to throw their tv out the window.
Job's clicker (slideshow controller) died, as well as the backup clicker. Someone is sure to lose employment.
Jobs is back. While the iPhone "runs" OS X, Jobs has made no mention of how developers can use any of OS X's features/apps/existing stuff in the iPhone.
12:53pm Sigman: "Apple and Cingular have a multiyear Exclusive partnership. The new iPhone is only available on Cingular services. This is not an MVNO. Ours is a unique relationship that allows Apple to be Apple, and Cingular to be Cingular. Our customers will benefit from the companies that they already know and trust what they have to offer. Apple, Cingular, and AT&T have come a long way, and now are picking up the pace. Today, Cingular and AT&T are working together to provide our customers to provide the most innovative, relaiable, and enjoyable service in the industry. This is going to be a terrific ride."
12:50pm Sigman: "Cingular signed the exclusive product with Jobs, years before they saw the device. Wow, you've exceeded my expectations." Now Sigman is talking about about the new AT&T, and how the Cingular and AT&T combination with makes the perfect match for the network Apple should use.
It is an exclusive on Cingular. Jobs talks about innovating together, such as visual voicemail, being a feature of this collaboration. It will be sold through Cingular and Apple stores. Jobs brings Stan Sigman, CEO of Cingular on stage.
Talking about pricing now. Jobs mentioned Palm's 750 launch. 4 GB/$499, 8 GB/$599. Shipping in June. It is not FCC approved yet, "wanted to introduce it themselves". Europe in 4th Q, Asia in June. It will be launching on Cingular with 2 year contract.
Doing recap now. Jobs claims iPhone incorporates 200+ new patents.
5 hours of battery life when used for talking, video, web browsing. 16 hours of music playing. There does not appear to be a user replaceable battery.
Apple is launching stereo headset headphones, and a (mono) bluetooth headset.
Jobs is comparing iPhone to all other operating systems. The iPhone looks nearly identical in all major interfaces, except web and music, where the size of the screen and artwork comes into great play to help it out.
Another demo, this time of using the internet, phone, and ipod at once. Currently playing music. A phone call comes in. The music fades out, the screen changes, with the default ring-tone playing, and your wallpaper in the background. When you're on the call, a green title bar remains in all apps that says "Touch to return to call, and the duration". Jobs demos finding a photo, and emailing it to Schiller while on the phone with him. Jobs now goes online (Wifi allows him to do this) and looks at Fandango.com. When jobs returns the call, he hangs up. And the music fades back in, right where he left it.
12:37pm Yang is done giving his testimonial. It's impressive that Jobs got both Yahoo and Google on stage in succession. ;)
Yang: "It's like having a Blackberry, without an Exchange Server" [A very apt comment, as consumers don't have or want Exchange.]
Steve again. You also can't think about the internet, without thinking about Yahoo. Yahoo powers the email, as well as yahoo search. They have Jerry Yang, cofounder of Yahoo, now on stage.
Schmidt: "Steve, my congratulations to you, as this product will be hot."
12:33pm Working with Google, we have Google Search. We have been working very closely with them to make this all happen. It is my pleasure to have Eric Schmidt on stage.
According to an iTunes screenshot before, the phone has 8 GB of presumably flash memory.
[Steve has a lot of hyperbole in his speech, as would be expected. The phone is beautiful, but it will have to be seen how great the touch-screen keyboard actually is, as well as the browser, email, etc. With the lack of corporate email (IE Exchange), it will have difficulty appealing to corporate users.]
Engadget and MacRumors also have great coverage (including photos... they must have more then one person on the show floor ;)
Google Maps is gorgeous on the iPhone. Just like on the Treo, you can view by map and satellite. Search results show at the top. It has nice animations going between screens, such as a pin drop effect for search results. Steve just prank called Starbucks, asking for 4000 lattés to go. Double click/pinch to zoom in. It does not appear that there is GPS capability. Honestly, it's not much different from the Treo version.
Widgets allows other programs to run. The weather, and stocks look identical to the current Dashboard widgets on OS X.
Tabbed browsing keeps all previous pages in memory. Rendering is VERY fast, much much faster then the Treo. It appears that they are downloading the data over the wifi network. (As opposed to Cingular Edge)
Safari web browser uses a lot of screen space of interface. It will render the whole page first, and automatically convert to landscape if you switch to landscape. You can zoom in on a page by pinching, like with photos, or double tapping, and Safari will automatically show you the relevant section, where you can then scroll around with your finger. The text looks barely readable when it is full view. It has tabbed browsing!
12:30pm: Email allows you to have split view, as well as showing the mailboxes. All interface transitions are animated by a slide. When creating a new email, the qwerty keyboard shows up again, it also contacts from your contact database when creating emails.
Push email is only available through Yahoo! Mail -- free for all iPhone users. Demo of Mail, Safari, Google Maps, and Widgets. Email client looks pretty basic. A list of messages on the front, inline photos in the display. A menu/button bar is on the bottom that has thumb-sized buttons for email actions. Automatically finds phone numbers (like the Treo does) and allows you to one click call.
Full Google Maps. Uses widgets like dashboard (weather and stock), and auto switches from Edge to wifi and vice versa, through soft handoffs.
Jobs says: Now, let's take a look at an internet communications device. It uses Rich HTML email, works with any IMAP or POP3 email service. FULL Safari web browser -- a fully useable HTML browser on a phone. Jobs claims it's the first fully useable HTML browser on a phone. [what about Palm, or Opera?]
Wallpaper is used behind the lock screen, which also shows the time.
Photo app is just like the iPod photo app -- turning your device makes the photos landscape, and swiping the screen switches photos. Gesture based: you "pinch" the screen to zoom in -- a dual finger gesture. VERY VERY intuitive, VERY cool.
Threaded SMS, just like Palm's. Uses iChat-like bubbles, and sound effects. It shows a virtual qwerty keyboard on the bottom, that allows you to thumb-touch, that Steve says is "faster" then normal keys.
Visual Voicemail, allows you to select and listen to voice-mails, just like text messages. Listening to a message from Al Gore. Big 'Call back' and 'Delete' buttons on the bottom.
No post-call screen. To add to favorites, you press he upper right hand corner, search for the content, and select the number. It does not appear that you can dial other numbers for a contact from the favorites menu (that is, it's one number/user).
'Add call' turns to 'merge call' when you have multiple calls, and then scrolls the participants of the callers at the top.
Demoing Phone, calendar, photos and sms. Two taps needed to dial, you find contacts by scrolling. Phone screen has options to mute, keypad, speaker, add call, hold, contacts, and end call. It shows the name of the person calling, and the photo at the top of the screen. Steve has another call coming in, handles 3 way really well.
We want to reinvent the phone. The killer app of phones is making calls. Use contact like never before. Syncs with PC and Mac. Visual Voicemail! Hah. You can choose which voicemails to listen to -- like palm's buttons, but lets you choose which one to listen to. Quad-band GSM + EDGE. NO 3G. They plan to make 3G phones in the future. Wifi plus bluetooth 2.
The room is silent in awe. The device just oozes sex. It's glossy, stroke-able. It's art. (/end reality distortion field)
12:00pm. Uses a slide-scrolling display... It has been updated, almost Zune-like in the effects. Gorgeous, gorgeous display. Touch controls on everything. You touch it, and an interface pops up; you stop touching, the interface dissapears. The screen is not 16:9 widescreen - it's more TV widescreen. Movies will have black bars on top and bottom. [editors note: the screen is 320 x 480, according to apple.com].
Touchscreen is completely gesture based. Slide your finger across to unlock. Flick to scroll. The entire interface is touchscreen. The buttons for fingers are not insanely big, about the size of your finger. It uses a very glossy, mac interface. Home screen uses icons. There is a google maps logo on the homescreen. You turn it landscape, and it instantly switches to landscape, with coverflow mode. Steve is just stroking the device.
It will launch on Cingular. Uses cover-flow for music...
11:54am 3 sensors: A proximity sensor to sense when you're using it on your face, so it turns off touch screen. Ambiant light sensor to change lighting. Accelerometer to know if you're in widescreen/portrait.
You sync with iTunes. It will sync all your media, music, movies, tv shows, email, notes, photos, calendars, contacts, notes. etc. etc. The screenshot shows it's 8 GB. 3.5 inch touchscreen. IT'S 160 PPI! It only has one button, the home button. (where are the red/green keys ;)). Very thin, 11.6 mm thinner then any other smartphone. Side has ringer switch like Treo, and volume keys. Back has 2 MP camera built in. Top has headset jack, SIM card tray, and one switch for sleep/wake. Bottom has a speaker, microphone, and ipod Connector.
"People who are really serious about software should make their own hardware." Alan Kay. Jobs claims that the iPhone software is 5-years ahead of its class.
11:49am iPhone runs OS X! Why? Everything's already there. Cocoa, syncing, networking, power management, security, stability..
(I'd love to do photos, but I can't do both and type.. be patient ;))
It is one giant touchscreen, no stylus. It uses a new technology called Multi-touch. You don't need a stylus, it's far more accurate then any touch display ever. It ignores unintended touches. Multi-finger gestures. And boy, has Apple patented it.
11:46 Talks about the Treo (as well as E62, Blackberry). Says that the qwerty keyboard isn't as good for flexibility. The buttons and control's can change to fit the UI. The changing problem is solved in computers with a mouse, as the UI can then change.
Jobs is making fun of smartphones. Says that they are hard to use. And that cellphones aren't smart. The Apple iPhone will be smart and easy to use. He calls it revolutionary and years ahead.
Three features: Widescreen touchscreen ipod. A revolutionary mobile phone. And a breakthrough internet communications device. Steve repeats what he says, and then says they are the same device. Jokes. Calls it the iPhone. Shows a Rev 1 iPod with a rotary dial. Everyone laughs.
"This is a day that I have been looking forward to for two and a half years" Jobs. "Every once in awhile, a revolutionary product comes a long that changes everything" "Apple's been very fortunate, that it has been able to introduce a few of these into the world. 1984, macintosh. (the tension in the room is palpable). In 2001, Apple introduced the iPod. 3 revolutionary products.
11:40am:Phil leaves. Apple TV Recap. Movies. TV shows. Music. Photos. $299. Ships in february, preorders start today.
Schiller on stage. They are going to stream content from a Schiller on a wireless macbook. You use a pin, like bluetooth paring, for security reasons to share content. The interface is nearly as quick for streamed content, vs. content synced to the apple TV hard drive. Streaming works without buffering, without skipping.
Slideshows are the standard apple slideshow, in HD, synced to your own music, zoom in effect etc. The quality is beautiful for the computer generated content (photos, music etc)
11:36am The movie quality is beautiful, but the tv shows are lower quality. The interfaace shows cd/dvd covers floating on the left, and text options (menu) on the right. It works with all your movies, tv shows, trailers, music, photos, podcasts.
itv interface: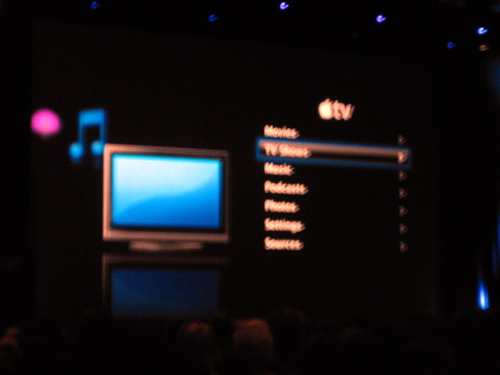 flying photos screensaver: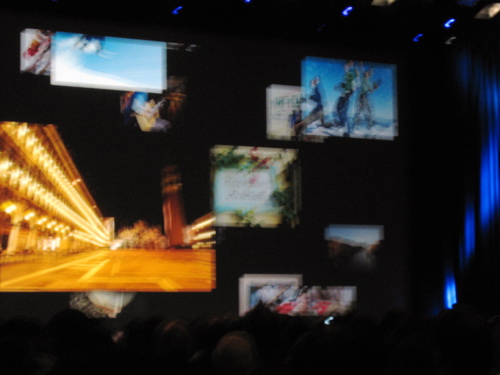 back of the itv: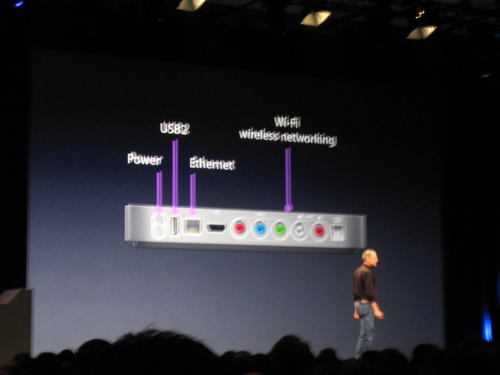 itv launch photo: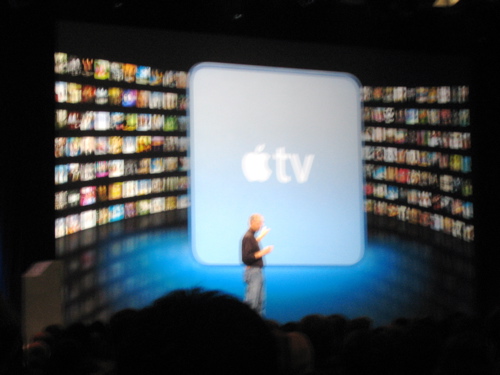 11:31am. The demo is beautiful. It streams HD trailers live from the internet. The interface is like the current apple-10 food interface, but more glossy.
It uses the apple remote. Demo time!
It works with video, music, photos. Designed for widescreen tvs, steams from up to 5 PCs, and autosyncs with one computer. You use iTunes to sync, and has smart lists, such as saying take my 10 most recently purchased movies to use on Apple TV. They "automatically" stream in the background, so apple TV content is always live and in sync.
11:26am. No more music business. Now we're talking about apple TV (formally known as iTV). It is away to enjoy your media no the big screen. Works with both PC and a mac. Uses wifi, usb2, ethernet, hdmi, component video, optical, and usb. It delivers up to 720p, HD video. it has a 40 GB hard drive, will store 50 hours of video. It looks like a mac mini, but has a small infrared port on front. Uses 802.11b, g, n. And it uses an intel processor.
11:25am New iPod is being shown. The charters are the normal colored on black, but this time they are slightly translucent, and many are on the screen at the same time. Now showing a more abstract-art like version of the same ad.
Steve Jobs at the beginning: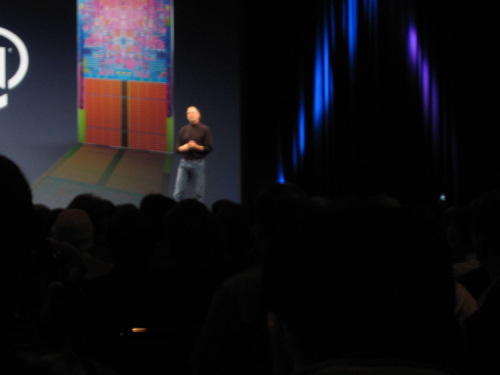 A photo of Justin Long from the Vista ad: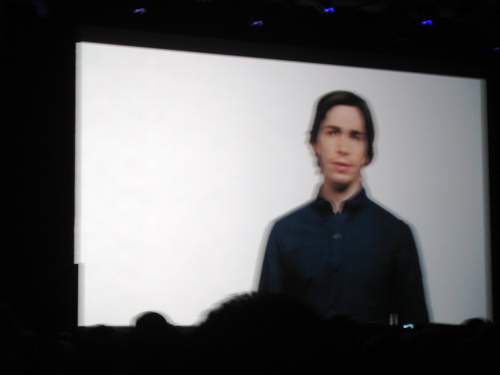 11:20 Selling 5 million songs a day. Apple is now the fourth largest music retailer i nthe world. 1.3 million movies have been sold on iTunes. Paramount will now join Disney as a content provider.
11:20 2 Billion songs sold on iTunes. Jobs is making fun of the recent article talking about itunes "slowing" sales. This year, sales are double, with 1.2 billion sold
11:20 no more talking about the mac in the keynote. Steve is in his trademark black turtleneck and jeans. Talking about iPods right now. Talking about the popularity of the iPod.
11:18am Showing an "I'm a mac, I'm a PC Vista ad" with the normal characters
11:16am Jobs is talking about the intel transition, thanking the developers, and users involved. More then 50% of macs are now selling to new Mac users, in all US channels
11:14am, keynote starting. Jobs on stage.
Some photos:
crowd:
line: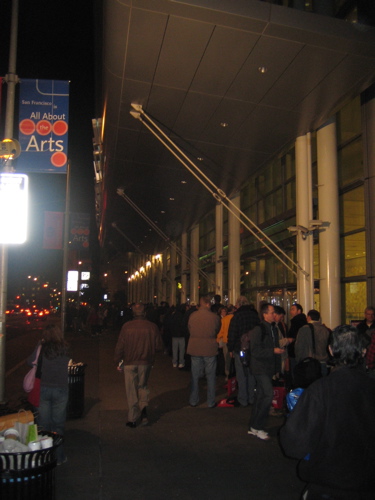 first 30 years: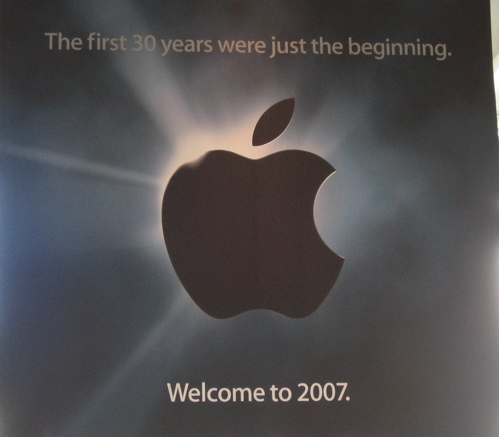 Copyright 1999-2016 TreoCentral. All rights reserved : Terms of Use : Privacy Policy

TREO and TreoCentral are trademarks or registered trademarks of palm, Inc. in the United States and other countries;
the TreoCentral mark and domain name are used under license from palm, Inc.
The views expressed on this website are solely those of the proprietor, or
contributors to the site, and do not necessarily reflect the views of palm, Inc.
Read Merciful by Casey Adolfsson