treocentral.com >> Products & Reviews >> Accessories
Slingbox: an absolute must-have
Overview
I don't think I can recall ever being so enthusiastic and totally blown away by any product I've ever reviewed as I am over Slingbox. What is a Slingbox you ask?
It's a little black and red box that connects to your TV and broadcasts a signal over the Internet. Hook a Slingbox up to your TV video receiver box whether cable, satellite, or DVR. In conjunction with your router, it will broadcast your TV signal, digital and analog, over the Internet so you can pick it up anywhere in the world. If your router is not located conveniently near your TV box, you can use a Slinglink to connect the Slingbox to your router through the electrical wiring in your house.
It means you can watch live TV on your desktop, laptop, Tablet, UMPC, Pocket PC, or Smartphone, anywhere in your house — anywhere in the world — wirelessly. Best of all, it means that you can watch programs already recorded on your DVR. You can even control your TV and DVR remotely from your Desktop, Laptop, Pocket PC, or WM5 Smartphone.
Slingbox $179.99-$249.95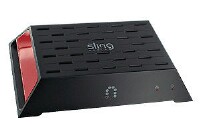 The Slingbox AV costs $179.99. The Pro model costs $249.95 and allows you to control up to four TVs. The SlingLink costs $99.99. It only works on the Windows Mobile 5 platform for Pocket PCs and Smartphones.
In the box, you will get all the cables necessary for installation--almost. (I had to buy a couple of splitter cables for my particular installation situation.) You can connect via S-video, which is preferable, or via a composite hookup. You will get an installation CD that automatically transfers you to the Internet to download and install the latest version. Also included is an AC adapter. The easy-to-understand installation guide takes you through the few basic steps required to setup the Slingbox quickly.
While the setup process appears simple, it was, for me, a matter of a lot of determination involving a trip to Radio Shack, some calls to technical support, and innumerable trips upstairs and down between Slingbox and router. Slingbox has tried to anticipate most setup difficulties, but there can still be issues. Perhaps the biggest challenge in my case was getting my router tweaked so that it would forward the TV signal over the Internet. Another issue was a conflict in IP addresses with a VoIP box in the system.
After some persistence, I was successfully online with my desktop and laptop. What a thrill to be able to view my home TV on my laptop anywhere in my house or garden. The first day of my connection, I took my wife to lunch to celebrate where we watched a recorded program from the night before. My wife was more than a little impressed--as were the guests in the restaurant and the staff who found out what we were doing.
Next, I downloaded the necessary software for hooking up my Pocket PC and Smartphone. You must purchase this software separately. There is a 30-day free trial, but after that it costs $29 for each platform. The good news is that it's a one-time charge. There are no monthly fees for any of the Slingbox products.
We have probably all tried streaming video over the Internet with varying degrees of success, but most people would probably agree that the quality is not the best nor is the programming available. Accordingly, you are probably wondering about the quality of Slingbox picture and the programming available.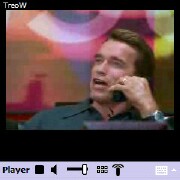 Slingbox uses an innovative technology called SlingStream that optimizes the clearest possible images at remote locations. Personally, I would say that the quality is amazingly good compared to other steaming video I have experienced, but it is not perfect. At first, you may be discouraged while the signal is optimized, but after a few moments when the buffering catches up, the sound and picture settle down to a steady stream of highly watchable TV.
Of course, the more you expand the screen, the more impressionistic it becomes on a PC, but this is not an option on a Treo. Unfortunately, you cannot even change to a full-screen format on the Treo.
I installed the Slingbox software on my Smartphone last. When I got it fired up and the TV picture appeared, I was in awe of the crisp picture and clarity of the text displayed. The high resolution of my i-mate SP5 make an incredible difference in the quality of the picture compared to the low resolution of my Treo 700wx screen. I should also note that I used a Wi-Fi connection on my Smartphone as opposed to a dialup connection on the Treo. Accordingly, the faster connection seemed to improve the smoothness of image streaming.
Compared to the low resolution of the Treo, watching Slingbox on my Smartphone was like watching HDTV. On my Smartphone, I could expand to a fullscreen view, which I could not do on a Treo.
Perhaps you can see the difference in the Smartphone screenshot below:
If you watch TV on your home TV and on another device at the same time, you will notice that the laptop is a few seconds behind the home set. But, at a remote location, it makes no difference. Note too that you must watch the same channel on your TV and remote device. You cannot be linked to more than one remote device at a time.
Regrettably, every time you change channels, move to a new recorded program, or fast forward through a commercial, the program goes through the optimization process, and it takes a few seconds to settle down to a smooth, viewable picture again.
With a touch screen on my Pocket PC and Tablet PC, I thought the program was not working properly when I tapped on various functions. I soon learned, however, that the screen is not touch sensitive. It's like your TV screen, and you must use the remote control device on the screen to navigate and issue instructions. Of course, this is not a temptation on the Smartphone.
Here is what the control panel and DVR recordings look like on a Treo in the screen shots below.
If you think that the Slingbox is a solution to allow every family member to view TV from one cable or satellite account, it is and it isn't. You can only watch TV on one remote device at a time. It works whether your home TV is turned on or off. But, you must have a separate Slingbox for every remote device you want to use concurrently. At least there are no monthly fees associated with Slingbox. Also, you can only watch one channel at a time. So, if a family member is watching a program, and you want to watch another one, you cannot. You must watch whatever is tuned in on the main TV. If the main TV is off, you can watch whatever you wish remotely.
Conclusion >>
Copyright 1999-2016 TreoCentral. All rights reserved : Terms of Use : Privacy Policy

TREO and TreoCentral are trademarks or registered trademarks of palm, Inc. in the United States and other countries;
the TreoCentral mark and domain name are used under license from palm, Inc.
The views expressed on this website are solely those of the proprietor, or
contributors to the site, and do not necessarily reflect the views of palm, Inc.
Read Merciful by Casey Adolfsson