treocentral.com >> Stories >> Business
700p on Alltel, plus Verizon Has Cameraless Palm Treo 700p
Overview
Alltel Wireless Now Offering Palm Treo 700p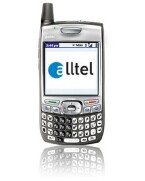 Palm issued a press release yesterday (January 24, 2007) announcing that Alltel Wireless is now offering the Palm Treo 700p.
Palm says that the Treo 700p offers hardware and software innovations centered around usability, connectivity, multimedia and compatibility, designed to take advantage of the fast data speeds of Alltel's Axcess Broadband network.
"The Treo 700p adds another Palm OS Treo smartphone to our product portfolio, and joins the Windows Mobile based Treo 700wx," said Wade McGill, senior vice president of product management for Alltel Wireless. "With its robust feature set and ease-of-use functionality, the Treo 700p will meet the demands of Alltel's business customers who need to remain connected and productive while on the go."
The Treo 700p from Alltel Wireless is now available through Alltel retail stores and online at www.shopalltel.com starting at $349.99 after a $100 rebate. This price is available to new customers on two-year service agreements as well as to existing customers on qualifying rate plans.
Verizon Offers a Cameraless Treo 700p
Well, apparently Verizon has a cameraless Treo 700p. This may not actually be "new" news but it was news to me. I'd not heard about this until today. I know there are many Treo 700p owners or would be 700p owners that would like a cameraless Treo. Many work places don't allow phones with cameras to be brought to work so a cameraless Treo would be ideal for employees of such places. I used to work at a place that produced Honda bumpers and there was a very strict policy about cameras. The company was very protective of their fiberglass molding process and didn't want it documented in any way. If I'd owned my Treo back then, I sure wouldn't have been able to take it to work.
If you'd like to check and see if your area has the Verizon Palm Treo 700p, go here and put in your zip code.
For those of you who don't wish to fool with inputting the zipcode1 and who just want to see the Treo 700p and the purchasing details, here's a pic for you.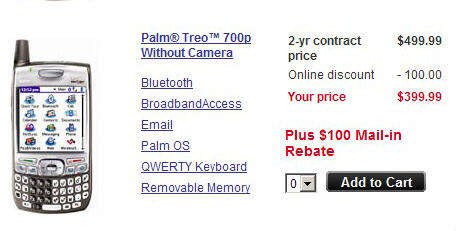 So there you have it. If you're an Alltel customer who has been lusting for a nice Palm Treo 700p, now you can get one. And if you're with Verizon and want a Treo 700p but don't want the camera, you can get one if you live in an area where Verizon has them available.
---
1: Quick note from Dieter: Apparently the cameraless 700p doesn't show up for all zip codes (including mine!). Your best bet if you have a hankering for one is to call Verizon up directly, I'm guessing
Copyright 1999-2016 TreoCentral. All rights reserved : Terms of Use : Privacy Policy

TREO and TreoCentral are trademarks or registered trademarks of palm, Inc. in the United States and other countries;
the TreoCentral mark and domain name are used under license from palm, Inc.
The views expressed on this website are solely those of the proprietor, or
contributors to the site, and do not necessarily reflect the views of palm, Inc.
Read Merciful by Casey Adolfsson