treocentral.com >> Products & Reviews >> Accessories
RoKy2 Fabric Keyboard: the ultimate in portable productivity
Overview
You can roll it up and stuff it in a little black bag including the PDA holder. The whole package weights 3.75 ounces and measures 5 inches by 1.5 inches or so. Tell me thatís not a portable keyboard.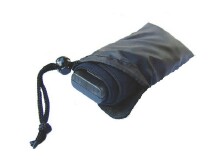 Unrolled, it is about 13.5 inches by 4.5 inches. On the right side is a black plastic module that houses the batteries and brains that run this amazing mobile device which connects wirelessly to your favorite pocket pal. It comes with one of those little 3.5 inch CDs that contains drivers and .pdf user manuals. There are drivers for the following devices: Windows Mobile 2003 for Pocket PC, Windows Mobile 5 for Pocket PC, Windows Mobile 2003 for Smartphones, Windows Mobile for Smartphones, Symbian S60 v2.0 or 2.1, UIQ v2.o0 or 2.1, Palm Garnet 5.4, RIM Blackberry v4.0 or higher. Such an array of supported devices makes this BT keyboard almost universal for most popular handheld devices.
The RoKy2 Fabric Keyboard even comes with the two AAA batteries necessary to power it. I appreciate this because these inexpensive batteries are easy to obtain anywhere. I have no idea how long the batteries last yet. You can manually adjust the timeout before shutdown. There is also an automatic safety feature that prevents the unit from turning on. A menu item allows you to check battery status.
Installation
Downloading and installing the driver from the CD is quick and easy. However, in my constant battle to conserve main memory, I installed it to a memory card. That did not work, and I had to reinstall it to main memory.
Recognizing the keyboard as a Bluetooth device worked without a hitch. I did have trouble keeping the green light on long enough for the recognition process at first. I had the same trouble when I tried to connect the keyboard to my Treo 700wx. But, just when I was about to throw up my hands in desperation, it kicked in with a catchy little sound byte. From then on, Iíve had no difficulty connecting. I guess the first time is the hardest, and then it gets easier.
After you connect, it is a good idea to calibrate the keyboard, which is a simple on-screen operation.
Application
I must admit to a little thrill when I first activated the keyboard and entered the first few characters with a reassuring clicking sound. You can turn off the click sound if you wish, which you may want to do in a meeting, for example. It didnít take me long to realize that the feel and response of the cloth keyboard is a whole different world than the normal plastic keys I am accustomed to using. For one thing, the cloth board is less forgiving than plastic keys. Touch one accidentally and youíve created an unwanted character. Another thing I noticed is that you must strike the key squarely in the center for it to register. You cannot just tap it anywhere as you would on a normal keyboard.
In the system settings, you can tweak the sensitivity of the keys, the key repeat rate, and the key repeat delay. It is worth playing around with these settings. I improved my performance as a result. However, to become proficient with this new cloth keyboard, I am going to have to practice and adapt to it.
The module on the left side of the keyboard had rubber pads on the bottom to prevent it from sliding around, but the cloth keyboard is free to roam. You have to be mindful not to move it around if you want the keys to remain where you expect them to be.
There are a number of keyboard shortcuts available for actions such as copy, cut, paste, help, and access to the Fabric Keyboard main menu. However, I expected and would appreciate shortcuts to all my Windows Office applications such as Word, Excel, Outlook, PowerPoint, and so forth. I suppose that most of the devices supported by this keyboard cannot take advantage of such luxuries, but it is a consideration for future releases. In future editions, I would like to see programmable keys that allow you to invoke any file or application.
What about an easel or cradle to hold your device while you type? Thatís covered too with a clever approach I havenít seen before. Imagine two flexible strips of plastic measuring about 1 x 5 inches. The top piece is cut in the middle forming two pieces that you can bend out to form jaws that grip a PDA firmly. You can adjust the tilt angle by where the jaws grip the device. Itís an ingenious little tool that fits compactly in the bag carrying case with the rolled-up keyboard.
Conclusion >>
Copyright 1999-2016 TreoCentral. All rights reserved : Terms of Use : Privacy Policy

TREO and TreoCentral are trademarks or registered trademarks of palm, Inc. in the United States and other countries;
the TreoCentral mark and domain name are used under license from palm, Inc.
The views expressed on this website are solely those of the proprietor, or
contributors to the site, and do not necessarily reflect the views of palm, Inc.
Read Merciful by Casey Adolfsson