treocentral.com >> Products & Reviews >> Accessories
USB/SD Card Reader/Writer
Overview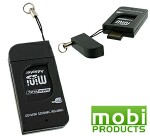 The proliferation of expansion card types has reached epidemic proportions. I have made it a policy not to buy into it. Itís ridiculous to have to purchase a different set of cards for every device you own. My rule is that if itís not in the SD family, I wonít buy it. Why should I have different cards for my cameras, Pocket PCs, Smartphones, UMPCs, Tablet PCs, MP3 players, FM modulators, satellite radios, GPS devices, laptops, and desktops?
With my simple rule, I can accommodate a standard SD or MMC card as well as the more recent miniSD and microSD cards. The mini and micro cards fit into a standard size SD caddy and then into a regular SD slot for easy transfer of data from machine to machine. I neither pay attention to cards in other formats nor to the products that accommodate them.
The good news is that this reader will work with all Windows Mobile 5 Treo Pocket PCs, even the new 750, which uses the miniSD card.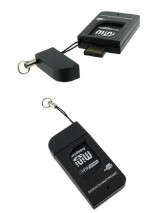 Unfortunately, not all laptops and desktops have an SD slot. In that case, you will need a card reader of which there are three flavors. You can purchase a multicard reader for your desktop that fits into a drive bay. You can purchase a multicard reader that plugs into a USB port and connects by a long, tangly cord. Or, you can acquire the nifty little USB SD card reader pictured here, the Mobi Products KeyChain SD Reader.
This handy device has manifold virtues. It allows you to read data from an inserted SD card or caddy as well as write data to it. It is a self-contained, compact unit that plugs into a USB port when you remove the protective cap that reveals the USB tang and the SD card slot opening.
It weighs so little that it would not even register on my postage scale. That means that it weighs less than a quarter of an ounce so that it is not a great burden to carry when you are away from the office. In fact, it has a dual-purpose lanyard ring with portability in mind. Of course, the ring will connect to a lanyard or a keychain. When you open the cap on the top of the device, it slides along the lanyard ring cord so that it will not separate from the device and get lostóhow clever.
It even has a little green LED light that flashes when the drive is working. There is an opening on the front face that allows you to slide out an SD card with your thumb. But, this opening could allow dirt and foreign objects to get inside and cause damage.
I will leave the application of such a practical device up to you and your own circumstances. However, let me tell you some of the ways I have pressed this little tool into service.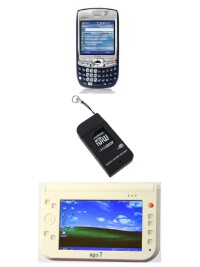 I recently acquired a new ago7 UMPC (Ultra Mobile Personal Computer) from agopc. As the name implies, it is an extremely portable device. It runs on the Windows Tablet PC platform, but it has a touch screen like a Treo Pocket PC. While it has two USB ports, it has no SD card slot. As already indicated, I do a lot of business with SD cards on various devices, and I was upset that the ago7 had no SD slot. It would render the UMPC practically useless to me without an SD slot. However, with the USB card reader, all I had to do is insert an SD card and plug it into a USB port. Now I can display photos from my camera on the nice seven-inch screen, transfer vital data, install programs, and use the UMPC for GPS. I can play movies and music on it too from the SD card reader.
Naturally, when I generate data on the UMPC, I can easily write it on an SD card and plug it into a Treo or any other device I desire. If the device does not have a built-in SD slot, I can plug the reader into its USB port.
I like to download audiobooks from my local library on my UMPC and write them to a microSD card that plugs into my MP3 player. The USB card reader/writer makes this all possible with no fuss.
I recently created a PowerPoint presentation on my UMPC that I wanted to put on my Treo 750 for one-on-one presentations. No worries, I just wrote it to a miniSD card in an SD caddy plugged into the USB reader/writer and then reinserted the mini card into the Treo.
Conclusion >>
Copyright 1999-2016 TreoCentral. All rights reserved : Terms of Use : Privacy Policy

TREO and TreoCentral are trademarks or registered trademarks of palm, Inc. in the United States and other countries;
the TreoCentral mark and domain name are used under license from palm, Inc.
The views expressed on this website are solely those of the proprietor, or
contributors to the site, and do not necessarily reflect the views of palm, Inc.
Read Merciful by Casey Adolfsson