treocentral.com >> Products & Reviews >> Accessories
Smartphone Experts Sync & Charge Bundle
Overview
It's no secret that the Palm Treo 680 doesn't have the greatest battery life. My battery life has improved since Palm released the Treo 680 Camera Update, but I still get an occasional unexplained battery drain. Just yesterday I took my Treo out of the cradle after a full night's charge and within a couple of hours of the Treo merely sitting on my desk, the battery dropped down to 69%. I'm just as obssessive compulsive (Protection section) about my battery being well charged as I am about fingerprints, smudges, and scratches on my Palm devices. So I always charge my Treo overnight either in the desktop cradle or via some other type of charger in my bedroom.
I was more than happy to review the Smartphone Experts Sync & Charge Bundle for the Treo 750, 700p, 700w|wx, 680, and 650. The Smartphone Experts Sync & Charge Bundle satisfies my craving for a fully charge device.
The SPE Sync & Charge Bundle consists of the SPE Retractable Sync & Charger Cable, Treo Wall Charger, and a Car Charger. All of this is bundled into a special savings package. All three gadgets are lightweight and easy to take with you wherever you go. The SPE Sync & Charge Bundle is compatible with the Treo 755p, 750, 700p, 700w|wx, 680, and the Treo 650. For this review, I'm using my Treo 680.
---
Retractable Sync and Charge Cable
I love anything that makes my Treo more mobile and the SPE Power Bundle certainly fits the bill. One reason that I like the retractable sync and charge cable is because of its design. I love any cable that retracts because that means you'll be saving space with it. I don't like a cluttered desk and having a retractable sync cable does its job of cleaning up some of the usual clutter of wires everywhere. This cable is only 4.5" when retracted and strecthes out to just over a full yard at 37". The photo only shows about 36" but that's because I couldn't stretch the cable out all the way and take the pic at the same time. So it's short when you need the room and it's long whenever you need the extra reach. To extend the cable, you just tug on both ends simultaneously until the desired length is reached. To retract the cable, you simply tug on both ends again and the cable retracts back into the round housing. Being so short when retracted makes it easy to pack in a gadget bag, laptop case, or handbag.
The retractable sync and charge cable works well. It allows you to both sync and charge your Treo over a USB connection from your computer. I've been syncing and charging my Treo 680 with it a lot in the past few weeks. I have a 7 port USB hub on my desk and there are quite a few gadgets hooked to the hub. Having this retractable cable is nice since it makes for less wires getting all tangled up. I hate tangled wires! I'm sure many of you have some earbuds that are easy to tangle. All I have to do is put my earbuds down on my desk and when I pick them up again, they have somehow mysteriously become all tangled up and even tangled in with my other gadget's wires on my desk. I mean these are crazy knots that even Houdini would work up a sweat over. So in my book, retractble is great!
---
Wall Charger
Now let's look at the wall charger in the SPE Power Bundle. The wall charger goes hand in hand with the sync and charge cable. You take the USB end of the cable and plug that into the end of the wall charger. Then you plug the other end into your Treo's multi-connector. Now you can simply plug the wall charger in wherever there is a power outlet and you're all set to charge your Treo.
I've used the wall charger a lot in my bedroom so I could have my Treo with me at night to read in bed. After I've read awhile, played some games, sent some text messages, and made some phone calls, I just plug it into my surge protector beside the bed and let the Treo charge overnight so it'll be fully charge and ready to go the next day.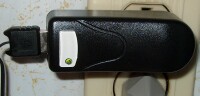 The wall charger is designed long and slender so that you can plug it in without taking up extra space when used in a wall outlet. There is a green LED light on the bottom of the wall charger to indicate that your Treo is charging when plugged in.
The wall charger is also great for being mobile since it doesn't have a long cord that you have to wrap around it. You just pack the wall charger along with your retracted sync and charge cable.
---
Car Charger
The car charger also goes with the sync and charge cable. Just like the wall charger, the car charger has the USB plug-in on one end. And of course the other end goes into most standard 12-volt auto power outlets. The car charger and sync and charge cable together make an ideal mobile solution. I've had my Treo 680 with me many times while on the road and have discovered that my battery was low. How nice to be able to plug your Treo into your car's power outlet and charge on the go. These types of chargers seem to really charge my Treo fast too. I leave my car charger and sync cable in my car all the time just in case my 680 needs some juice while on the road.
The car charger also has an LED indicator so you can see that your Treo is charging. The little green LED is located on the end with the USB plug-in.
Conclusion >>
Copyright 1999-2016 TreoCentral. All rights reserved : Terms of Use : Privacy Policy

TREO and TreoCentral are trademarks or registered trademarks of palm, Inc. in the United States and other countries;
the TreoCentral mark and domain name are used under license from palm, Inc.
The views expressed on this website are solely those of the proprietor, or
contributors to the site, and do not necessarily reflect the views of palm, Inc.
Read Merciful by Casey Adolfsson