treocentral.com >> Stories >> Commentary
New Technique For Touchscreens
Overview
Many of us depend on our styli when using our Treos. Some more than others. I still use my stylus but not nearly as much as I used to since getting a Treo 680. Now I can use the 5-way navigational buttons for many tasks without even taking my stylus out of the silo. And having the built-in keyboard is another plus. I never use my stylus or finger on the dial pad. I simply go to my Contacts and type in the first few letters of the person's name I'm calling, and that person's name comes up and I can hit the Send button. And of course there's Speed Dial which is really great.
I've been awaiting the iPhone's release so I can see the new screen technology it has. I wonder sometimes if the stylus will become obsolete. Will we someday be able to simply use our fingertips on our Treo screens and not have to bother reaching for the stylus at all?
I read an interesting story today over at Technology Review that makes me ponder the future of the stylus even more.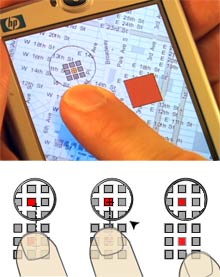 As of now, a stylus is the answer for detailed work on a small screen, but Microsoft researchers are working on a better way to activate small targets on PDA screens. With Microsoft's solution, the Shift system, users would be able to use their fingertips to select pixels in a new way. The user would first press a finger on the screen over the area of interest. Holding down a finger activates the Shift software, and a detailed view of that area appears nearby on the screen, in a pop-up window on top of the original image. With slight finger movements, the user can guide a pair of crosshairs over the desired target within the pop-up window and make a selection by lifting the finger off the screen. This would be great on a map on a tiny screen because you'd definitely have to use your stylus otherwise since your fingertip would be too large to tap on an isolated street name. The same goes for a year view on the Treo Calendar app. if the user has fat fingers.
There is a nice video demonstration of Shift on the Technology Review site. Near the end of the video, you can see someone using the program on a Palm Treo. Several devices have been tested using Shift. I'd sure like to someday be able to use Shift on a Treo. ;-)
Picture via Technology Review via Microsoft Research.
Copyright 1999-2016 TreoCentral. All rights reserved : Terms of Use : Privacy Policy

TREO and TreoCentral are trademarks or registered trademarks of palm, Inc. in the United States and other countries;
the TreoCentral mark and domain name are used under license from palm, Inc.
The views expressed on this website are solely those of the proprietor, or
contributors to the site, and do not necessarily reflect the views of palm, Inc.
Read Merciful by Casey Adolfsson