treocentral.com >> Stories >> Software
Treo Software Update Roundup
Overview
Update: I've added some other updated software that caught my eye today, plus I added some software for you WM Treo owners. ;-)
---
Here is a roundup of some Treo programs that are new or have been updated recently. I always like to make sure that all the programs on my Treo are up to date so that I can get the best results out of my device. If a program I have has added a new feature, I sure as heck want it on my Treo so I can enjoy it.
TreoWeather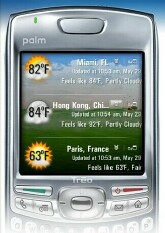 Gx5 has just released a new program for your Treo called TreoWeather. TreoWeather for Palm OS is a simple weather browsing application with nice graphics. TreoWeather gives you the precise weather on your Treo with pleasing results.
Feel GOOD getting your weather with Gx5's rich user interface that delivers vibrant weather and allows you to customize the look and feel.
You can add up to eight cities with TreoWeather. TreoWeather is built to deliver the richest form of weather with the most minimum memory footprint possible. You can save memory by putting the weather icons on your SD card.
Supported devices are the Treo 650, 680, 700p, and 755p. You can get TreoWeather here for $9.95. I downloaded TreoWeather on my Treo 680 and it's a great program. Look for a review in the future.
---
KeyguardExt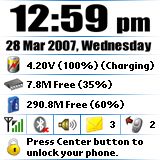 KeyguardExt is new from Megasoft2000. KeyguardExt is a functional analogue of the system utility Keyguard, which has much more extended setting functions and the list of information displayed on the screen of your smartphone.
Features:
Time & Date
Battery Level
Bluetooth State
Phone Signal Strength
Free Memory Size
Ringer Switch State
Unread SMS Number
Missed Calls Number
KeyguardExt upports only Treo 650/680/700p/755p. You can get KeyguardExt for $9.95 here.
---
TopStory
TopStory is a new RSS News Reader from Iambic. TopStory is designed to help you "cut to the chase," by making it easy to tailor information to fit the criteria that you get to establish. It's the perfect solution for anyone who owns a Palm Treo or any other Palm OS powered device that wants to keep informed while on the go.
TopStory works with the popular RSS (Real Simple Syndication) format that is the standard used by news websites, virtual magazines, and blogs to distribute streamlined content (often without graphics that tend to slow things down). RSS is the ideal for the on-the-go reading.
I spotted a post about Iambic having a contest over at Palm Addicts.
From now until June 30th, 2007 everyone downloading TopStory from iambic.com, our FREE news reader available for Palm OS and Windows Mobile, will automatically be entered into a drawing to win a Jabra BT150 Bluetooth Wireless Headset.
Since TopStory is free of charge, no purchase is required to participate in this special offer. 5 lucky winners will be drawn on Monday, July 16, 2007 and a Winner's Circle list will be posted here.
---
Trip Boss 3.0
Creative Algorithms has just released Trip Boss 3.o. Trip Boss is an all-in-one travel manager for both business and personal travel. It's the most functional travel program available. With Trip Boss you can plan, prepare, record, and report all aspects of your travel. Trip Boss is filled with features such as Itinerary Storage, Expenses, and much more.
Trip Boss 3.0 adds two main features. The first is a checklist feature for multiple task lists and the second is access to real-time travel data, such as currency rates, weather, flight status and much more.
Trip Boss 3.0 is available for $34.95. You can install a free trial of Trip Boss 3.0 here.
---
Call Block MP3 Ringtone Edition v1.53
Call Block by WISH Solutions has recently been updated. Call Block is a simple yet effective tool to block unsolicited incoming calls. Now you do not need to turn off your phone just to avoid unnecessary interruptions. Just leave it to Call Block to filter all your incoming calls and SMSes. Select the appropriate Call Block modes like block on, temporary block off or block all calls to suit different situations.
Call Block MP3 Ringtone Edition v1.53, the latest Call Block version comes with MP3 ringtone support and featuring individual/group MP3 caller tone, and fixed Ignore/Delete SMS function on certain Treo models.
Call Block MP3 Ringtone Edition is available here for $14.95.

---
Phone Tech and Butler betas for the Treo 755p
I spotted another update worth mentioning over at Palm Addicts. Rob at HobbyistSoftware changed the way that the Treo 755p is recognised. This should sort out the LED issues that folks have been having in Butler and Phone Tech on the 755p. The changes are in the new betas: Butler 4.13 Beta and Phone Technician 2.89 Beta. Rob has also released Phone Tech 2.88 which fixes the issue with selecting old alarm sounds.
---
Kinoma Player 4 EX Version 4.2
Kinoma Player 4 Ex has been updated to version 4.2 today. If you're an owner of Kinoma Player 4 EX, you are eligible for a _free upgrade_ to version 4.2! If you don't own a copy of Kinoma and you'd like to learn about this great program, read Harv's reviews, Part 1 and Part 2.
New Features:
Faster The web browser on your PC caches web pages for faster access. Similarly, the new release of Kinoma Player 4 EX caches the areas of the Kinoma Media Guide that you use the most. This makes navigation nearly instantaneous for your favorite categories.
More Compatible and Reliable Some wireless carriers block video and audio delivered using _UDP_, an under-the-hood internet standard often used for live broadcasts. This release supports an alternate method of receiving live broadcasts, making playback more reliable on more networks than ever.

Some network cameras broadcast using Motion JPEG -- essentially, a series of JPEG images -- to deliver video. This release of Kinoma Player 4 EX now supports Motion JPEG streams, so you can view more types of webcams and network cameras. Motion JPEG is often used by traffic cams, and is supported in cameras from Axis, Panasonic and others.

Some MP3 and Windows Media (ASF) files are what we like to call "unusually formed". This release makes more of those unusually-formed MP3 and ASF files work.
Stereo Bluetooth headphone support Have you seen those cool, wireless Bluetooth headphones, and wondered when you can use them with Kinoma Player 4 EX? Now you can! This release adds support for Bluetooth stereo playback to A2DP-compatible headphones, headsets and speakers. Palm OS doesn't include A2DP support, so this feature requires Softick Audio Gateway v1.09 or later. Read TreoCentral's review by James Hromadka.

Be sure to read Harv's review of the Plantronics Pulsar 590a Bluetooth Stereo Headphones.

Improved Palm OS Integration Kinoma Player 4 EX now registers with Palm OS as a player for all of the file types that it supports. After you update, you'll automatically get an option to use Kinoma Player 4 EX to play your media from applications like Palm Files, Initiate, and other third-party launchers and file explorers.

Kinoma Player 4 EX works with your Palm's Find feature to search media files. Some of our customers wanted to be able to exclude media files from their searches, so we added this as an option to your Kinoma Player 4 EX preferences.
There have also been new features added to the Kinoma Media Guide like a new _Traffic Information_ category, more Radio Stations, more Traffic Cameras, and more International Content.
Kinoma Player 4 EX 4.2 is available here for $24.99
Peabrain Tip of the Day: Here's my peabrain tip of the day for you: (peabrain as in my brain) Be sure that you have a large or unlimited data connection if you use Kinoma 4 EX. When I first got Kinoma 4 EX, I only had a 5MB data plan. The first day I used Kinoma, I listened to a couple of podcasts and found several radio stations that I liked. And I watched some videos also. A few weeks later I got my phone bill from Cingular and it had gone up over $200. I couldn't figure out what in the crap could have made my bill go up so high! After talking to Harv one day on the phone, he happened to start talking about Kinoma. And it hit me like a ton of bricks. I asked him if using Kinoma could use up a lot of data and he said that it could. So now I know. I had so much fun using Kinoma that I decided to get the unlimited data plan on my Treo. I'm so glad that I did! Watching those videos and listening to thousands of radio stations is great! And I love listening to podcasts on my Treo too! Especially all the tech ones. ;-)
---
Windows Mobile Software
Let's take a look at some of the Windows Mobile software updates too.
Ideal Home Manager for WM 5.0/6.0 1.0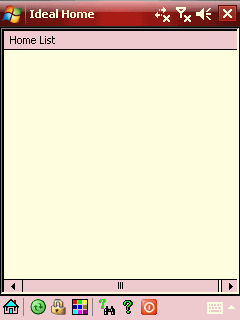 I saw over at PocketGear that Ideal Home Manager has been updated. Ideal Home provides the best place to store your Home/Office information. With Ideal Home, you have a place to store Task Lists, Home Inventory, Location, Media, Loan and Picture Information of a Home. All the data in "Ideal Home Manager" can be moved to your Desktop and can be copied back to your PDA by "Backup & Restore" option. This helps you to restore all your details after you hard reset your Pocket PC. Details of a Home can also be Exported to HTML/TEXT/CSV Formats using a simple browser. A Complete Home Management Utility for Pocket PC.
Key Features:
Professionally and Newly designed user-interface that speeds up Data Entry and Easy Viewing.
Home Profile Stores all the important details of your home.
Ideal Home Can also be used to store Office Information.
128-bit Encrypted Master Password to ensure security.
Export Facility with Desktop Backup.
Summary is provided to view all the home details at a glance in a pleasant Format.
Any number of sub-details can be added for a particular home.
Novel way of browsing the options using a Pop-up Menu.
Adds Safety to your home details.
No one can view the details except you.
Ideal Home Manager for WM is available here for $9.99.
---
PocketKeeper for Smartphone 3.5
PocketKeeper is another program that has been recently updated. PocketKeeper is a personal financial management software that focuses on managing your daily out-of-pocket expenses. It records your daily expenses on the road. The register screen is intuitive to use. You can create multiple accounts with different currencies, define any categories and subcategories, create multiple budget planning projects, create report with bar, pie or trend charts and self-defined charts. A user can search and export data by different criteria. It also has password protection to secure your personal financial data.
New Features
Intuitive Register with Familiar User Interface
Multiple Accounts with Different Currencies and Exchange Rates
Versatile Category and Subcategory
Budget for Multiple Projects
Powerful Report with Bar, Pie or Trend Charts by Various Statistics Criteria
Multiple Language User Interface Capability Manual and Automated Backup
Password Protection for Financial Data Security
Filter, Search and Export Functions
Transfer between Different Accounts
PocketKeeper for Smartphone 3.5 is available here for $14.99.
---
LSL Poker
Here's a game of poker for your Treo. LSL Poker by Lakshmi Solutions LLC is new. Do you like to gamble? Do you like playing cards? What about gambling your money in a Poker match? Then try playing LSL Poker from Lakshmi Solutions LLC.
Play the Poker match against other simulated players (Joey, Tina, Jean, John, Dave or Tony), at different betting levels (House, Casino, High Bet), and configure the ambiance of the game to your taste (selecting screen colors, card style, player commentaries, etc).
The Game contains Help features giving the novice player descriptions of the different poker variations, how to select the players, how to configure the game, and how to bet money.
This game sounds like fun. You can get it here for $7.95.
---
Spb Diary
I know this update isn't all that recent, but I saw that Spb Diary was updated to version 2.5 back in April. Like Spb Mobile Shell, this program from Spb Software House looks very nice and is crammed full of cool features.
Spb Diary is a feature-rich Today plug-in for your Calendar, Tasks, Contacts, Notes and Messages. It enhances Pocket Outlook by gathering all of your PIM information in one place. With Spb Diary, the Today screen will soon become your favorite since you will need to leave it less and less.
Spb Diary Features:
NEW! Ability to create Custom Tabs
Photo contacts and handy dialing
Stylus-free navigation (one hand using)
Special Events tab (birthdays and more)
Easy document management with Notes tab
Skin support
Integration with Spb Weather, Spb Finance and PhatNotes
Tabs for Calendar, Tasks, Contacts, Notes, Messages and Special Events
Integration with all popular PIMs
You can get Spb Diary v2.5 here for $19.95
Copyright 1999-2016 TreoCentral. All rights reserved : Terms of Use : Privacy Policy

TREO and TreoCentral are trademarks or registered trademarks of palm, Inc. in the United States and other countries;
the TreoCentral mark and domain name are used under license from palm, Inc.
The views expressed on this website are solely those of the proprietor, or
contributors to the site, and do not necessarily reflect the views of palm, Inc.
Read Merciful by Casey Adolfsson