treocentral.com >> Products & Reviews >> Accessories
Smartphone Experts SnapCase for Treo 700p, 700w|wx
Overview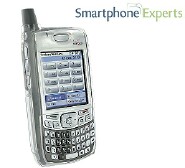 When youíre buying a Treo, youíre making one of the best choices possible in terms of your selection of a smartphone. Now that youíve got your Treo you have to make another very important decision; what case are you going to keep your Treo in? What kind of features do you want in a case? Heck, itís almost easier trying to decide between a Palm OS Treo and a Windows Mobile Treo than it is with selecting the perfect case.
Case selection can be a tricky situation, because just like with a pair of shoes, youíre not going to be happy wearing them if the fit, functionality, or style isnít what you had intended on choosing in the first place.
The most important thing a case should do is protect your Treo. Youíve paid a pretty penny for your Treo, so it only makes sense to protect it. Next on the list of criteria is functionality. Do you want to be able to use your Treo while itís in its case? Do you want to be able to charge your Treo while itís in a case? Will the Treo in its case fit in your pant pockets comfortably, or will you need a belt clip? Last but certainly not least is the style of the case. Luckily the Treo is one of, if not the the most popular smartphone on the planet, so youíve got tons of styles to choose from. Just take a look at the TreoCentral Store . As you can see, theyíve broken down cases into categories to help you find the perfect case.
When I decided to get a new case I wanted something that was strong, had a minimalist look, allowed me to charge my Treo in itís case, and fit in my pant pockets comfortably. I chose the Smartphone Experts SnapCase for the Treo 700p, Treo 700w|wx. So does the SPE SnapCase fit that criteria? Read on and we shall see.
---
Usability
The Smartphone Experts Snap Case is made of a high quality, crystal clear, and hard polymer material. In other words, this case is extremely strong and durable. The Smartphone Experts Snap Case is made up of two parts; a front piece and a back piece which snap together to securely keep your Treo in place.
The Snap Case protects your Treo while still giving you access to all of the phone functions. The keyboard and case are fully exposed. The Snap Case also has openings for your volume keys, speaker, camera, and stylus. Plus you have easy access to the micropphone, headphone jack, and multi-connector on the bottom of the Treo.

Being so thin and lightweight, the Smartphone Experts SnapCase doesnít add any noticeable bulk to your Treo, which for me is crucial. Plus, since the case is crystal clear, it shows off your Treo instead of hiding it. Hereís a picture showing the SnapCase on my Treo 700wx compared to my naked Treo 700p.
---
Protection
In terms of protection, the SmartPhone Experts SnapCase completely keeps your Treo protected. Iím in no way recommending anyone doing this, but I dropped my Treo a few times to see if the case would crack at all. Iím happy to report my Treo was protected, the case didnít crack, and there wasnít even a scratch on the case, let alone my Treo (thank God). The material used in the case is super strong and durable; your Treo will be completely safe and secure in this case. When I say secure, I mean secure.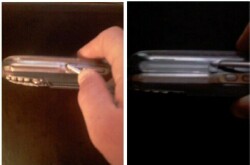 My only gripe with this case was trying to figure out how to remove my Treo from it. The only way I could get my Treo out of the Snap Case was to insert my stylus into the opening on the side and pry it open and break the seal. There was no way I could do this with my bare hands.
I contacted TreoCentral about this and was told ďthe case is designed to securely keep your Treo in place.Ē I just wish that the case came with some kind of instructions telling you how to get your Treo out of the case once itís in there (hint, hint). I have an iPod case that uses a similar design; it ships with a card you use to pry it open. Once I figured out that the Smartphone Experts SnapCase used the same kind of protective measure my iPod case does, I now use the same method of prying it open when I want to remove my Treo from the case.
Conclusion >>
Copyright 1999-2016 TreoCentral. All rights reserved : Terms of Use : Privacy Policy

TREO and TreoCentral are trademarks or registered trademarks of palm, Inc. in the United States and other countries;
the TreoCentral mark and domain name are used under license from palm, Inc.
The views expressed on this website are solely those of the proprietor, or
contributors to the site, and do not necessarily reflect the views of palm, Inc.
Read Merciful by Casey Adolfsson