treocentral.com >> Products & Reviews >> Accessories
Com One Over the Ear Bluetooth Headphones for Treo 750
Overview
I never set out to write a pan, nor find fault with an item Ė though it is my job to look out for them. Occasionally though, I do get a stinker. Itís especially apparent when Iíve recently reviewed several products in the category that are either solid performers or outstanding. So before I get to the review of the Com One Bluetooth Stereo Headset, Iíll point you to some of the other product reviews of Stereo Bluetooth headsets including some fantastic offerings from Motorola. Though note that all of those items are more expensive than the Com One option, so if youíre on a very tight budget, read on.
---
Design
Like the majority of headset offerings these days, the Com Ones are the backphone variety. They are basic black, with the circular foam covered earpieces offset with a circular silver decal. On the right earpiece are the controls. Skywards for volume up, towards the ground for volume down. Track forward is towards the front of your body, track backwards the opposite. There are no raised buttons here though. So youíll have to simply memorize which button does what. In the center of these four controls is a call control button. Youíll notice that there is no button for music pause/stop/start though the music will pause automatically while you are on a voice call.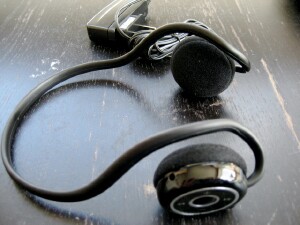 The AC adapter is a standard issue affair, except that it uses a dedicated round charging end rather than the mini USB that is becoming standard. As a result, there is no charging off a computer. Since this is a no frills headset, there is no manual, just a simple sheet of paper with some basic instructions on how to pair and operate the controls.
If youíre new to wireless Bluetooth headsets, letís do a simple review. You need a device that supports Bluetooth 1.2 with A2DP for wireless stereo and AVRCP for track control. Basically the Windows Mobile Treoís allow for this, with the Palm models, you may be able to get some sort of Bluetooth adapter or find a piece of software to make it all work. The Com Oneís headsets also support voice calls.
Since Iím talking about design here, let me mention that these things are cheesy. They are akin to the two cent headphones you get on an airline flight. The wire between the two earpieces has even started to pop out of its groove and the metallic decal has started to peel. Iím sure if I used these for any length of time, the cheap foam covering the earpieces will tear Ė and no replacements are included.
---
Functionality
You get what you pay for. These things sound like crap. Maybe Iíve been spoiled by the more expensive offerings listed above. The Com Ones are mud through and through. Even though Iím writing a review of these things, I donít want to test any further so Iím using a pair of the Motorola S9s simply because they were handy and I couldnít stand something less worthy. The track controls of the S9 are so elegant compared with anything Iíve used that the hard to use controls of the Com Oneís are unacceptable. The entire face of the Com One control disk is smooth, giving no indication of what control Iím pressing. If the orientation of the headset shifts, I might accidentally press track forward instead of volume up.
There are two, well maybe three bright spots that may persuade someone to buy these. Surprisingly, shockingly, these are pretty good with voice calls. They deliver simple, clear voice call quality. Perhaps the lack of dynamic range acts as a filtering device to keep callers simple and clear. Perhaps these have excellent noise reduction circuitry (though I doubt it). In fact, lack of noise reduction circuitry in some instances prevents noise reduction Ďerrorsí such as clamping down early or filtering out essential vocal range. However, if you were to primarily want these for voice, it might be a reason to consider them. And voice comes through both earpieces Ė unlike some where only one earpiece is used. Itís my preference these days.
The other bright spot is comfort. These are super lightweight at 50 grams. The foam covered earpieces rest gently against your ears and are completely Ďinvisibleí even after a long wearing period.
Finally, there is the cost issue. These suckers are cheap, in every sense of the word. They are much less expensive than most (but not all) competing models.
---
Conclusion
I think my advice should be clear. Do not waste your money on these headphones. It is a perfect example of penny wise, pound foolish. If you canít afford something better, then for goodness sake do without until you can afford something else. Or better yet, if you canít afford a quality wireless headset, then grab a wired one. There are plenty in the store to choose from, and wired nearly always gives better sound than their A2DP counterparts anyway.
However, if you only really care about voice calls (and want music as a bonus option), want something thatís lightweight and comfortable, and are on a tight, tight budget, then pull the trigger and I wish you the best of luck.
Criteria

Rating

Design
2
Features
3
Sound Quality
2
Cost/Benefit
2
Overall
(not an average)

Pros
Lightweight

Comfortable

Good Voice quality

Cheap

Cons
Poor build quality

Poor Music
Copyright 1999-2016 TreoCentral. All rights reserved : Terms of Use : Privacy Policy

TREO and TreoCentral are trademarks or registered trademarks of palm, Inc. in the United States and other countries;
the TreoCentral mark and domain name are used under license from palm, Inc.
The views expressed on this website are solely those of the proprietor, or
contributors to the site, and do not necessarily reflect the views of palm, Inc.
Read Merciful by Casey Adolfsson