treocentral.com >> Products & Reviews >> Accessories
EMTAC Navigator V4 PalmOS Bundle
Overview
I reviewed the EMTAC Navigator 3.0 package (GPS receiver plus software bundle) last year and found the software had an overall high-quality look and feel, but I also found some hair-pulling, quirky things about it that made it feel as if the software was either released too soon, (as in "Beta!").. or needed some serious tweaking. I also reviewed the subscription-based GPS navigation service from TeleNav twice (the new version just two months ago).. and have been using it religiously since then.
TeleNav is my favorite PalmOS GPS solution, and although, or because, its operational method is different than any other.. (pulling down maps and spoken directions over-the-air as you drive, and the monthly subscription fee) it rankles some folks. But TeleNav updates their maps dynamically, four times a year and, since the massive maps, HUGE POI (Points of Interest) database, and spoken voice prompt files (which DO speak EVERY road name in the USA) don't live on your Treo, and since it has a cool "call-in" feature, a symbiotic Web site, and its main program that you install has a tiny footprint. It may not have all the features of EMTAC's, but it's the standard by which I now compare all others, until something better comes along. Just read my latest TeleNav review for all the details.
TeleNav is going to have some serious competition if Google ever upgrades their Google Maps for PalmOS to give it GPS ability, like the WM version has.
---
The Granddaddy went away.. forever..
I had been using Mapopolis for years before Transplant GPS asked me to review their product. But since Mapopolis decided to pull out of the consumer market and is out of the game, (although if you own it, it still works, it'll just never be updated again).. EMTAC Navigator and TomTom are the only viable on-board solutions available - on-board meaning the whole thing lives on your Treo - GPS solutions are perfect for any Treo user who doesn't like monthly fees, or has a very limited data plan, no data plan at all (are there such people?).. or may be in and out of cell coverage, upon which TeleNav relies.
In their EMTAC Navigator V4.0 press release, Transplant GPS claimed you could buy their software, insert the included SD card and be routing in under five minutes. While this smacked of PR hype, and I had serious doubts, I decided to give it the old college try. With the stupendous performance of their first SiRF Star III Bluetooth GPS receiver, and their new card-based, pre-loaded map data, who knows?
I already owned EMTAC's earlier receiver (as pictured in my 2006 review), AND TeleNav's, so the new, smaller model bundled with the package was redundant, but I used it anyway.
What I was ardently hoping for were fixes to EMTAC Navigator's strange software glitches and poor address-book / contacts linking (something TeleNav doesn't even have). They told me V3 of the program, the one I reviewed last year, was coded in Germany. They canned their German programmers and gave the code to a USA-based company, who re-vamped a lot of its internal guts, so although it LOOKS very similar to V3, V4 has some important improvements as well as some subtle but welcome changes.
---
Learn it first, THEN turn that key..
GPS software should be easy to use, but every company has a different way of implementing what is basically the same thing. They all have a learning curve. And I can't stress this enough: unless you have a navigator on the passenger's seat, don't jump in the car and head out on a road trip, whether you're going a few blocks, a few miles, or on a long journey to somewhere you've never been, trying to figure out how navigational software works WHILE you're driving. This is just plain wrong, and a reeeeeeeally bad idea. I say this in every GPS review I write: Driving is a full-time job requiring constant, sober attention, especially in heavy traffic. You might think of yourself as the safest driver on the road.. do you have control over everyone else in their two ton projectiles? Of course not. So, learn how the software works BEFORE you turn the ignition key and head out. This applies to ALL GPS programs, not just EMTAC's.
---
Minute 1
After Fedex dropped off the package, I eagerly opened it and found the SD card packaging shrink wrapped to the EMTAC mini-S3 box.
I received the standard EMTAC Navigator V4.0 package from Transplant GPS which includes:
EMTAC mini-S3 Bluetooth GPS
EMTAC Navigator 4.0 Software on a pre-loaded 2 GB mini-SD card (with SD adapter)
Car Charger to simultaneously charge Treo and Bluetooth GPS
Printed software manual
CD Manual for mini-S3 Bluetooth GPS
If you read my EMTAC Navigator 3.0 review linked above, one of my beefs was the lack of an included AC charger for the GPS receiver. As before, the V4 bundle includes no AC charger. I've said it once, and I'll say it again, AC wall warts are hardly expensive accessories. At this price point, they should include one. On the plus side, their new mini-S3 Bluetooth GPS charges via mini-USB. Thankfully I have tons of mini-USB chargers available and just like before, the Bluetooth GPS came out of the box with some charge.
Another thing missing was a way to mount a Treo in a car, good thing I have a Seidio Treo-holding and charging windshield cradle. But if YOU don't already have a car mount, where would you put the Treo? It would be kind of pointless to set it on your lap or the seat and have to take your eyes off the road to look at it; isn't the point to drive less distracted? After talking to Transplant they told me that many of their retailers already include a free mount as an option, so they have left this out of the package. If you order directly from Transplant GPS, you will receive a free Arkon windshield suction cup mount with your order.
No tedious "which maps do I install and is my card big enough?" routine this time..
A huge difference from EMTAC V3.0 and a huge step in the right direction is that the new version comes pre-loaded on a 2gb miniSD card with an SD adapter. This is good thinking because Palm has decided to transition to the miniSD format, or at least it seems that way. Why manufacturers keep changing storage formats, I don't know. I have tons of SD cards and perhaps in a couple of years, if I switch from a 700p to a newer model, they will be worthless. The new 755p (basically a 700p in 680's clothing) reviewed here now uses the miniSD format, while it is the same size and shape as the 680 (which uses the SD format). Go figure. If they were cramming WiFi into the Treo and needed more room, I would totally understand, but come on! My only concern with the miniSD card and adapter is that I will lose one or the other and be left trying to find a way to use the software.
---
Minute 2
The printed manual that came with this bundle is much smaller than the 3.0 software's, but its font is large enough for even my aging eyes to read. Since I already knew how to use their software, I wanted to skip ahead and pop in the card to see what was different. Their 5 minute claim had piqued my interest, so I checked out the manual for any significant changes I might miss.
I can now see how their claim could almost be true, but was still probably a stretch for users new to GPS.
First, charge up and turn on the GPS receiver, so it "warms up" and starts looking for the birds. With the incredibly fast satellite acquisition rates of the SiRF Star III chipset, a couple minutes (depending on your view of the sky, and other factors).. should be more than adequate to have that little green LED on the GPS flashing and telling the Treo where I am.
This tiny receiver has a nice rubberized feel to it and is about a third smaller than the earlier S3-BTGPS that was in the 3.0 bundle. The rubbery feel is comfy in my hands and doesn't slip around easily, but it also slides into my pocket without getting hung up everywhere, so it's a thoughtful balance of sticky/slippery. The mini-S3 also has a removable eight hour lithium ion battery which I suppose people who hike or geocache would be into.
The next step was to insert the pre-loaded card into my 700p, easy enough. I hear the familiar 'bud-dump' noise that a Treo makes when one inserts a card, and the EMTAC Navigator icon popped up on the screen. Step three was to tap "EMTAC Navigator"... nice and easy...much easier than loading the application, voice files, and map data onto a card from a DVD, which V3 forced one to do. Even though the V3 installation was fairly painless, the change to shipping everything on a pre-loaded storage card is clearly an improvement.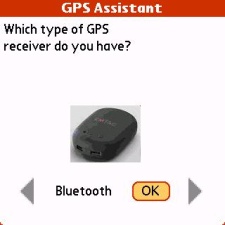 After tapping on 'EMTAC Navigator', I was prompted to choose which type of GPS receiver I have. Aside from the first choice, Bluetooth GPS, the other options are 'jacket', 'cable', and 'none'. If I wanted to use my Seidio car cradle's GPS receiver instead of the mini-S3 I would select 'cable', which would let me use my new Aliph Jawbone Bluetooth headset, or any other Bluetooth headset at the same time.
Unfortunately, one sad fact of life for Palm OS Treo owners, is you can't have two Bluetooth GPS connections going at the same time, unlike the Windows Mobile Treos, which can have one incoming and one outgoing connection going simultaneously.
As in the version 3.0, I selected 'Bluetooth GPS' and the software began searching for the mini-S3. It appeared as 'BTGPS' which I selected and tapped 'ok' - no need to pair the device or set it up as a trusted device. Then up popped the 'Select Destination' screen and the directions in the manual told me to go outside to wait for the GPS fix.
---
Minute 3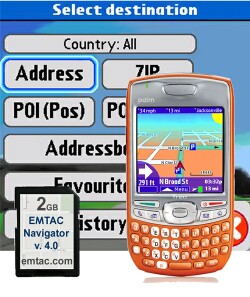 Normally with new versions of software, the interface changes, but in the case of EMTAC Navigator 4.0 I was again greeted with the same, but grayer 'Select Destination' screen. I still like its layout, with its easily fingerable buttons; for most of this software, there is no need to use a stylus (the last thing you want to screw around with while driving!).. and can fat finger and type most entries.
As the minutes tick by, I can see that there is a slight possibility the five minute mark is attainable. When grabbing the mini-S3 to head outside, I noticed the green satellite-lock LED is already happily flashing - man I really love the SiRF Star III chipset.
The manual next coaches you to select a destination and begin routing. One of my complaints of the previous version was that two-letter state abbreviations (AL, AZ, CA, and so on).. were shown on the screen, forcing me to tap the state, then the green check to move to the next screen. It might have seemed logical, but by doing so the software would move dreadfully slowly,, and cause problems finding an address. Thankfully EMTAC has eliminated this and after tapping 'address' I am prompted to enter the city name.
With most GPS software I review, as my benchmark test, I first plot a quick little route to my local supermarket or Post office – places I've been to thousands of times. As I start typing my City's name, one of the first things I noticed is this software is much quicker than before and as I type it in letter-by-letter, I get to the "a" in Torrance and "Torrance, CA", "Torrance, PA", and "Uninc Torrance County" show up on the screen. The software narrows down the possible cities as you keep entering letters. (Of course, this assumes you KNOW how to spell the name of a City, if you're in an unfamiliar location and want to route somewhere, another reason I like TeleNav's "call-in" feature).
Filtering through the entire U.S. map data with the speed I saw this software do, meant the new developers spent time optimizing their internal algorithms in this new version than in previous versions. In keeping with the tradition of V3.0, I tap "Torrance, CA" and tapping the green check advances me to the next screen to enter the street name.
As I continue entering the street name and house number, the improved speed of the software is obvious. Even though it's crunching through 48 states of map data, you would hardly know it. I have now entered the city name, street, and "house" number of the store, and I'm at the screen to start routing. I could choose to edit my speed preferences, which I am told have been changed and improved upon from the arcane sixth, fifth, fourth, etc. level streets to "Fastest", "Shortest", and "Avoid Highways". This new version has definitely moved to the "Simple is better" philosophy.
Minute 4 >>
Copyright 1999-2016 TreoCentral. All rights reserved : Terms of Use : Privacy Policy

TREO and TreoCentral are trademarks or registered trademarks of palm, Inc. in the United States and other countries;
the TreoCentral mark and domain name are used under license from palm, Inc.
The views expressed on this website are solely those of the proprietor, or
contributors to the site, and do not necessarily reflect the views of palm, Inc.
Read Merciful by Casey Adolfsson