treocentral.com >> Products & Reviews >> Accessories
Smartphone Experts SidePouch for Treo (All Models)
Overview
Okay, Iíve just wasted nearly two hours on the internet reading other peopleís reviews (mostly of the Honda Fit and the Toyota Yaris at Cars.com. So itís my turn to weigh in with a review of something at the other end of the spectrum. Yes, another case from the folks at Smartphone Experts, this one stamped with their new SPE logo replete with swooshy type markings that suggest either an earpiece or phone. Iím not sure.
Design
The Smartphone Experts Side Pouch is your basic, side holster case. Not that thereís anything wrong with that. Sometimes you need simplicity in life. You donít want the high end Vaja cases, or the fancy flip lid options. You want something that will sit on your hip, hold the Treo securely, and never fail. Kind of like a budget/economy car like the Fit or the Yaris (which both get nearly 40 miles to the gallon under the right circumstances).
The case has the usual things youíd expect from a pouch case these days. A top flap with a hidden magnetic closure that flops and snaps shut in place without a metal piece in sight. A belt clip that slides simply over your belt (Iíve tested some that were too loose and some too tight, but this is just right) to hold the pouch firmly in place. The clip itself does not swivel, so if thatís important to you, look elsewhere. The advantage is that this is less likely to wear out. In fact, since there arenít any moving parts or separate clips to get lost or damaged, this case may well have a long life. The black stitching all around appears firm. The leather outside has a slightly shiny sheen and the interior is the usual felty stuff.
The case is also suitable for many manner of Treoís being a one size fits all. If you donít jump ship to the iPhone, then this should hold you for future Treo upgrades (but no, it wonít hold a Foleo.)
---
Real World Test Drive
The case does what it is supposed to do. It holds the Treo snugly and securely against your hip (or on a purse strap) with minimal fuss. It can easily slip into some sort of bag or backpack without the usual protrusion of a belt clip nub.

Another plus is that this can be used with a skinned Treo. Itís not that the case is extra roomy; I just found it could stretch just enough to accommodate a skinned Treo, though it is a very snug fit.
One major annoyance is that no ports or switches are accessible while the Treo is in the case, unlike the excellent P6 Pouch case that I reviewed *GASP* two years ago. However, I have a pile of wireless Bluetooth headsets Iíve reviewed, including my current tester, the Lubix UBHS LC1 Ė which has excellent stereo sound. Iíd still like to be able to toss the Treo in case on my desk and plug in the charging cable.
Other than that, the case seems like it will solidly protect your Treo. The back is reinforced; the front flap adds an extra layer of support to the front. The case is no Otter box, but is up there in terms of total protection.
---
Conclusion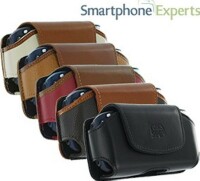 The case is a bit boxy, but does the job. Although I prefer the P6 pouch case and I suspect I would like the P7 case as well , this seems to be a bit sturdier. Although I tested the basic black model (well, can you really test a color?) this comes in four two toned color combinations including Cocoa Brandy, Red Brandy, Saddle Brandy, and Cream Brandy. What this means is that the main case is either Cocoa, Red, Saddle, or Cream, and the cover flap is the former color description: Brandy.
This case is $29.95. Itís a bit pricey in my opinion, given that several side pouches come in at ten bucks cheaper. Though itís certainly several orders of magnitude less than the $249.95 Berge Crocodile Skin Pouch. The thought of that case makes me want to lodge a complaint with the ASPCA www.aspca.org (though admittedly a Croc probably has less intelligence and soul than a bovine, but I digress).
Just so you know, Iím leaning towards the Honda Fit, though of course my wife is interested in the Toyota, having had good luck with them in the past. Fortunately, case buying is usually a solitary enterprise. Good luck.
Criteria

Rating

Design
3
Functionality
3
Protection
4
Price/Performance
4
Overall
(not an average)

Pros
Solid Case

Good color choices

Low profile

Fits Skinned Treo

Cons
No access to ports

A bit pricey
Copyright 1999-2016 TreoCentral. All rights reserved : Terms of Use : Privacy Policy

TREO and TreoCentral are trademarks or registered trademarks of palm, Inc. in the United States and other countries;
the TreoCentral mark and domain name are used under license from palm, Inc.
The views expressed on this website are solely those of the proprietor, or
contributors to the site, and do not necessarily reflect the views of palm, Inc.
Read Merciful by Casey Adolfsson