treocentral.com >> Products & Reviews >> Accessories
Smartphone Experts SafeGuard MetalSlider for Treo 755p, 750, 680
---
Thu Aug 16, 2007 - 10:14 AM EDT - By Jay Gross
---
Overview
The SafeGuard MetalSlider case is a classy looking design comprising a mirror-like, polished metal back and a clear plastic front. You simply slide this foam-lined assembly over your Treo to keep it from harm. The case has cutouts for everything, so you wonít need to slide it off, though thatís also a cinch Ė say, if you need to change the battery.
The MetalSlider comes in models for Treo 680, 750, and 755p. My review unit fits my (crimson!) 680 perfectly. It slides on easily, fits snugly, and doesnít appear to be too prone to fly back off accidentally, although itís not all that difficult to remove it on purpose when necessary. The inside fo the metal half of the case has serrated grippers to hold the Treo against accidentally flying out. These work Ė or something does, anyway. For the 680, at least, I can report that the fit is near perfect.
The caseís cutouts allow easy access to the Treoís left side buttons, to the charge and HotSync connectors, the ear phone jack, keyboard, camera, and even the 680ís SD card opening. Removing the SD card itself is a job for smaller fingers than mine, however. I have to enlist help Ė or just cuss a little and snatch the case off to retrieve the card. I donít do that much, so itís not really a problem. If you have daintier fingers, youíll probably wonder what planet Iím from for complaining about it, even. Installing an SD card is easy with the case still on, even for my big olí fingers.

With its thick metal back panel, the MetalSlider still weighs in at only two ounces (78 grams), including the removable clip and screw-in button (more about those shortly). For a five and a half-ounce Treo 680, thatís not too bad. Not being a fan of the clip, however, I weighed my clip-free model at only 46 grams (1.6 ounces). Cleaner looking, and lighter, too.
---
Belt clip
The MetalSlider either clips to your belt or doesnít. You choose. The box includes a little knurled metal button that you can screw into the metal backing plate, plus a small plastic clip that snaps onto the screw and attaches to your belt, book bag strap, purse strap, or what have you. The knurled button has a standard screwdriver slot on top, so if youíre worried about it working loose, apply a screwdriver to it and keep it tight. Thatís the only adjustment, but itís a smart one.
The clip stays free to rotate, so the Treo does just that. Rotate. Indeed, it flops around a bit too much for my comfort, although it does seem to hold securely. Put me down as a fan of large, extra-grippy clips that make me feel warmer and fuzzier about my Treoís safety being bounced around on a belt or book bag strap. I also like the ones with detents to hold them at various, convenient (or not) angles, steady at the ready.
---
Protection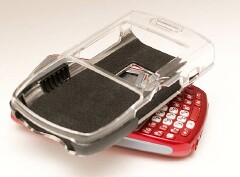 The SafeGuard does a great job of protecting everything except the most expensive-to-replace part of the Treo, its screen. This is about like calling out the National Guard to protect a bankís parking lot while leaving the safe wide open. However, such is the nature of this type of case, so best to use a good screen protector and make sure your Treoís insurance stays in good standing. And keep in mind as you go forth in the world that the coins, keys, and chopped liver you keep in your pocket or purse might pose a risk to your Treoís screen, even with a protector applied.
The rest of the device, however, sits safely encased in shiny metal or clear plastic. Not much short of bullets could make it through the thick metal, and the plastic on the front holds great promise for fending off attacks from bumps and knocks, too. Inside, thereís some padding to keep the Treo in the case, and this too will absorb energy in a knock or a drop. The case even has little bumpers at its outside corners, to protect itself from ďfender benders.Ē So, for bounces and attacks from flying objects, the MetalSlider keeps you pretty well protected. Except the screen, alas.
With all those cutouts, you can just forget water altogether. No splashing, no raindrops, and certainly no dunking. The MetalSlider is built for mechanical protection only.
---
Conclusion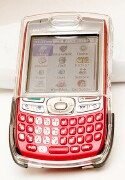 The SafeGuard Metalslider is a great looking case that performs outstandingly in its intended job. It slips on and off easily and quickly, but doesnít really need to, as it has cutouts for all the Treoís controls and buttons, including the side-mounted SD card slot.
Use a good screen protector, which you should have anyway, and watch out for toting the Treo in the same bag with those Martian meteorite samples. I could wish for some sort of strap to secure it into the case, and especially for a window of some kind to offer more protection to the screen. The plastic clip could use some rethinking, too, though it works just fine as is.
Criteria

Rating

Design
4
Usability
4
Protection
3
Cost/Benefit
3
Overall
(not an average)

Pros
Sturdy metal back

Cutouts for all ports, including SD card access door

Screw-on rotating belt clip

Easy and fast to slide Treo in or out

Cons
No protection for screen

Scratch potential for too many slide-on slide-off operations

Clip is small and holds only loosely to the screw-in button

SD card access is difficult with large fingers
Copyright 1999-2016 TreoCentral. All rights reserved : Terms of Use : Privacy Policy

TREO and TreoCentral are trademarks or registered trademarks of palm, Inc. in the United States and other countries;
the TreoCentral mark and domain name are used under license from palm, Inc.
The views expressed on this website are solely those of the proprietor, or
contributors to the site, and do not necessarily reflect the views of palm, Inc.
Read Merciful by Casey Adolfsson