treocentral.com >> Products & Reviews >> Accessories
Solutions lead to problems lead to solutions..
I put my 650 out to pasture..
Note: click any picture to view it full-sized in a new window..
The Sprint 650 was my first Treo. I went through two of them.. literally wore them out. As almost exclusively a Treos-and-their-stuff writer the past few years, you can probably understand how I make very heavy use of these phones, much more so than an average Treo owner – after all, they're my tools of the trade. Anyway, after a year or so of perfect performance, my first 650 just went berserk and started randomly re-booting itself. Well, that's why I pay Sprint about five bucks a month for replacement "Insurance", so they swapped it out for another one, no charge.
Even after I acquired my first 700p about a year ago, the 650 remained my main phone. Hardly anyone had my 700's number, and I wanted to keep it that way - because it's on Sprint's high speed 3G "EVDO" network, it spent most of its time as my "multimedia" machine, running Kinoma Player 4 EX or the SlingPlayer Mobile or Pocket Tunes Deluxe or, when I need GPS in the car, TeleNav.. plus a lot of Web Browsing.. in other words, anything that needs a lot of bandwidth, memory, speed, the 700p was devoted to those tasks, while the 650 was used mainly as a phone (and a review platform for 650 accessories).
Yes, I carry around two Treos most of the time, thanks to PalmOS' frustratingly feeble multitasking (or bluntly, the lack of it). If I'm listening to a radio station or podcast stream or watching video, or running GPS and need to make a call or one comes in, when done with the call, with only one Treo, in most cases, I'd have to re-start whatever program I was using.. plus, for various work-related reasons, I simply need two working Treos, if only to have one as a backup in case the other fails..
So a few weeks ago, when my second 650 simply wore out from a year's heavy use, again I invoked my Sprint "Insurace" policy and although Asurion, (formerly lock/line) Sprint's replacement arm told me they actually still had re-furbished 650s in stock, I said I'd prefer another 700p, if I had a choice. I didn't want a 755p because I don't own a single miniSD card. A brand new 700p arrived a couple days later, no charge. I transferred my 650's software into it, using Blue Nomad's fabulous BackupBuddyVFS (about which I just can't say enough good things, but I digress..) .. before doing a hard-reset and kissed the 650 g'bye and sent it back.
Now I had two 700ps, both on Sprint's high speed EVDO network. After a few days of a lot of migrating data, or futzing around if you will).. they ended up with pretty much the same bunch of third party software and personal data (contacts, memos and so on) on both of them. Since the new phone inherited the 650's phone number, it's now my main phone, while the year-old 700p is still my multi-media machine, although the new one also has the same capabilities and the same powerhouse (and power-hungry) third-party software on it.
So that's the wordy set-up to this review.
---
Mmm.. Big fat battery.. must have new case..
A while back I reviewed Seidio's monster 3200mAh Extended Battery for the 700p. As I explained, although this battery has to be the same length and width to fit into the Treo's battery compartment, for reasons known to its engineers, and I'm not one, so I can't explain the need, this battery is 3mm thicker than a 700p's stock 1800mAh battery, requiring the use of a new battery door with a 3mm rectangular bulge, which Seidio ships along with the battery.. actually, they include two doors – one to match the Sprint 700p's color, another the Verizon 700p's color. Both doors also feature Seidio's famous hole, through which you can poke your stylus to do a reset, should you need to, without having to take your case and door off. Handy feature, that.
Well, as I've noted many times, I don't like carrying around these expensive phones naked. As I've also mentioned, my personal proclivity is to carry the phones in my pockets, usually one in an inside jacket pocket, and one in a jeans pocket. For various reasons, I find side holster-style cases and belt clips just don't work for me, so I like pocketable cases with smooth backs.
So although I had a pair of those monster batteries, I wasn't really using them that much because despite having more review sample cases than I know what to do with, not a single one of them would hold a 700p with the 3200mAh battery and its fatter door installed. Not one. Not even a silicone rubber skin fits it properly, although it comes closest, but the 3mm bulge on the back of the phone makes those rubber skins spread out around the screen. Ugly.
---
If not Seidio, then who? No one, that's who..
The problem with using these huge batteries is that no other case maker I know of makes a form-fitting, smooth-backed case, whether plastic, leather, metal, or any other material that'll hold a 700p with this battery in it. That's just the nature of the aftermarket accessory biz.. you'll rarely find a mfr. that makes an accessory specifically tailored to some other mfr's. accessory, so it was up to Seidio to create cases to accommodate a Treo 700(x) with the 3200mAh battery in it, and they did, and gave it the mouthful-of-words name: "The Super slim Crystal Case for EXTENDED Treo 700p/wx with 3200mAh Extended Battery."
---
Overview
For brevity's sake, I'll just call this case the "Crystal 3200" for the remainder of this review.
Seidio sent me two Crystal 3200 cases, and they arrived in that company's typical Spartan packaging: a plastic bag.
Although they advertise it as having the same 1.2mm thickness of their Rubberized Ultraslim case, the Crystal 3200 feels thicker, to me. I left my micrometer in my other tuxedo, so I'm taking Seidio at their word that the two cases are the same thickness.
However, I do have a very accurate digital gram scale, (doesn't everybody?).. and for those of you who care about such things as a gram or two of weight, more or less, the black Rubberized Ultraslim weighs exactly 16.3 grams, while the Crystal 3200 tips the scale at 18.1 grams. I chalk up this extra (and ridiculously meaningless) additional weight to the fact that the Crystal 3200 has that rectangular bulge on its back, so there's more plastic there, however for reasons I can't explain, it doesn't feel quite as eggshell-thin as the Rubberized Ultraslim does.
---
Installation..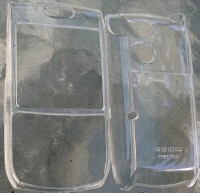 The Crystal 3200 uses Seidio's same strange and somewhat finicky internal clip fastening system as the Rubberized Ultraslim, but I found it MUCH easier to install.. although the instructions sheets accompanying each model case are identical, the fact that the Rubberized Ultraslim is jet black, inside and out, and the Crystal 3200 is totally transparent means that on the former, it's VERY hard (at least it was for me) to position and then snap shut the unique, molded-in clip system on the former.. but on the latter, since the case is transparent, you can much more easily see what you're doing as you work your way around the case, snapping the clips together, since you can see INSIDE it as you line up those clips.
Although it lacks the grippiness of the Rubberized Ultraslim, the Crystal 3200 is hardly what I'd call "slippery".. although it IS a smooth, not matte finish, and it is 100% plastic, with no little grippy pads or protrusions or sanded surfaces anywhere on it, it's quite comfortable to hold, warm to the touch, and, since it lacks any kind of belt clip system nub or screw on the back, glides easily into and out of pocket or purse.
As of this writing, Seidio ships the Crystal 3200 in only one color – clear. They told me tinted versions might be in the offing, later on.
---
Huzzahs and a couple quibbles..
Since receiving and installing the Crystal 3200 on my new(er) 700p, I have not taken it off once. I haven't had any need to. The phone with this case around it fits perfectly in Seidio's universally-acclaimed InnoDock desk cradle, which I've used since it first came out a couple years ago, and it also fits perfectly in my Altec Lansing iMT1 sound system / speaker phone / charging station.
The Crystal 3200 has perfect cut-outs for just about every 700p feature – the antenna, camera, mirror, speaker, side buttons, stylus, bottom multi-connector and audio port. I say just about because I had a bit of a problem getting used to the case's crossbar plastic between the bottom of the 700p's screen and the top row of control buttons.. that bar of plastic is slightly raised and rounded, so it took some getting used to, to operate the five-way pad's "up" button side and the green (left) and red (right) buttons are very close to it. Call me picky, but that crossbar should have been designed a little flatter, if possible, to avoid this problem. It's not a huge impediment.. it just takes a bit of getting used to. Access to the entire keyboard, however, is perfect.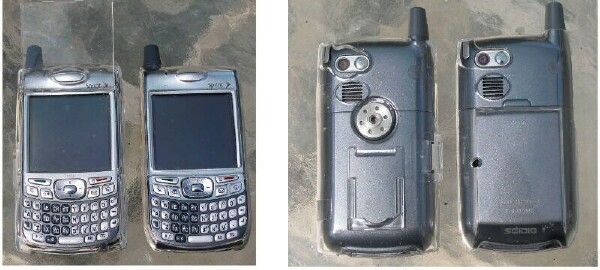 The other thing that took some getting used to, and something I miss a lot, is a clear, flip-up screen-protecting window, as you'll find on the type of thicker clear case pictured. This style of clear case with a flip-up window is made in China and sold by just about every Treo-supporting case maker around.
I used one on both my 650s for years, and put one on my new 700p before the Crystal 3200 arrived. As you can see, that style of case HAS no crossbar below the screen, so nothing to get in the way of the control buttons, and that little clear window gives much-needed extra screen protection the Crystal 3200 totally lacks.
If Seidio could either get rid of the Crystal 3200's crossbar and incorporate a flip-up clear window, OR design a model of the other style of clear case to accommodate the monster battery's fatter door, I think we'd have the best of both worlds. For the lack of a flip-up window, I downgrade the Crystal 3200 a ratings point.
Conclusion >>
Copyright 1999-2016 TreoCentral. All rights reserved : Terms of Use : Privacy Policy

TREO and TreoCentral are trademarks or registered trademarks of palm, Inc. in the United States and other countries;
the TreoCentral mark and domain name are used under license from palm, Inc.
The views expressed on this website are solely those of the proprietor, or
contributors to the site, and do not necessarily reflect the views of palm, Inc.
Read Merciful by Casey Adolfsson