treocentral.com >> Products & Reviews >> Accessories
Mobi Products Clip Pouch
---
Mon Sep 10, 2007 - 9:13 AM EDT - By Jay Gross
---
Overview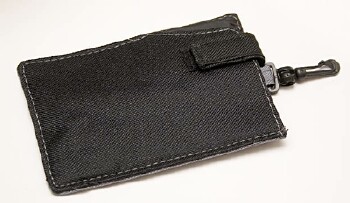 Simple is good. Simple is great, actually, and adding inexpensive can make it all the better. Such is the case, pun intended, with the Mobi Products Clip Pouch. It's way simple, does its job well, and doesn't lighten the wallet too bad.
This convenient little "sack" holds and protects whatever you care to entrust to its clutches: Treo, iPod, sunglasses, digital camera, or that extra deck of cards you keep around in case you run into some greenhorn gamblers. In fact, the pouch won't know or care if you use it with (gasp!) a non-Treo.
For $9.95 you get pretty good protection for your Treo – or whatever else – in a nice looking, padded pouch that snaps onto any ring or threads onto a belt or strap. No bells and whistles, but not much need for them, either.
---
Usability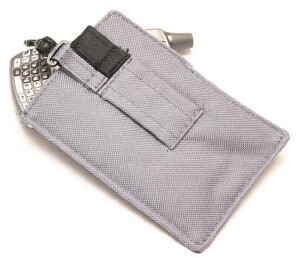 While the Treo is in the bag, so to speak, it's not very accessible. You can hear its (somewhat muffled) ring tones, but you probably won't be able to feel it if you have it set to vibrate. You have to open the pouch and remove the phone to answer it. I found this to be a two-handed process, but maybe with some practice you could manage it with one hand. Juggling experience might come in handy.
Whatever you entrust to its smooth, soft interior, the pouch does a pretty good job of protecting it. It even provides a Velcro-equipped strap that lops over the top opening to secure the pouch's contents – for the most part. The strap covers only a fourth of the width of the opening, so if the device you stow in there is narrower than about 1.75 inches (4.5 cm), it could slip out around the latch. Knowledgeable reports (translate: idle conjecture and vicious rumors) peg the impending Palm Centro at a width of 53.6 mm (2.1 inches). My slim and trim Treo 680 is 2.375 inches (60.3 mm) wide. All of the above, give or take the standard fudge factor, naturally.
Like my long discarded 1960 Corvair, Mobi Products' Clip Pouch is two-toned. The pouch is black on top, gray on the bottom. My Corvair was white on top, blue on the bottom – until I flipped it into a ditch; after which a lot of it was primer. The whole case is stitched together with gray thread, which contrasts on the black side and blends in with the gray back. The result is an attractive, though plain looking, Treo accoutrement that might not set the fashion police on your trail, even if you wear it to the opera.
---
Protection
The Clip Pouch does the protection thing with a padded silky, soft material that lines the inside. The padding peeks out past a small scoop in the front panel, and the black security strap folds over onto the front side, latching with a small pad of Velcro. I couldn't find a satisfactory (to me) way to store the flap without engaging it. The Velcro pad isn't large enough to stick the strap to itself to keep it out of the way.
Mobi's pouch does a great job of protecting whatever you stash in it. In the case of Treos, that means the whole device, including screen, keyboard and all the buttons. None of it is accessible until you extract the phone from the pouch.
As for water, you'll be okay in a sprinkle, perhaps even a little while in a downpour if you flip it upside down. However, no way with the dunking, please, and forget diving altogether.
---
Quibbles
My problem with the pouch is mainly its latch flap. It takes two hands to undo it, and I don't always have both hands available when somebody calls my Treo. I don't use the snap much, but I do like stuffing the pouch into my pants pocket without worrying about Treo damage from all the keys, coins, chainsaws, and other stuff that lives in there. If the pocket were any roomier, I'd lose sleep over small objects working themselves out of the pocket and into the pouch, there to abrade, scratch, or otherwise impact (scary word!) the Treo. I haven't had this happen, because I decided not to put anything in the inner pocket, on account of the possibility.
I have a small problem with the Clip Pouch's rotating, springy latch, too. Although it appears sturdy enough, and probably plenty secure, it's too small to reach around any of the attachment points that I have available. It won't accommodate a book bag strap, for example, or a belt. Look for a ring or other contrivance where the strap hooks to the bag, and hang the pouch on that. The snap rotates freely, so it should conform to most any angle and stay vertical.
I have made peace with the latch, making great use of the Clip Pouch, hanging my Treo onto one of the heavy duty strap rings on my camera bags. Ahhhh, nice. Even so, a bigger snap – perhaps as an option – would be welcome. A wider security strap might be a good idea, too, as gadgets keep shrinking, and it would be good to offer less space for objects to intrude – from pockets, for instance.
---
Conclusion
Mobi Products takes a simple and attractive approach to Treo pouches with their Clip Pouch. It's light weight, less than an ounce, and adaptable to different ways of carrying, with its belt loop and rotating clip. Besides that, it looks good. The product's low cost makes it extra attractive.
Criteria

Rating

Design
4
Usability
4
Protection
5
Cost/Benefit
5
Overall
(not an average)

Pros
Soft lining

Inner pocket for SD cards

Belt loop and swivel clip

Velcro loaded latch strap on top

Cons
Clip does not accommodate wide straps

Inner pocket is too loose – SD card could fall out

Retrieving Treo from pouch is two-handed operation
Copyright 1999-2016 TreoCentral. All rights reserved : Terms of Use : Privacy Policy

TREO and TreoCentral are trademarks or registered trademarks of palm, Inc. in the United States and other countries;
the TreoCentral mark and domain name are used under license from palm, Inc.
The views expressed on this website are solely those of the proprietor, or
contributors to the site, and do not necessarily reflect the views of palm, Inc.
Read Merciful by Casey Adolfsson