treocentral.com >> Stories >> Business
4SmartPhone Announces Partnership with Palm to Offer Hosted Exchange to Small Businesses.
Overview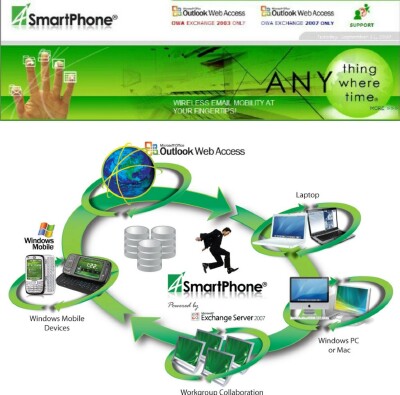 On September 12, 4SmartPhone is going to announce a partnership with Palm and Windows Mobile in order to provide small businesses a Growing Business Kit aimed at helping owners of Windows Mobile Treos stay connected with their home or office through email, contacts and calendar.
This partnership will enable small businesses the benefit of a hosted Windows Exchange 2007 environment without the expensive investment in an Exchange server. 4SmartPhone will provide the hosted Exchange environment while Palm supplies the Treo smartphone device. Pulling together today's leading wireless providers, the Growing Business Kit features easy-to-use mobile technology with windows Mobile Treos.
"To stay ahead of the competition, small businesses need the same tools readily available to bigger corporations, without compromising their small business agility," said Patrick Gilbert, president and CEO, 4Smartphone. "It is our intention to provide the best mobility service for small businesses that larger enterprises already enjoy. With Palm and Microsoft onboard, we're excited to see the Growing Business Kit take off."
Implementing in-house hosting for small business owners takes a lot of money and time. The Growing Business Kit is designed to improve small business productivity and reduce total cost of ownership. 4SmartPhone's full list of services and benefits to customers include:
Fully-managed and enhanced administration capabilities

Fully hosted Microsoft Exchange 2007 service with Microsoft Direct Push & ActiveSync for email, contacts calendar and tasks
Better performance and groupware manageability of your information
Remote wipe all information from your device through a revamped Outlook Web Access OWA if stolen or lost
Complete web-based control panel for company and user management

Simple, Secure & Superior Built-in protection

Instant, easy web set-up with no additional hardware or software installations
Virus checking, SPAM filtering, higher security built-in features & defenses available
Backups included in the service

Flexible & Independent

4SmartPhone works with any data plan subscription, world wide
Works with any Windows Mobile device
4SmartPhone just recently upgraded from Microsoft Exchange 2003 to Microsoft Exchange 2007. With the more robust Microsoft Exchange 2007, 4SmartPhone customers will benefit from 99.5% performance of their mobility features.
There has been a lot of discussion about 4SmartPhone in the TreoCentral forums. It's been compared to mail2web and fastmail/flexmail. From what I've read in the threads containing 4SmartPhone posts, the service costs more than others but the customers seem happy with it. Some of the pros are having more space to work on the screen using Web Outlook because there aren't any ads, not having to use the [email protected] return address, and having your contacts and your calendar pushed along with your email. fastmail/flexmail doesn't push the contacts or calendars. 4SmartPhone doesn't require that their customers use their own domain, and they will set your account up so that you can forward another email address to your Exchange mailbox and have emails sent from your Exchange mailbox appear to come from that email address. Other servers like Mail2Web and Sherweb don't support this.
Of course it's not all been sweet with 4SmartPhone in the forums. It seems that many users had problems getting their email when 4SmartPhone had some server problems. But I also read where the other services had problems now and again too.
The 4SmartPhone, Palm, and Windows Mobile partnership sounds really great for small businesses. The SMBs will enjoy having the same tools as the bigger corporations, and the Growing Business Kit will help them to save time and money.
To find out more about 4SmartPhone go here, and you can learn more about The Growing Business Kit here.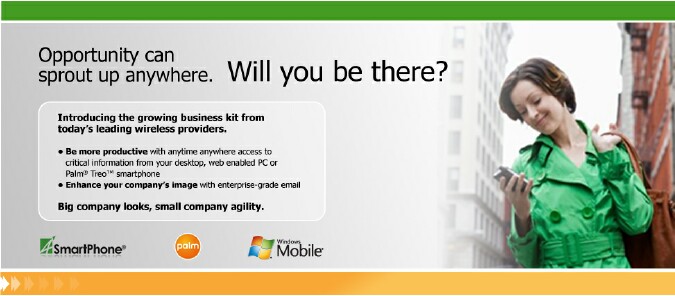 Copyright 1999-2016 TreoCentral. All rights reserved : Terms of Use : Privacy Policy

TREO and TreoCentral are trademarks or registered trademarks of palm, Inc. in the United States and other countries;
the TreoCentral mark and domain name are used under license from palm, Inc.
The views expressed on this website are solely those of the proprietor, or
contributors to the site, and do not necessarily reflect the views of palm, Inc.
Read Merciful by Casey Adolfsson