treocentral.com >> Stories >> Software
Treo Software Roundup
Palm OS Software
In this round we have updates to Backup Pro, Propel, Bonsai 4, FlexMail, Battery Pack Pro, and some new Treo software...
BackUp Pro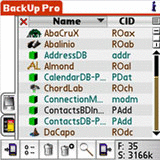 BackUpPro by RoGame Software has been updated to version 1.7.7. BackUp Pro can protect your data by keeping an up-to-date copy of everything on a memory card (SD, MMC). It does this in a very efficient manner and is extremely fast. To give you complete peace-of-mind it also allows for unattended automatic backups at a pre-determined time of the day. Files can be selectively backed up and restored.
BackUpPro is available here for $14.95.
---
Card Reader
Mobile Stream has updated Card Reader to version 1.07. Card Reader allows to use Palm-powered handhelds as an ordinary USB or Bluetooth card reader for quick and easy file exchange. It has the unique ability to export the card in the background mode allowing you e.g. to transfer MP3s simultaneously with web browsing.
Features:
Great transfer speed (up to 1200KB/s for reading and up to 1100KB/s for writing on most modern handhelds)
Background operation support
Ability to export multiple slots at the same time
Experimental Bluetooth FTP support
Small memory footprint (60KB)
You can get Card Reader here for $11.95.
---
Propel for Palm OS
iambic has recently updated Propel to version 2.0.
Propel brings ease of use, instant retrieval and speedy launches of applications, music, pictures, contacts, and more to your Palm OS-based smartphone or handheld.
Propel is the ultimate launcher for your Palm OS powered PDA or smartphone. If you have a Treo, try Propel and you'll be amazed at how snappy and straightforward launching applications, finding your contacts and keeping in touch will be. Once you start using it, you'll wonder how you ever did without it.
At the same time, Propel is budget conscious and offers 2 editions to better fit your specific needs. Don't need Voice Launching or mp3 capabilities? Then the Standard Edition is for you. Looking for a fully integrated launcher experience? Go Professional and you won't be disappointed.
New in Version 2.0
Introduced the ability to create launchable shortcuts for applications residing on the SD card
Added support for plug-ins
Introduced a new, redesigned and optimized Preferences menus
Added optional "Background Updating" to automate the refresh of Propel's views when data/applications (including those on SD card) change
New 3-D "glassy-effect" default skin
Added adjustable transparency for skins
Added support for a variety of additional 3rd-party applications, including Documents to Go 10.x
New "Underline As You Type" functionality when starting a search to indicate the characters entered on the actual items
Introduced the ability to show up to 6 columns in List Mode
New "Lefty" functionality for those users preferring controls normally on the right to appear on the left
Added per-view background, text color and status indicator selection
---
Bonsai 4
Natara Software has updated Bonsai 4 to version 4.2.4.
Natara Bonsai is a full featured Palm OS outliner with FULL one step synchronization to a companion Windows desktop application! Use it to outline ideas, as a hierarchal to do list, a simple project manager, or ALL in the same outline. Stay connected with the Natara Bonsai outliner, a Palm OS outliner that was "Born to Sync".
Bonsai 4 is available here for $37.95.
---
AbaCruX
AbaCruX by RoGame Software has been updated to version 1.9. AbaCruX is a Palm OS implementation of the well-known game peg solitaire. There are 30 different puzzles - 15 regular ones and 15 in the French style. This game is skinnable. Five great skins are included and more to follow. The first three levels are free - so give it a try.
Features:
30 different configurations
Palm OS 5 enhanced
HiRes for legacy Sony devices
Undo and statistics
Five skins included
Cool game Sounds on OS 5
You can get AbuCruX here for $9.95.
---
Resco Explorer 2007 for Palm OS
Resco has updated Resco Explorer 2007 for Palm OS to version 3.20.1.
Resco Explorer is a file manager, zipper, viewer, launcher, backup tool, ftp and network explorer in one product. You get in one package handset of tools that used to be scattered in various applications.
One of the best features of the Explorer is its customizability. The users may choose between one- or two-panel modes, horizontal or vertical layout and setup other display aspects. Note also the possibility of the one-handed control and the support of all common devices and resolutions.
New in Version 3.20.1
Network connection can have remote folder.
Improved Bmp loader. (Some exotic formats added.)
DB viewer - Images display dimensions of the complete bitmap family. (Developer support)
Resco Explorer 2007 is available here for $29.95.
---
Softick Audio Gateway
Softick has updated Softick Audio Gateway to version 1.15.
Softick Audio Gateway is the first audio streaming solution for Palm OS handhelds which allows to connect Palm OS handheld to the Bluetooth® stereo headphones and listen to digital audio played by any Palm OS applications including multimedia players, audio book readers, games.
Softick's website isn't showing the newest release so I don't know what has changed. I know that with version 1.14, the Treo 700p Sprint 1.10 update support was released. And Treo 755p call handles were improved again.
Softick Audio Gateway is available here for $19.95.
---
Weather Manager
Tiny Stocks has updated its program Weather Manager to version 4.01.
Weather Manager allows you to keep track of the current weather conditions and 5-day forecast for thousands of cities around the world with your Palm OS device.
Weather Manager is a great travel companion! Check the weather on the road with a Treo or by connecting your Palm to a mobile phone. Or download the latest 5-day forecast and satellite images for all your favorite cities through your desktop computer's internet connection at each HotSync operation (Windows 95/98/NT/2000/Me/XP and Mac OSX).
New Features:
Fixed update for UK.
Weather Manager now has a better data feed with more accurate forecasts.
Weather Manager now includes a plugin for the popular Palm OS launcher "Facer" from PocketCraft. With this plugin you can see the latest weather conditions for your home city right on the Facer start page!
You can now use Weather Manager on your television with the Linksys/KiSS internet-connected DVD players! [ learn more ]
You can get Weather Manager here for $12.95.
---
Magic Piano - The Virtual Performer!
Thuliumware has updated Magic Piano to version 1.2.
Magic Piano is a true Virtual Piano for your device, featuring high quality sounds from Steinway, smooth keys movement and smart classical notation integration. Whether you are a beginner or an expert in music, you will surely be impressed by the possibilities of this piano.
The Magic Piano will play for you classical music, movie themes, evergreens and pop hits, thanks to its large database of the most famous melodies and themes. Just select any tune to enjoy immediately its realistic sound. In future you can enlarge your collection with Add-ons, which are going to be available soon. The piano will keep a separate collection of your own compositions, and can perform them later.
In order to compose a new melody just play it on the keyboard, and the Magic Piano will put the right notes for you. You will be able to choose from various types of notes and rests to perfect your compositions. Show your art-works to your friends and impress them with the beautiful sound of the Magic Piano!
Features:
High Quality Samples of Steinway D Grand Piano
Real Time 3D Engine for the Keyboard
Repeat and Shuffle Playback Mode
Concert Hall Reverb Mode Option
Smart Classical Notation Style
Magic Piano requires a Palm OS 5.2 device and 3500 Kb of available RAM.
You can get Magic Piano here for $7.95.
---
Arcade Games Pack
DeluxeWare has combined all the best selling games into one package! You can install these games now: Bowling Deluxe, Pool Deluxe, Table Football. Get 3 games in one package with discount 50%
Bowling Deluxe
Whether you're a novice or an expert bowler, Bowling Deluxe is the game for you! Bowling Deluxe brings an American favorite pastime to your hanheld with stunning 3D graphics, slick animations, and all the sights and sounds you expect from a night at the alleys. Whether you're a casual bowler who loves to hit the lanes with friends, or a diehard enthusiast who craves a realistic game of bowling from the comfort of home, Bowling Deluxe will have you in the thick of the action. No rental shoes required!
Pool Deluxe
Pool Deluxe features great 3D graphics, realistic physics, intuitive controls and smooth gameplay guaranteeing many hours of fun and pleasure.Master the game with practice mode or jump straight in and play 8-ball,9-ball and other pool variants against your friends or variety of computer opponents, plus challenge modes.Complete with a choice of different table designs and a game modes there's plenty to keep you occupied and addicted!
Table Football
Soccer is a very popular game with millions of admirers worldwide. We are going to let you play the real table soccer, which is as famous. Some people may also know this game as foosball.
I play Bowling Deluxe on my Palm TX all the time and it's a very fun game! It has great graphics and I love to hear the crowd cheer whenever I roll a strike. LOL, you get to hear the clunking sound whenever you roll a gutterball too, which is sort of often in my case. ;-)
Features:
Realistic sound effects and background music
Low-Res / Hi-res / Hi-res devices support
Visual effects and animations
Excellent 16 bit graphics
5-way navigator support
Advanced game settings
User-friendly interface
You can get the Arcade Games Pack here for $24.95.
WM Software >>
Copyright 1999-2016 TreoCentral. All rights reserved : Terms of Use : Privacy Policy

TREO and TreoCentral are trademarks or registered trademarks of palm, Inc. in the United States and other countries;
the TreoCentral mark and domain name are used under license from palm, Inc.
The views expressed on this website are solely those of the proprietor, or
contributors to the site, and do not necessarily reflect the views of palm, Inc.
Read Merciful by Casey Adolfsson