treocentral.com >> Stories >> Software
Treo Software Roundup - v110507
Palm OS Software
In this round we've got some new and updated apps for Palm OS and WM Treos like SIM-Save, Resco Defender, TreoWeather, and Line Rider Mobile.
New
Line Rider Mobile
In-Fusio Inc. has recently released Line Rider (TM) Mobile.
Amazing! Line Rider (TM) Mobile, The Internet phenomenon is now available for your phones and PDAs! Line Rider (TM) Mobile brings all the fun of the Internet phenomenon to your mobile phone or PDA. Grab the pencil tool and construct tracks filled with ramps, hills, and jumps, and then send your virtual sledder down the route.
Play the addictive Puzzles mode to test your mastery of the lines, share your creations with other fans and publish them on the Line Rider official Web site. Choose "Create Tracks" from the main menu to start your track from scratch, or to open and play preloaded tracks. Choose "Puzzles" from the main menu to complete the various challenges available inside the game. Choose "Shared Tracks" from the main menu to send your own creations to other Line Rider fans, or to retrieve tracks drawn by other fans.
Features:
Exclusive mobile version of the Internet phenomenon Line Rider
9 line tools, including layered scenery, finish lines, destructible lines, acceleration lines...
Puzzles game mode, to test your mastery of the lines
Preloaded tracks to inspire your own crazed creations
Music or sound effects to bring out the best of your creations
Line Rider (TM) Mobile is available here for $14.95.
---
Aristotle Virtuousness Test for Palm OS v1.0
From the makers of the best seller Personality Psychology Pro.
CrazySoft has released another interesting title about ethics and virtues called Aristotle Virtuousness Test.
This program is a simple 11 step test which determines how much virtuous you are according to Aristotle. Who is Aristotle? I can't help you with that! This test should be done by someone who knows you very well. (E.g.: Family, partner, friend...) Don't do it yourself! After the test you will be given a score out of 100. Then you will be given detailed stats of what should be done to correct your flaws according to Aristotle.
Features:
VIRTUES ARISTOTLE FOUND:

Courage
Temperance
Liberality
Magnificence
Pride
Honour
Good Temper
Friendliness
Truthfulness
Wit
Friendship
Justice (Not used in the test)

Every word used in the test is explained by Aristotle˘s original text (Translated into English) E.g. here Aristotle explains Courage:
"Aristotle: (Nicomachean Ethics, 330 BC) VIRTUE: COURAGE
The man who exceeds in fear is a coward; for he fears both what he ought not and as he ought not, and all the similar characterizations attach to him. He is lacking also in confidence; but he is more conspicuous for his excess of fear in painful situations. The coward, then, is a despairing sort of person; for he fears everything. The brave man, on the other hand, has the opposite disposition; for confidence is the mark of a hopeful disposition..."
Aristotle Virtuousness Test for Palm OS is available here for $12.95.
---
SIM-Save
Fabian Heuwieser has just released an app called SIM-Save which is a very intelligent program that adds a special Security-Feature to your Treo.
It alerts you via SMS or via a Phone Call that the SIM-Card in your Treo has be swapped. Through this you can track the thief who has stolen your Treo and inserted his own SIM-Card, because as soon as he has inserted his SIM, a SMS is sent to a predefined number of you choice including Information about him:
# ISMI-Number of the new SIM-Card
# Telephone Number of the new SIM-Card
# Signal Strength
# Batterylevel
# IMEI Number of the Phone
You do not want your Treo to be without that new Security-Feature! Some day you will need it, better to secure yourself against that now! It works on GSM-Phones. Please try the demoversion if it runs on your Treo! The screenshot is in german, but the program is in english.
SIM-Card is available here for $5.95.
---
Sortout
inDev Software has just released Sortout, which is a simple and enjoyable board game. The object is to bring together pieces with the same color.
Game Field
Game Field is a square 6x6 without corner cells. At the beginning internal square 4x4 is randomly filled with different pieces. There can be 8 kinds of pieces, each of them has a different color.
Moves
You can move a piece to an empty cell. After this the old place of the moved piece will be filled by the next piece. Next piece is determined randomly before each move and can be seen to the right of the Game Field.
Object
Bring together 3 or more pieces of the same kind (each piece of the group have to be vertically or horizontally adjacent with at least one other piece of the same group). After this happens, identical pieces are removed from Game Field. If a whole row or column of the internal square becomes empty it will be randomly filled with new pieces.
Score
-1 point - a move to the side of Game Field;
3 points - a group of 3 identical pieces bringed together;
5 points - a group of 4 identical pieces bringed together;
8 points - a group of 5 identical pieces bringed together;
12 points - a group of 6 identical pieces bringed together;
Game Types
There are 3 game types:
Simple Game. Play without limits just for fun or practice.
Time Limited Game. Check this option to play with the specified Time Limit. Best scores will be included in Best Scores table.
Score Limited Game. Check this option to play with the specified Score Limit. Best times will be included in Best Times table.
You can get Sortout here for $4.95.
---
HandHelp
Handcase has just released some new apps. One of them is HandHelp which is a suite of 11 tools.
HandHelp is a fast and easy way to organize and manage information for patients casualties. Central to emergencies, mobile public and private. For larger emergencies it works as a complement mobile and updated. Structured in First Aid, Emergency, Anamnesis, Diagnostics, Medication, Care, Recommendations, Assessment, Reports, Agenda and Diary. In English.
HandHelp is available here for $15.00.
Other new apps by Handcase are:
---
Updated
Kinoma Player 4 EX v4.4 update now available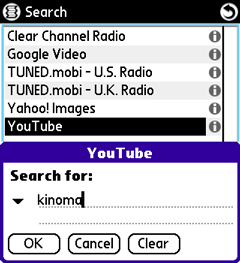 Kinoma Player 4 EX v4.4 update now available.
Kinoma's Blog says that this update is free for Kinoma Player 4 EX customers. If you don't yet have Kinoma Player, you can buy it here or upgrade from Kinoma Player 3 here.
New Features:
Search! For the first time, search for radio stations, videos and images right within the Kinoma Media Guide. You can search for Clear Channel and other U.S. radio stations, for videos on YouTube and Google Video, and for images using Yahoo! Image Search.
Kinoma Player now has better "lights off" performance when streaming. For some, Kinoma Player used to re-buffer streaming audio more often when the screen was asleep. With this release, "lights off" performance should be as good as "lights on" performance for everybody.
The Kinoma Media Guide has been enhanced with fresher YouTube videos in more categories, and better scrolling performance in icon-rich categories.
A new play-once-and-stop playback mode stops playback when the current item has finished playing. This is useful whenever you just want to play one item, or if you want to replay an item without downloading it more than once.
To learn about other improvements and how to update Kinoma, go here.
---
Agendus for Palm OS version 12.04 has been released
iambic has just announced the availability of Agendus for Palm OS version 12.04.
The functionality of Agendus for Palm OS Version 12 has been expanded to include powerful journaling capabilities, a personal project manager, all new "at-a-glance" or Card views now more colorfully organized and streamlined, a new Contact View "Photo Dialer" mode, support for attaching items (documents, images, etc.) to meetings, tasks, memos and contacts and standalone alarms, just to name a few.
Version 12.04 is a maintenance release which reflects the feedback received through our user community, it brings in various functionality and stability improvements. In particular, quite some attention has been given to the Project and Trip related areas, as well as to ensure full compatibility with the new Palm Centro.
What's new in version 12.04
Projects and Trips related facilities: improved overall stability and responsiveness in various areas
Projects: resolved a stability issue on certain devices when showing the Project view
Today View: Addressed the inability to remove an alarm from a Task via the context menu in the Alarm slot
Implemented various compatibility improvements for the Palm Centro
Resolved a stability issue and date corruption when creating a new Alarm
Resolved a stability issue when using the native Palm search facility while Agendus is the active application
Meetings: Resolved a stability issue occurring in some instances upon marking Complete/Cancel if 'Log to Contact' is enabled in Meeting Preferences
Resolved a stability issue on some older devices when a second alarm fires before acknowledging the first one
Addressed the inability to restart after a soft reset occurring in some instances on Palm OS 4.x devices
Contacts: Corrected the bottom row of buttons in the edit dialog not being visible on Palm OS 4.x devices
Contact Photo View: Corrected password not being required for private records upon Tap/Hold -> Edit
Week Grid Views: Corrected the inability to edit records found via Power Search Local when the search was performed while in these views
Power Search Local: Corrected active view being re-shown unnecessarily after performing a search with certain steps
Power Search Local: Addressed font corruption after performing a search, then editing a found record while in a view utilizing a HiRes font
---
Butler
Hobbyist Software has recently updated Butler to version 4.5.
Butler - is the assistant who thinks of everything. Alarms, Attention Grabber, Navigation, Launching, LED, Keyguard and Much More.
Butler contains 7 sets of utilities yet costs less than most single applications. Please note that Butler is only written for the Palm Treo.
Updates
update to handling of keyguard with chatter alert
switched to new registration system
Butler is available here for $14.95.
---
Snoozy
Snoozy by Hobbyist Software has also been updated. Snoozy has been updated to version 1.10.
Snoozy - letting YOU pick how long you want to Snooze!
When your Calendar alerts you, or your Butler alarm goes off or your Task shows as due, the Palm gives you a screen that lets you snooze.
Until now, you could only snooze for 5 minutes.
Snoozy fixes that. You can choose from 3 new snooze page layouts with complete customisability of your snoozing!
You pick how long you want to snooze for!
Snoozy is available here for $9.95.
---
Senet Deluxe
RoGame Software has recently updated Senet Deluxe to version 1.9.2.
Senet is an ancient Egyptian race game and the predecessor of our modern Backgammon. Many pictures of the game and artifacts have been discovered and are displayed in Museums around the world. The commonness of these finds indicates that the game was very popular in its time. Instead of dice knuckle bones and later flattened sticks were used and the game board itself often resembled a small chest on wooden legs with drawers for the game pieces and a small flat surface for throwing the sticks. Complete rules for Senet have to date not been found, but several educated guesses have been made - notably the Kendall and the Bell variants. Through symbology Senet also hints at the afterlife as seen from an Egyptian point of view. Squares 16, 26, 27, 28, 29, and 30 are commonly called the Houses of Rebirth, Happiness, Water, Three Truths, Re Atoun, and Horus. When the jump over the House of Water is not successfully made the players pawn is repositioned at the House of Rebirth. The same holds true when the player's piece is beaten on one of the last three fields. In such the game alludes to reincarnation and the journey of the dead. This is the first Palm implementation of this game.
You can get Senet Deluxe here for $9.95
---
TreoWeather
Gx5 has recently updated TreoWeather to version 1.0.4.
TreoWeather for Palm OS Treos is a simple weather browsing application that delivers great results. Whether you are a mobile professional or mobile accomplisher, TreoWeather is the must have weather app you need to give you the precise weather information in the most enjoyable manner.
You can get TreoWeather here for $9.95.
---
SecureApp
Toysoft Development has recently updated SecureApp to version 1.3.
SecureApp is a robust security application to protect unauthorized user or limit user from running programs and Panels on the Palm handheld. If the application or Panel is in the protected profile authentication is required to run it. All passphrase entries are masked from the public view.
SecureApp has the traditional text passphrase entry and the new randomized keypad passphrase entry.
Many profiles can be created for individual or group use. A profile can contain just games or a single application. A profile can be set and activated at anytime.
SecureApp is available here for $9.95.
---
SMSPager
SMSPager, also from ToySoft, has been updated to version 2.1.
SMSPager lets you send and receive SMS messages. SMSPager is simple in design, to use and is packed with full of features. Custom picture can be assigned to individual Contacts. When you receive a message from that contact their picture will be displayed with the message.
Each custom filter you can set a different Alert for audible notification. You can select any MIDI, AMR and MP3 file to use as the SMS alert sound and picture ID. You can set the number of times to repeat up to 20 times or forever. Addition you can set how often to repeat the audio alert. Optionally with vibrate.
When you reply to a sender SMSPager can group the conversation into a thread so that you can easily follow the conversation.
For privacy you can set to only notify you with Notification manager and sound which do not show the new text message.
For greater security with your text messages you can assign a password to protect SMSPager from unauthorized use. Users must enter the correct password before SMSPager can be launched.
For even greater security you can optionally encrypt the Inbox and all the threads. Encrypted messages can only be read by you. SMSPager uses the best and strongest AES 256bits encryption.
You can get SMSPager here for $14.95.
---
You can find more updates to Treo Palm OS software here.
WM Software >>
Copyright 1999-2016 TreoCentral. All rights reserved : Terms of Use : Privacy Policy

TREO and TreoCentral are trademarks or registered trademarks of palm, Inc. in the United States and other countries;
the TreoCentral mark and domain name are used under license from palm, Inc.
The views expressed on this website are solely those of the proprietor, or
contributors to the site, and do not necessarily reflect the views of palm, Inc.
Read Merciful by Casey Adolfsson