treocentral.com >> Stories >> Software
MyLocation for GSM Palm Treo's 600, 650 and 680
Overview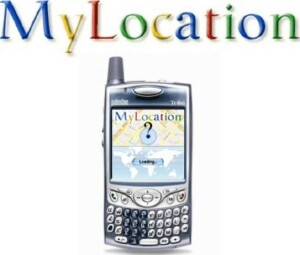 Last November Google came out with My Location for Google Maps, which allows you to see your location on the map, with or without GPS. My Location turned out to be a pretty good GPS'ish solution for mobile devices running Google Maps.
Palm OS Treo's haven't been able to run Google's My Location as they require a future ROM update to support the service. According to Palm Infocenter, Palm has only committed to releasing an update for "newer Palm phones.":
A representative for Palm developer relations says that an API for determining cell tower IDs has always been on Palm devices, however it was private. Palm says they are now working to make the API public, which requires a change to the ROM, so My Location will be available on newer Palm OS phones. Palm would only commit to say that a update will be made available for the Palm Centro at some point and the API features would be included on Palm OS phones in the future.
And today I read over at PIC that an independent Palm OS developer Razix has released a psuedo-gps feature for GSM Palm OS Treo's called MyLocation.
From the MyLocation website:
Google Maps is one of the most useful applications on the Treo series of phones. When the "My Location" feature from Google was released, it made the application even better. However, Google was not able to make this feature available for the Treo series. I love Google and a good challenge... as a result, I bring you "MyLocation" for the Palm Treo Series. This application uses the current Google Maps (ver: 1.2.0.9), consider it a "patch" to the Google Maps application.
So far it seems that MyLocation is only working on the Treo 600, 650, and 680 models. Razix says that MyLocation is Free (freeware) but that there is a location based advertising model implemented to offset development costs. The advertisements can be removed with a donation of $10 or more. You will need to register also. Razix also states:
Due to the nature of this application, your approximate location (nearest cell tower) will be known. This information is used to display location based advertisements and an anonymous world map of all users. Your personal information will not be used for any other purpose. If you are concerned about privacy do not install this software.
Razix started a thread on the TreoCentral forums to let us know about his new app. Most of the forum members responding to Razix in the thread have given positive feedback for MyLocation. Forum member ChristieC said:
I just found this thread, so I registered (the registration process went very smoothly and quickly) and downloaded the app. I have a 680 on T-Mobile and, even with a poor signal, it got me to within a mile of my home, where I'm now sitting. I'm looking forward to seeing how it does when I'm out and have a good signal. Thanks razix!
MyLocation sounds pretty good. I think I'll put it on my Treo 680 when I have time and see how it goes for me. Thanks Razix! I know that those who own CDMA Treo's and the Centro are hoping that you'll fix them up with MyLocation for their devices soon. ;-)
Copyright 1999-2016 TreoCentral. All rights reserved : Terms of Use : Privacy Policy

TREO and TreoCentral are trademarks or registered trademarks of palm, Inc. in the United States and other countries;
the TreoCentral mark and domain name are used under license from palm, Inc.
The views expressed on this website are solely those of the proprietor, or
contributors to the site, and do not necessarily reflect the views of palm, Inc.
Read Merciful by Casey Adolfsson