treocentral.com >> Stories >> Rumors
More Treo 800w Details Spotted
Gimme those details!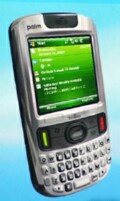 Dieter has posted an article over at our sister site WMExperts talking about some new Treo 800w details that a mysterious and new forum user has posted. Just hearing the words "new details" in relation to a new Palm device gets my drool glands worked up, how about yours? We hopeless gadgets freaks want to hear about any little scrap or crumbs of detail that we can find. My nose will follow even the slightest whiff of gadget rumors or newly found specs. I smell excitement so let's go see what's up.
It seems that this new forum user, anonuser, made two posts. anonuser claims to have seen an internal document that contains some new details on the 800w. In the first post, anonuser gave us these details:
Treo 800w (from Sprint) will have a mini-USB plug on bottom
800w is as thin as a Centro and feels nice in the hand
Will ship with Windows Mobile 6 and be compatible with WinMo 6.1 after an update is released
Will be compatible with Microsoft System Center Mobile Device Manager 2008
Classic on/off ringer switch
2.0 megapixel camera
Comes standard with an EvDO Rev. A radio
Bluetooth 2.0 EDR
802.11g WiFi
WiFi on/off button
Slated to be released in April of 2008
In the second post, anonuser gave these specs:
MicroSD slot
256MB memory with another 128MB for unsaid use
No headphone jack; must utilize the mini-USB plug with an adapter or use Bluetooth wireless.
No headphone jack, huh? I experienced that for the first time when using the AT&T Tilt in the Round Robin. I thought it was rather strange but can certainly understand a company making a device in that way so they can make the device thinner. So no arguments there from me.
I really love (of course) the idea of built-in WiFi and having an on/off WiFi button. Sweet!
anonuser said that the Treo 800w won't support the High Performance Push-to-Talk service that Spring will be launching in the Spring of 2009.
The first Palm device to support HPPTT will not be released until Spring of 2009, which should be the newer revision of the Treo 800W, unless they incorporate the feature on their new OS device which will launch in Q1 of 2009.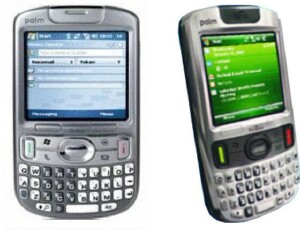 Well, all those details sound great to me! They all sound "pretty darn legit", as Dieter put it. I was just now looking back at the 800w pic from TC forum member jrinehart that came up in the "Treo 800w. I just held one." thread started by howiecam. That pic turned out to be pretty accurate. Take a look at it next to the 800w pic that surfaced during the CTIA 2008 Bill Gates Keynote. Other than that gray plastic cover thingy over the ear speaker and the gray color over the hard buttons, the two pics look very similar. And of course the color of the devices themselves. I remember howicam saying that the device he saw was a light blue color, but not metallic or rubberized. The 800w pic that surfaced at the Gates Keynote looks sort of a silver/white to my eyes. I sure hope that more pics surface soon!
Oh yeah, don't forget to go and enter the WMExperts Rumortastic Giveaway where you can actually win a Treo 800w when it comes out. You just have to guess the release date of the Treo 800w. Good luck! ;-)
Copyright 1999-2016 TreoCentral. All rights reserved : Terms of Use : Privacy Policy

TREO and TreoCentral are trademarks or registered trademarks of palm, Inc. in the United States and other countries;
the TreoCentral mark and domain name are used under license from palm, Inc.
The views expressed on this website are solely those of the proprietor, or
contributors to the site, and do not necessarily reflect the views of palm, Inc.
Read Merciful by Casey Adolfsson