treocentral.com >> Stories >> Business
Palm to Close Retail Stores
Overview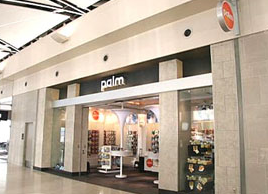 In this thread in our TreoCentral forums, user TreoNeo cited an anonymous source, telling him that Palm intends to close down their retail shops by the end of the month. After seeing the story pick up some traction in the blogosphere we decided to check in with Palm to see if they'd confirm the rumor. A spokesperson from Palm got back to us:
"We continue to focus our company around core business initiatives and are consolidating more resources behind fewer programs in order to compete most effectively and build world-class, category-defining mobile solutions. We have therefore made the decision to close our retail stores."
According to their Retail Site, Palm currently has 31 locations, most of them in airports. They also opened a Flagship store at Rockefeller Center in New York City just over a year ago, in December 2006. It certainly appears from the above quote that all of the stores are slated for closure.
Coming hard on the heels of a large round of layoffs and poor quarterly numbers, this latest news doesn't sound so good. On the other hand, retail has never seemed like a good fit for the company. As we said in our TreoCentral's 2008 Predictions article, this year is all about Palm keeping its head -- and its costs -- down so they can come out punching with their next-gen OS, Nova. This certainly is a move that should help with that.
Copyright 1999-2016 TreoCentral. All rights reserved : Terms of Use : Privacy Policy

TREO and TreoCentral are trademarks or registered trademarks of palm, Inc. in the United States and other countries;
the TreoCentral mark and domain name are used under license from palm, Inc.
The views expressed on this website are solely those of the proprietor, or
contributors to the site, and do not necessarily reflect the views of palm, Inc.
Read Merciful by Casey Adolfsson