treocentral.com >> Stories >> Commentary
How Low Will the Centro Go?
Overview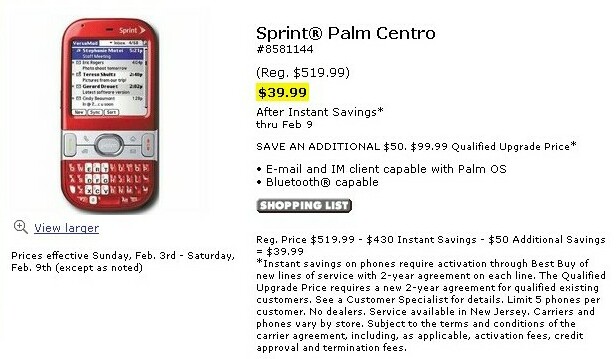 Gasp! $39 for a Centro?? Now that's pretty darn low! If you recall, Annie talked about the $79 Centro that Radio Shack was offering in their Sunday circular recently in one of her Talkin' Treo columns. I thought that price was pretty good but man alive, $39 is sweet. I'd seen the low price mentioned over at Palm Infocenter, and then went to the Best Buy website to see if they had that $39 deal in my area of N.C. I didn't see it at first. Then I clicked on the online weekly ad and found it after searching through several pages.
Sure enough, Best Buy is offering the Palm Centro for $39 in certain areas after a $50 "additional savings" discount and a new two year service agreement. My area showed all three colors of the Centro on sale but some areas don't show but certain colors available.
I was sort of shocked to see what Best Buy referred to as the Centro's regular price as $519.99. Huh? Palm sells the Centro for $399 without a wireless plan.
In our TreoCentral Centro forums, there's a thread about the $39 Centro sale going on at Best Buy. It seems that the deal is available in some North Carolina areas, the Washingon DC area, and St. Louis.
I read some interesting comments in the Palm Infocenter article discussion area regarding the Centro sale at Best Buy. Some people are suggesting that Sprint might be trying to sell as many Centros as they can and get as many new customers as they can while they still have the Centro exclusivity. Plus, Sprint has lost a crap load of customers recently.
On a side note, I was trying to help a friend find a good deal on a Treo recently. I found a Treo 680 at amazon.com for $75 with a 2 year service agreement. Well, that sounded great. But after clicking through the process of buying on the website, it turns out that you have to choose either the $60 data plan or the $30 plan. So that was the catch. Forget it. My friend wasn't interested. He just wanted a 2 year plan. Turns out that AT&T has a refurbished Treo 680 for $79 with a 2 year plan, and my friend liked the looks of that plan a lot better.
Back to the Centro and its dropping price. Well, I wonder if the Centro is going to pop up somewhere else for sale at an even lower price? How low can the price go? I'm sure curious to see, aren't you? ;-) If you're thinking about getting a Centro and plan to go with Sprint, go check out that $39 special at Best Buy. To see if the offer is avaiable in your area, put in your zip code. But remember, you've got until February 9th to take advantage of the offer.
---
Update: Well, well, well, one of our readers has just sent me an email letting me know that the Centro can go even lower. How about FREE?
Check out this deal over at LetsTalk.com where you can get a pink (well the picture is of a "pink" Centro anyway) Centro for FREE after a Sprint $100 Instant Discount, an Exclusive $100 Instant Discount, and a $50 Sprint mail-in rebate w/Data Feature. *Cough Cough*, there's that "Data (Catch)" again.
I see you also get a Free 1GB MicroSD card with this deal.
Notice that the Centro seems to be backordered with an ETA of February 19, 2008.
Thanks to Herman for sending us the tip!
---
Update 2: Another TreoCentral reader has written in with a Centro pricing tip. Thanks to Tim for letting us know that you can get a Palm Centro for Free (after rebates) at Micro Centers until March 2nd. The price applies to Centros at all Micro Centers but only to "stock on hand". The Micro Center online catalog puts the effective dates as from January 28th to February 10th, but Tim said that he has received a Micro Center flyer that states that the price is good through March 2nd, 2008.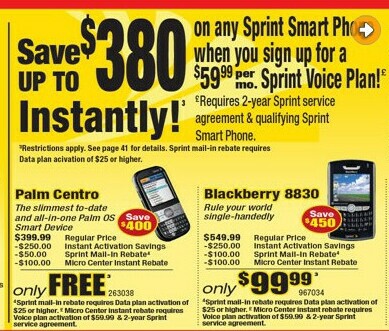 Catalog Effective Dates: January 28 - February 10, 2008
The promotional price of advertised products shown in this online catalog may be higher or lower than the actual Micro Center Online purchase price. Pricing and availability of advertised products may vary at each Micro Center retail store, and may vary from each Micro Center retail store to Micro Center Online. Due to supply constraints, pricing and availability of advertised products shown in this online catalog may change at any time. Special promotional offers with free products shown on any catalog page are sold online at a price of 1&cent:. Terms and Conditions: Advertised Specials
Copyright 1999-2016 TreoCentral. All rights reserved : Terms of Use : Privacy Policy

TREO and TreoCentral are trademarks or registered trademarks of palm, Inc. in the United States and other countries;
the TreoCentral mark and domain name are used under license from palm, Inc.
The views expressed on this website are solely those of the proprietor, or
contributors to the site, and do not necessarily reflect the views of palm, Inc.
Read Merciful by Casey Adolfsson