treocentral.com >> Stories >> Software
Treo Software Roundup
Palm OS
In this round we have Astraware Westward, Mahjong Mania Pro, Tank Ace 1944, updates to Agendus for Palm OS v.12.05, Softick Audio Gateway v.1.20, Touch Commander v.3.0 and more...
New Palm OS
Astraware Westward for Palm OS
Westward for Palm OS and Windows Mobile smartphones and PDAs is based on the PC game by Sandlot Games. It has been developed and optimized for Palm OS and Windows Mobile PDAs and Smartphones by Astraware under license from Sandlot.
Westward is an epic Wild West adventure game with a great story and many hours of absorbing game play.
Based on the highly acclaimed PC game by Sandlot Games, Westward offers many hours of absorbing game play as you guide your townsfolk in making camp, collecting valuable resources, seeing-off dangerous bandits, and building their communities.
As you progress through Westward, you'll explore 4 different locations over more than 20 levels as your hopeful citizens set up towns and seek their fortune in the Old Wild West. With over 25 types of building you'll customize your town and attract new citizens whilst completing a range of side tasks and chasing down the Mad Russian to bring him to justice.
Westward has been optimized for smartphones and PDAs and can be controlled using 5-way, key controls or stylus.
The game's tutorial is fully interactive and part of the story, so allows players to learn the activities and skills necessary to develop their Frontier town and nurture its community.
The game trial is limited to 15 launches (this includes New Game, Continue Game or Load Game), or to the 3 stages of the tutorial (2 stages in the first town and Camp Chippewa), whichever ends first. This allows players to become involved in the storyline and get a good feel of how the game works.
Features:
Explore 4 different locations over more than 20 levels as hopeful citizens set up towns and seek their fortune in the Old Wild West. With over 25 types of building, customize your town and attract new citizens whilst completing a range of side tasks and chasing down the Mad Russian to bring him to justice.
Players can buy, sell, and trade in resources such as gold, wood, and food.
As well as following the main story, players can undertake a range of fun side missions which unlock new tools and skills.
There are additional hidden levels which can be unlocked and played for fun.
Now get along and explore the old Wild West! Yehaw!
Beat the rush and get it here for $19.95.
---
Dog Gone It! v1.0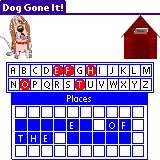 Rampart Software Development introduces Dog Gone It! Poor Spike, he hates being in his doghouse, but that's just where he's going unless you solve the puzzle in this challenging, fast-paced version of Hangman. But beware, four wrong letter choices and Spike's gone, doggone it!
Features:
Over 1,000 tough puzzles
Seven puzzle categories - People, Occupations, Phrases, Things, Animals, Places and Song Titles
Supports COLOR and black & white
Hi-res enhanced for Palm OS 5.0 devices
5-Way Navigator support
Automatically saves your current game
Built-in game instructions
Random puzzle generation ensures you never solve the same puzzle twice
Skip Puzzle option for when you're stumped
Get it here for $7.95.
---
Mahjong Mania Pro
PDArt has just released a fun looking Mahjong game called Mahjong Mania Pro. I love Magjong and never get tired of playing the many variations of this great game.
Mahjong is an ancient game that originated in China. It is a game of skill, intelligence and luck. The goal of the game is to remove all tiles from the board. You may remove only paired free tiles. The tile is free when there are no tiles either to the left or to the right from it. In this game you will find more than 130 layouts of the tiles, two tile-sets and different background images.
Features:
Fully-working demo version
Over 130 layouts
Show free tiles option
Two tile-sets
Two difficulties
Five tile sizes
JPEG backgrounds support
Background colors
Detailed statistics
Top scores board
Game information
Save/Load game
Auto-resume last game
Restart game
Unlimited hints
Unlimited undo/redo
No moves remaining detection
Favorite and hidden games folder
Games filter
Games quick preview
Animation effects
Game timer
High-quality sound support
Customizable tool bar
Support for 320x480 and 480x320 devices
External memory support
Hey, that's a crap load of features! Notice one of the features is a fully working demo. Sweet!
You can get Mahjong Mania Pro here for $16.98. So get your Mahjong on!
---
Tank Ace 1944 for Palm
RESETgame has just released a new game called Tank Ace 1944 for Palm.
Do you like to drive tanks over rugged terrain, lob artillery shells into the far hills, and blow up lethal opponents lurking around every bend? If so, then Tank Ace 1944 is the game for you.
In Tank Ace 1944 you command a World War II tank charging to occupy the enemy capitol. Allied and Soviet Tank Aces advance on Berlin; German Aces advance on London and Moscow. At least that''s what the orders from HQ say. But since you face overwhelming odds and are forced to scavenge supplies as you go, you might just find yourself retreating instead.
The goal of each round of play is to clear the enemy from a map sector and drive them off the far bank of a river so that your side can cross and advance. Skills you will need to accomplish this are a working trigger finger, the ability to navigate West or East (left and right on the overhead map), and driving ability sufficient to crash into other vehicles.
A status panel shows the number of enemies left, rounds remaining, fuel, and armor strength. The last three can be replenished by ramming (not shooting) an enemy truck. If you run out of fuel or armor, or for some reason drive your tank into the water, in addition to an untimely death you will be forced to retreat one sector. If you wipe out the enemies you will advance one sector, retaining any excess supplies you have scavenged. The game ends when you take the enemy capitol, or they overrun yours. Either way the brass will want to have a talk with you.
Features:
Play one of three aces: Allied, German, or Soviet.
Three tanks: Sherman, Tiger, or T34, each with movable turret and cannon.
Destroyable 3D landscape.
Perspective or overhead view.
Three difficulty settings.
Enemy trucks carrying rounds, fuel, and armor.
Save / Resume game.
You can get Tank Ace 1944 here for $14.95.
---
Palm OS Updated:
Agendus for Palm OS Professional Edition v12.05
Iambic has released version 12.05 of their Agendus for Palm OS Professional Edition. Agendus for Palm OS Version 12 includes powerful journaling capabilities, a personal project manager, all new "at-a-glance" or Card views now more colorfully organized and streamlined, a new Contact View "Photo Dialer" mode, support for attaching items (documents, images, etc.) to meetings, tasks, memos and contacts and standalone alarms, just to name a few.
Agendus 12 for Palm OS is the latest version of the award-winning personal information manager that includes powerful new features and significant usability improvements to help you do more while on the go.
Agendus is a comprehensive personal productivity booster that can be customized to work the way you do. Plus, it is smart enough, thanks to our new auto learning technology, to adapt how it interacts with you based on actions performed during previous sessions.
Furthermore, the Agendus PIM functions (Contacts, Meetings, Tasks, Memos, etc.) are tightly integrated and feed into each other. This is what really makes Agendus a powerful personal productivity assistant.
Version 12.05 is a maintenance release which reflects the feedback received through our user community. In particular, it contains stability improvements and resolves a problem with alarm dialogs not showing all their buttons occurring in certain instances.
What's new in version 12.05
Alarm dialogs: Restored missing 'Go To' and 'Complete' buttons
Resolved a stability issue occurring when deleting a linked contact from the Linked Contacts edit dialog with specific steps
Week Grid Views: Corrected drag and drop of a repeating meeting in any of these views not behaving as expected
Trips / Projects: Corrected the item's icon appearing to not remain selected when choosing exclusively with the dpad
Card Views: Added several missing 'New' items to the New menu
Resolved a stability issue occurring in certain instances when creating a new task immediately following the completion of another task which was associated with a Project
Update today here for $39.95. Agendus is also available in the Standard Edition for $29.95, and the Premier Edition for $59.95.
---
Softick Audio Gateway
Softick has just released version 1.20 of thier Softick Audio Gateway.
Softick Audio Gateway: Listen Palm wirelessly!
Softick Audio Gateway is the first Bluetooth audio streaming solution for Palm OS handhelds which allows you to connect Palm OS handheld to the Bluetooth stereo headphones and listen to digital audio played by Palm OS applications: MP3 players, audio book readers, games.
Softick Audio Gateway can operate with any Bluetooth audio device which supports Advanced Audio Distribution Profile (A2DP) designed to transfer a high-quality stereo audio stream wirelessly.
Softick Audio Gateway captures digital audio from Palm OS audio subsystem and redirects it to the Bluetooth A2DP device: stereo headphones, desktop PC, car audio or A2DP speakers.
Changes in version 1.20:
Resolved problem with mono sound streams (podcasts, audio books, etc) on some media players.
Added support for pre 4.2 versions of Kinoma player and Sprint TV (beta)
Improved Audio/Video Control Profile (AVRCP) connections
Support for Fast Forward/Fast Rewind buttons on the headset. Currently supported Pocket Tunes media player only. Consult your headset user manual if this feature is supported by headset.
Added support for Palm Treo 755P Updates
Minor bug fixes
This update is free for all registered users. Enjoy!
Softick Audio Gateway is available here for $19.95.
---
IM for Skype v1.2
Skype wirelessly anywhere in a cost-effective way.
IM for Skype, by SHAPE Services ,is a fully mobile application for voice and text communication with other Skype users and cost-effective calling to landlines and mobiles. No huge data traffic for calls!
IM for Skype works worldwide in any 3G/GSM/CDMA network and is not dependent on WiFi zones.
This product uses the Skype API but is not endorsed, certified or otherwise approved in any way by Skype.
Features:
Make cost-effective calls to any destination. IM for Skype is based on SkypeOut service that allows users to make and receive calls for a low fee.
See who is online and chat with Skype users who are logged in with their Skype accounts on PC.
Send cost-effective SMSs using SkypeOut credits anywhere in the world.
One Time Fee, all updates are included. One time fee
for the application, no monthly subscription. By purchasing IM for Skype users are entitled to all products upgrades.
Intuitive interface, easy to use. User friendly intuitive interface and built-in help make the software really easy to use for everyone.
Don't miss a call! Get it here for $14.95.
---
Rampart Trivia Pack for Palm OS v2.3
Rampart Software Development just released version 2.3 of its Rampart Trivia Pack for Palm OS!
Brain Freeze Trivia features thousands of questions from six categories: Entertainment, Sports, History, Geography, Science and Animals. You pick the category in Round 1, Brain Freeze picks the category in Round 2, but beware of Round 3 - it features questions from all six categories.
Who Said That? will challenge even the most knowledgeable film buff. In three game rounds, easy, intermediate and hard, you try to identify over a thousand memorable quotes from all of your favorite movies, including comedies, dramas, action/adventures and film classics.
Features:
4,000 questions
Easy-to-use interface
Multiplayer support for 1 to 4 Players
Fast play
High score database
Auto saves
A great knowledge builder
Full navigator button support
Built-in program instructions. Rampart Trivia Pack for Palm OS v2.3
Grab it here for $14.95.
---
Personal Audio Recorder PRO v4
Toysoft Development, Inc has updated their Personal Audio Recorder PRO to version 4.
Personal Audio Recorder (PAR) turn your Palm smartphone into an audio recorder. PAR can record voice memos to RAM or on the external card such as SD and MMC. You can play back recorded voice memos with ease. PAR is very flexible and configurable. Option includes different sample rates and record in mono or in stereo mode.
Recorded voice memos can easily to beamed or transferred to the desktop using a card reader or a card exporter software. Voice memos can also be emailed with your email client. PAR includes one button press recording feature, keyboard short cuts, export voice memos to the card, import wave files from the card to RAM, pause recording, pause play, start playing at any part of the voice memos.
Listen to voice mail sent to you via email. Record in GSM 7.11 compressed format for sending via email efficiently.
Features:
One button recording
Compatible with Palm®/Handspring Treo600/650/700p/680/755
Supports Exchange manager
Listen to Voice mail sent to you via email
Record in new GSM 7.11 format
Record any length to ram and on the card. (Depends on available memory)
Play back recorder voice memo
Play and part of the voice memo
Beam and send any memo
Folders on the card to orangize your voice memos
Pause recording and play back
Import wave file from the card to ram
Export voice memo to the card
Add note to any voice memo
Highly configurable
Keyboard short cuts
Intuitive user interface
Never lose that train of thought again! Get it here for $24.95.
WM Software >>
Copyright 1999-2016 TreoCentral. All rights reserved : Terms of Use : Privacy Policy

TREO and TreoCentral are trademarks or registered trademarks of palm, Inc. in the United States and other countries;
the TreoCentral mark and domain name are used under license from palm, Inc.
The views expressed on this website are solely those of the proprietor, or
contributors to the site, and do not necessarily reflect the views of palm, Inc.
Read Merciful by Casey Adolfsson