treocentral.com >> Products & Reviews >> Accessories
Prima Premium Leather Flip Style Case for Treo 680
Overview
Your Treo 680 is a beautiful device and it deserves to look good and be well protected. I baby my 680 and I want to keep it looking as fresh as it did on the day that it arrived and I opened the box. And so far, it does look like it did when I first got it. I bought a screen protector for the 680 before it even got here. I keep my Copper baby in a case at all times except for when I'm sitting here in my office.
I always enjoy getting to try out new cases for my Treo 680, especially genuine leather cases. There's just something about the feel and smell of real leather. It brings to mind those cold winter days and nights when I've been out in the elements snuggled up in a luxurious leather jacket, feeling safe, warm, and comforted. Leather is soft, yet thick and protective. Anytime my Treo 680 is dressed up in a leather case, I know that it's going to be protected.
Today, we're going to take a look at the Premium Leather Flip Style Case for the Treo 680. I love a nice flip style case. Heck, throw in some leather, some genuine leather, and we're really talking.
Prima is the latest series of Premium Leather Handheld Case Solutions from the Colemax Group and the founders of the original Bellagio Designs. I'm sure many of you are familiar with Bellagio cases. I know I've bought my fair share of them for my other Palm devices in the past. One of my favorites was a Bellagio leather book style case I had for my Sony Clie UX50. I read something interesting on the "About" page on Prima's website. The original Palm III Case was a Colemax Creation, as were the Palm V and Palm VII.
As part of The Colemax Group, Prima Cases utilizes the expertise of over 25 years of carrying case manufacturing experience that Colemax has been providing to major corporations and OEM's throughout the world.
---
Packaging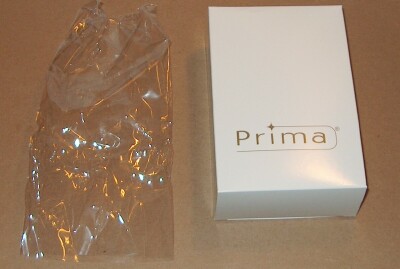 The Prima Premium Leather Flip Style Case comes in a nice looking Prima cardboard box. Upon opening the box, there is a clear plastic wrapper on the case. Although the plastic wrapper isn't fancy, I'd rather easily open one of those than have to risk cutting off a finger trying to open one of those plastic bubble packages. I can't even begin to tell you how much I hate those things.
Also in the box is a plastic swivel belt clip which is nice.
---
Design
The Prima Premium Leather Flip Style Case (I'll refer to as the Prima flip case from here on out) weighs in at only 1.6 oz. Attach the swivel belt clip and the combined weight is just 2.0 oz. So this is a lightweight case that won't weigh you down.
Prima states on their website that this case is the "Lowest Profile Flip Case Available". Upon opening the box and taking the case out, I did notice that the case was thin. I got out a couple of other Treo 680 leather cases and compared the three.
As you can see from these photos, the Prima case (Black) does indeed have a lower profile than the other two cases. I also weighed the other two cases. The Green case weighs 1.8 oz. and the Brown case weighs 2.1 oz. The other two cases have sort of a spongy, puffy front whereas the Prima case has a more rigid and flat front.
As mentioned previously, the Prima flip case is made of genuine Italian Aniline leather. This leather is buttery smooth with a very slick feeling. The leather is soft, yet it's rigid enough for providing ample protection. The leather is sewn over a stiff material on the front and back. The Prima flip case comes in Black only. Buy hey, Black goes with just about anything, right? The Black stitching around the edges looks very nice on this case. Overall, the case looks rather elegant really. There is a nice looking, silver and black Prima logo badge on the front of the case which looks great.

The front of the Prima flip case flips upwards to reveal the Treo's full screen and keyboard. There is a magnetic snap sewn to the front flap that ensures the case closes. I'm a big fan of magnetic snaps. Most of them close easily and you don't even have to look at the snap when closing it. I say "most" because I have a leather case for my Palm TX that also has a magnetic snap. As much as I love this case, I have a very hard time getting the snap to line up without looking at it. Luckily that isn't a problem with the Prima flip case.
The case interior is lined with a soft, black felt material. This keeps your Treo from getting scratched while sliding it in and out of the case. The felt lining also adds another nice layer of protection overall.
Prima states on their website:
We offer the ability to personalize your Treo 680 case by embossing your company name, company logo, your name or your initials for a small additional fee. See our F.A.Q. page for details.
---
Usability
The Prima case has an open face for the Treo's keyboard and screen. The Treo slides down into the case, which has rigid edges boardering the Treo's front. When sliding the Treo into the case, you can see that the Treo is held firmly inside. As with some cases of this type, it can be a bit difficult to get your Treo seated perfectly to where you are able to easily operate the bottom row of buttons on the keyboard. I wasn't able to just simply slide my 680 down into the case and have it sitting in the desired position right off. I had to tug at the bottom edge of rigid leather and adjust it so that my Treo went all the way in the framing. I wanted all of my screen showing. After I got the 680 seated to where my full screen was accessible, I noticed that the bottom strip of rigid leather was partially covering the space key which would make it difficult to use. But with some tugging and adjusting on the strip of leather, I got the spacebar more open and accessible. It was a bit of an annoyance but I'm just glad that the rigid leather wasn't so hard that it couldn't be bent and shaped.
The Prima flip case has cutouts on the sides, back and bottom for easy access to buttons and connectors. When you flip the case open, the earphone speaker is available as is the IR port and ringer on/off switch on top. However, access to the stylus was more difficult. I wasn't able to get ahold of the end of the stylus and pull it out. I had to push my 680 upwards out of the case a smidgen in order to get the stylus out. It probably wouldn't be a deal breaker for many people since the Treo 680 can be used one-handed with not so much need for the stylus.

The left side of the case has a cutout for the volume and PTT buttons. The right side of the case has a cutout for easy access to the SD card slot. I had no problem at all opening the little card slot door and ejecting my SD card.
The bottom of the case has a cutout for easy access to the earphone jack, power/sync connector, and the microphone hole. The back of the case has a cutout for the camera and portrait mirror, and there are five small holes cutout that line up with some of the back speaker holes.
Also on the back of the case is the belt clip post. The included plastic swivel belt clip slides easily over this post and locks into place. The belt clip is made of ABS Plastic and "click stops" in the 3, 6, 9 and 12 o'clock positions. I don't use belt clips at all but I always appreciate when cases come with removable ones. I just wish that the belt clip post on this case was removable.
Even though the post is low profile, I would prefer a removable one as I wouldn't be using a belt clip. I have a few cases in which the belt clip post is removable by unscrewing it. I looked at the FAQ on Prima's website and found this:
Can the cases be ordered without a clip?
Yes...although the plastic post that we use for our removable belt clip is a very low profile design, we understand that some people prefer not to have a clip at all. We do have some inventory without clips and they can be shipped immediately. However, if we do not have stock of a "clipless" model, we can certainly order it for you and have it available within 2 weeks.
So that's very good to know! ;-) Thanks Prima!
Being a flip case with the front flap flipping (try saying that 3 times fast!) upwards, the Treo 680 is easy to use while in the case. It's simple to flip up the front of the case and talk on the Treo with the flap just hanging back. And it's also easy to type and navigate on your Treo while in this case. Flip type cases are a favorite of mine because of this.
Conclusion
I really like the Prima Premium Leather Flip Style Case. It's a beautiful case. I appreciate that it's so silky smooth feeling and made of premium grained leather.
I love the magnetic snap, cutouts for convenient access to screen, buttons and connectors, and appreciate how lightweight the case is and that it has such a low profile.
And of course this case provides great protection for your Treo 680. Your Treo won't fall out of this case and it'll be well protected from scratches and dings. And with the swiveling belt clip's "click stops" in the 3, 6, 9 and 12 o'clock positions, your Treo won't be likely to spin around like a propellor if you bump your case against something while wearing it on your side.
You can get the Prima Premium Leather Flip Style Case here for $39.95. Be sure to check out their entire line of cases.




Criteria

Rating

Design
5
Features
5
Usability
4
Cost/Benefit
5
Overall
(not an average)

Pros
Premium Italian Aniline leather

Lowest profile flip case available

Magnetic snap closure

Easy access to buttons, camera and SD card slot

Soft interior lining prevents scratches

Removable spring loaded swivel clip

Very lightweight

Cons
Stylus hard to remove when Treo is in case

Belt clip post not removable
Copyright 1999-2016 TreoCentral. All rights reserved : Terms of Use : Privacy Policy

TREO and TreoCentral are trademarks or registered trademarks of palm, Inc. in the United States and other countries;
the TreoCentral mark and domain name are used under license from palm, Inc.
The views expressed on this website are solely those of the proprietor, or
contributors to the site, and do not necessarily reflect the views of palm, Inc.
Read Merciful by Casey Adolfsson