treocentral.com >> Products & Reviews >> Accessories
SanDisk MobileMate SD Reader for Centro and Treo
Overview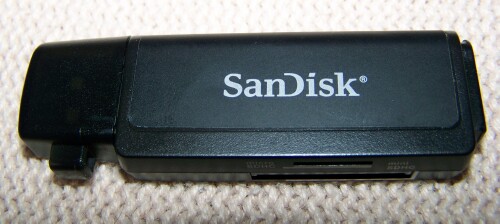 Recently, I was transferring some images from my Treo 750 to my desktop computer, and was thoroughly frustrated having to fumble with inserting my miniSD™ card into the adapter I used to allow me to transfer the files from the storage card to my computer. I've always enjoyed the benefits each new generation of storage card has offered, but, like most people I've discussed this with - the hassle of dealing with the many different sized cards can be quite a headache.
I was working on a review I was doing of Farkle Dice for Windows Mobile by Smart Box Design, which I was testing on my Treo 750. I wanted to transfer the images I mentioned above, which I had captured with Vidya Pocket Screen Capture, to my desktop computer so I could incorporate them into the review itself. Now, trust me when I say that I am quite accomplished at configuring computer software, trouble-shooting computers and software problems, but I have little patience when dealing with adapter cards of any kind, be it computer-related or otherwise. I thought "why don't I simply buy some device, a card reader, that can read and transfer files without the need for an additional device to adapt my miniSD™ card to the SD card slot of my current card reader!?"
After Googling for a bit, I came across the SanDisk MobileMate SD Memory Card Reader. After reading both the standard specifications provided by SanDisk on their site and reading thru the FAQ, I decided to buy the MobileMate reader. Writing for TreoCentral, I, of course, ordered it from the TreoCentral store *grin*. The reader works with Centro, Treo 755p, Treo 750, Treo 700p, Treo 700wx, Treo 700w, Treo 680, Treo 650, and Treo 600
---
Design
The MobileMate SD Memory Card Reader's form factor is identical to many flash drives; sleek, small, thin and light-weight. The reader weighs in at just over half an ounce or around 16 grams, which makes it very portable. I also like the nice, black finish. When you remove the cap from the USB connector, the cap can be stored onto the back of the drive to avoid misplacing it (like that would ever happen *wink*). The black plastic cap is translucent and you can vaguely see through it when you hold it up to a light.
In addition to reading my miniSD™ card, the Mobilemate SD also reads the following cards, ALL without the need for an adapter:
SD™
MultiMediaCard™
RS-MMC™
TransFlash™
microSD
Editor's note:The MobileMate can read a microSD card without an adapter. My bad as I overlooked that. Sorry!
---
Usability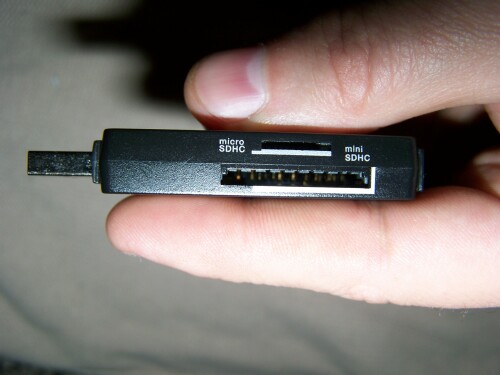 I received the reader within a couple of days; man, that was fast shipping! Looking at the side of the reader, you can see that there are two different sized card slots, a smaller slot and below that, a larger slot.

Eager to test the reader out, I quickly inserted my miniSD™ card into the appropriate slot and prepared to connect the card reader to my computer. I stopped and read the instructions first, just to make sure that wasn't some step I may be overlooking in my haste to test the reader out. There wasn't! It's as simple as that, insert the card to be read into the appropriate slot and plug the reader itself directly into the USB port of our computer. No wires to contend with!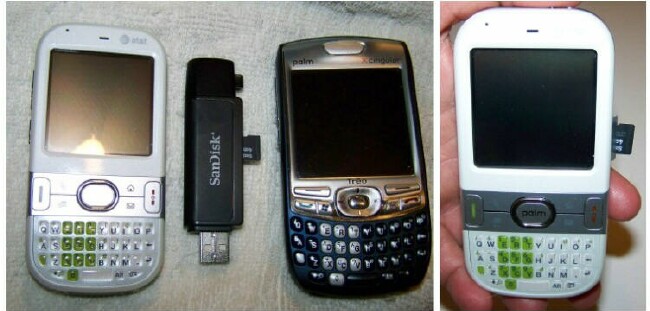 Almost immediately, Windows recognized the new device, and within seconds, I was presented with the opportunity to view my pictures! Man that was nice, and so easy! Transfer of the screen shots I had taken was just as fast, largely due to the USB 2.0 support the MobileMate offers. Having transferred the screen shots to my computer, I decided to copy some images I had on my desktop computer to the storage card so I could have the images on my 750 as well. This went smooth as glass also! What a relief! I don't consider myself lazy for wanting things to be easier, I'm just impatient hehe.
From TreoCentral Store:
Advanced Features:
Hi-Speed USB 2.0 certified for fast data transfer
Backward compatible with all USB 1.1 ports
No additional card adapters needed
Easy to install and use; no additional driver installation required for Windows ME, 2000 and XP.
Driver included for Windows 98SE
Certified Windows XP and Mac OS X
---
Conclusion

One thing of note: when I carry the reader in my pocket, the cap tends to fall off, which defeats the purpose of the cap. BUT, when you place the cap onto the back of the drive, it SNAPS into place – something that would have been nice on the delicate USB connector end. There is what appears to be a keyring or an eyelet for a strap or string, perhaps to allow you to wear the reader around your neck. I wouldn't recommend this, as the cap doesn't fit securely snug enough to give me the confidence needed to risk carrying my reader in such a manner.
Overall I really like the SanDisk MobileMate. This is a fun and easy way to read all those different sized cards that the different smartphones these days require. The MobileMate is small and pocketable and extremely easy to use. It goes with me in my jeans pocket everywhere I go now. I think that $14.95 is a nice price for such a neat little gadget.
Criteria

Rating

Features
5
Usability
5
Setup/Ease of Use
5
Cost/Benefit
5
Overall
(not an average)

Pros
Small

Lightweight

Sleek

Ease of use

No need for adapter for 5 card types

Cons
Does not plug entirely into the usb ports on front of my computer

The cap does not fit snugly on the front of the reader
Copyright 1999-2016 TreoCentral. All rights reserved : Terms of Use : Privacy Policy

TREO and TreoCentral are trademarks or registered trademarks of palm, Inc. in the United States and other countries;
the TreoCentral mark and domain name are used under license from palm, Inc.
The views expressed on this website are solely those of the proprietor, or
contributors to the site, and do not necessarily reflect the views of palm, Inc.
Read Merciful by Casey Adolfsson