treocentral.com >> Products & Reviews >> Accessories
Nite Ize Backbone Case
Overview
I remember when my brother, my sisters and I were young, my Dad always jokingly told us as we were leaving our house to go anywhere:
"Be careful, it's a jungle out there!"
I just bought my Centro through AT&T and have spent the last few days familiaring myself with my new toy! My favorite device to date has been my Treo 750, but I'm hoping the Centro will be just as intriguing, if not more so. There are cases designed to fit just my 750, but having purchased the Centro, I decided to look for a case that would fit both devices, as my Centro is a bit smaller.
There are many ways our Treos and Centros can get scratched and dinged, so I was looking for a case not only to carry my Centro around in, I wanted a case that would Protect my investment, my data, my toy. I was browsing the New Products section of the TreoCentral store and happened to see the Nite Ize Backbone Case for Centro and liked the product description. I thought that would be a great case to test out. I chose the Camo (camouflage) color but there is also a Black Backbone case. The Backbone case is also compatible with the Treo 755p, Treo 750, and Treo 680. I received the Nite Ize BB10 (the official name) within a couple of days from the TreoCentral store and was anxious to see how the actual case would look.
Let's step out into that jungle and see if the Backbone is worthy protection...
---
Packaging

There wasn't much as far as packing goes, just the case itself, attached to a cardboard backing, which was attached to the 360 degree clip but I expected as much since the case is, itself, designed to protect something much more valuable - my mobile device!
I wasn't sure how well the Backbone case would protect my Centro, but lemme tell you, the cardboard used to secure the case was heavy duty hehe. Not having a knife handy, I spent a good couple of minutes carefully tearing the cardboard off of the holster clip on the back of the case. Once freed from the cardboard, I toyed with the belt clip and immediately realized I could have probably yanked the cardboard free without any chance of damaging the case itself.
---
Design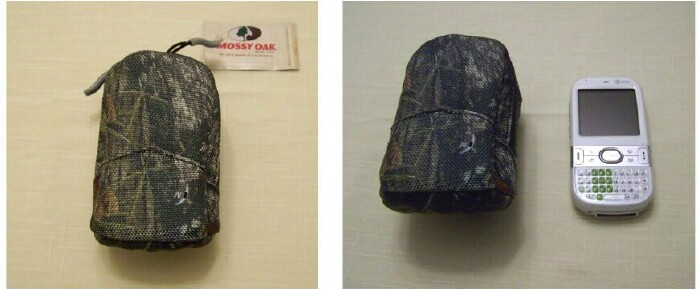 The Nite Ize BB10 case is belt-clip case, meaning it is designed to be worn attached to your belt, of course. Upon my first examination of the case, I immediately loved the camouflage design and the rugged snakeskin look and feel of the fabric. I also love the Nite Ize logo on the front of the case, a white N and a black I against a white crescent moon!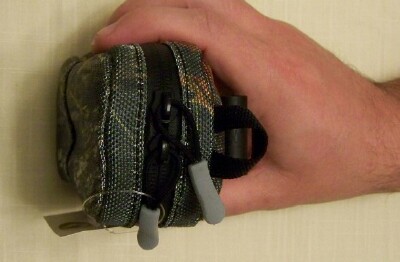 There are two zipper pulls along the zippered track which opens and closes the case. These look to be quite sturdy, with the metal of the zipper on the inside, and the outer, exposed area of the zipper track looks to be made of a rugged black material. The zipper pulls are attached with a black cord looped through the zipper slide. At the end, are gray and nicely textured pulls which seem perfectly molded to fit the thumb and index fingers for a perfect zipping and unzipping motion. I bet I zipped and unzipped my case 200 times and never once did the zipper(s) get snagged or feel anything but absolutely smooth in operation. The packaging states that the zippers are water-resistant. I never actually planned to test and see if they were or not, but ended up finding out after all. I'll talk more about that later.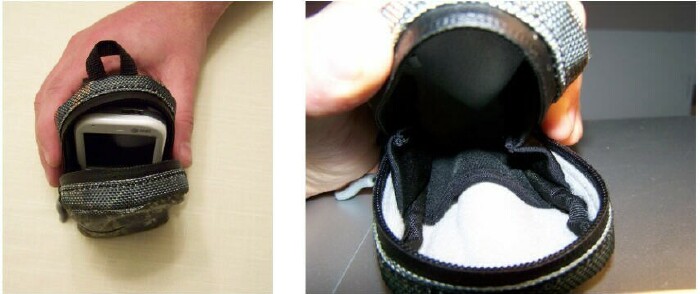 Inside, the molded BACKBONE fit my Centro perfectly! There is a very light gray material lining the case which feels extremely smooth and plush, and the belt clip seems to add sturdiness to the already sturdy design of the 'backbone' of the case. Other than the slight roundness at the top of the case above the Centro, the Centro looks like it is actually part of the case as it is inserted, although there is room to get your fingers into the case and easily remove the Centro with little or no effort.
The inside front of the case has a small pouch, which is made of a stretchy, black material, securely sewn into the seams of the case. The pouch can be used to carry small accessories such as memory cards, and the pouch is just low enough in the case so that these items shouldn't come into contact with the screen of my Centro when carried together.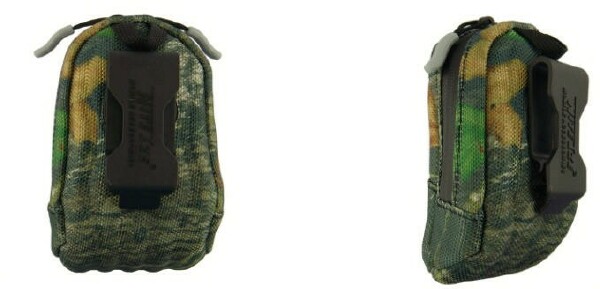 Moving to the outside back of the case, we find the 360 degree rotating belt clip with 8 locking positions. Let me just say here that this clip is VERY sturdy. When I say locking positions, I mean just that - the clip LOCKS, with no worry that the clip will slip. That locking sound is quite distinct hehe. Also notable is that attaching the clip to your belt can be quite a task in itself. While attaching the case to my belt at my hip, I had to really focus on the task at hand, because the clip is so sturdy that pulling it apart enough to attach to my belt took a bit of effort *grin*. Once the case is attached to your belt, let me assure you, there is no chance the case will simply fall off - it will need to be pried off (j/k). So be assured your mobile device won't simply come lose from your belt, unless your belt itself comes off. There is also a small, black nylon loop, which is flat and perhaps 1/3" thick through which I'm guessing you could attach to some other clothing accessory if desired, perhaps a shoulder strap.
On to the actual using (abusing?) of the Backbone case!
---
Usability
My wife and I recently moved and we still have boxes that we haven't unpacked scattered all throughout our house. It's a daily occurrence that I run the obstacle course as I make my way from room to room. I wouldn't dare risk my Treo or Centro in my pocket or one of those skin type cases or even a polyester pouch/case as I made my way through the maze that is currently my house - I'm all too familiar with bumping into a box or some other item. Several times when trying to avoid bumping into a box, I've rammed into a bookshelf or a doorway. Also, we have two very playful shelties that love to play rough and jump onto my lap with their freshly fetched toys, as well as a playful older cat that has a cute habit of swatting at us when we walk past him. Any of these scenarios could lead to a damaged or dead mobile device were they left to the protection of a less than sturdy case. From the bruises and scratches that I've collected myself over the past few weeks, I'd hate to see what my new Centro would look like without protection.
Luckily, as I have worn my Backbone case, neither my clumsily bumping into things or my animals rough and tough play have fazed my Centro thanks to the more than sufficient protection the case provides. And believe me, it's taken some licking and keeps on ticking!
Another time the case came through for me is when my wife and I went walking recently. We live only minutes from a huge walking park, and we take long walks 3 to 5 times a week. The last time we were walking, it began to sprinkle. We were a mile or more from our house as the rain came down. I'd read that the zippers on the Backbone case were water-resistant, but wasn't sure just how resistant it actually was. Luckily, between the tough, resistant zipper and my shirt covering the case, when I opened the case to check my Centro - it was bone dry and perfectly intact. I said earlier that I had no desire to test the water-resistance of the case, but things sometimes happen without planning. -chuckle-
---
Conclusion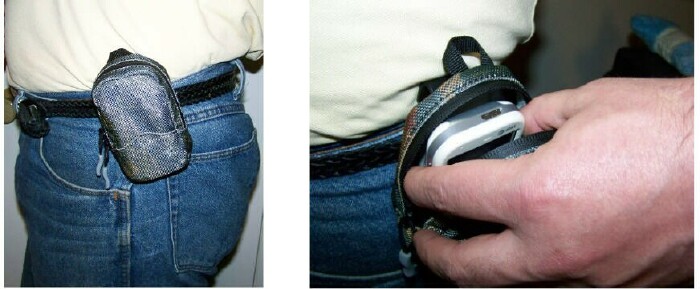 I've worn the BB10 for about a week now, and have nothing negative to say about it, other than the fact that the case is a bit bulky and can sometimes rub against my side when I sit down after wearing it for an extended period of time. The only 'flaw' I've found on the case, itself, is a stray strand of fabric/thread at the edge of the belt clip, which I quickly tucked under and am confident will never be a factor in the longevity of the case. I wanted to see which device fit in the BB10 better, my Centro or my Treo 750. The 750 fits in the case, but is a bit snug for my liking - well, compared to how well it fits my Centro. I suppose it's just a personal preference and you may be swayed the other way hehe. SO... the case will come in handy to tote either my Centro or my Treo 750. - grin -
Be aware, the case isn't molded to encase the Centro like a glove. There is some front to back movement of my device as I walk, but, the movement is small and the protective lining of the case should be more than proficient to safely pad my trusty device! I'm confident the BB10 will take nearly as good a care of my Centro as I do hehe.
Closing Note: The case is camouflaged, so try not to lay your case and mobile device down in the grass, because you may not be able to find it again hehe! Also, this is just a carrying case, as there is no access to charging ports, etc.
Criteria

Rating

Design
5
Usability
4
Protection
5
Cost/Benefit
5
Overall
(not an average)

Pros
Eye-pleasing camouflage color

Textured, snakeskin-like material

Extremely sturdy and well-made

Water-resistant zippers

Belt clip is extremely rugged and durable

Cons
Case is bulky

Belt clip, while trusty, requires some effort to attach to belt
Copyright 1999-2016 TreoCentral. All rights reserved : Terms of Use : Privacy Policy

TREO and TreoCentral are trademarks or registered trademarks of palm, Inc. in the United States and other countries;
the TreoCentral mark and domain name are used under license from palm, Inc.
The views expressed on this website are solely those of the proprietor, or
contributors to the site, and do not necessarily reflect the views of palm, Inc.
Read Merciful by Casey Adolfsson