treocentral.com >> Stories >> Commentary
Black AT&T Centro Spotting
Overview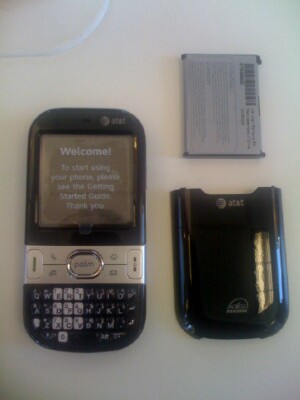 WooHoo, it might not be official, but we've got a report of a Black GSM Centro spotting! Our very own Brian Hart, who writes for Phone Different, has just grabbed himself a shiny Black beauty at his local AT&T store! Congrats Brian!
Brian says:
Finally, after much anticipation and salivation, the GSM Black Centro is available at AT&T (here in Salt Lake City, Utah, at least). I was in an AT&T store for another matter (Treo 750) and I casually asked about when they would be seeing a black Centro. My salesperson told me she saw some in the back room! Woooohoooo!
Fortunately I had my "glacier white" Centro with me with all receipts and packaging, so the exchange was painless (well within my 30-day exchange period; I LOVE that policy!). So without further a-do, here is an actual picture of my new black Centro on the counter of the AT&T store (courtesy of the camera on my iPhone).
Enjoy! And be sure to call your local AT&T store to see if they are in stock for you!
Thanks Brian! And I had already started drooling as I was uploading the pic. ;-)
So.... you might want to check with your local AT&T store and see if there are any Black Centros available. Good luck!
Copyright 1999-2016 TreoCentral. All rights reserved : Terms of Use : Privacy Policy

TREO and TreoCentral are trademarks or registered trademarks of palm, Inc. in the United States and other countries;
the TreoCentral mark and domain name are used under license from palm, Inc.
The views expressed on this website are solely those of the proprietor, or
contributors to the site, and do not necessarily reflect the views of palm, Inc.
Read Merciful by Casey Adolfsson