treocentral.com >> Products & Reviews >> Accessories
2-in-1 Pen Stylus (3 Pack) for Centro
---
Mon Mar 31, 2008 - 8:46 AM EDT - By Jay Gross
---
Overview
A new Seidio combination pen and stylus for Palm Centro, gets a hearty welcome from my end. Maybe itís a reaction to old newspaper journalistís nightmares, but I feel undressed without a pen.
Or maybe itís just a Be Prepared thing. I try to be prepared. I keep a spare stylus around in case some darkened coffeehouse eats one, or in case I drop it in mid-calendar entry edit down a gaping gutter. Insert other scenarios that Iíd prefer not to even think about.
I use the Memo app in my smartphone, but an electronic memo canĎt give someone my phone number, or endorse a check or sign a contract (IOU?) or autograph a book. Therefore, I keep a pen in my shirt pocket, sans pocket protector, plus a couple of spare pens in my car. I can always appropriate a scrap of paper from my wallet Ė an ATM receipt, or something. I had to use a George Washington once in desperation. She never called.
What better place to stash a spare than in my (red!) Centro, which after all is likely to be handy to me most of the time. Seidio brings the joy of penmanship, or at least the joy of having a pen, to the Centro.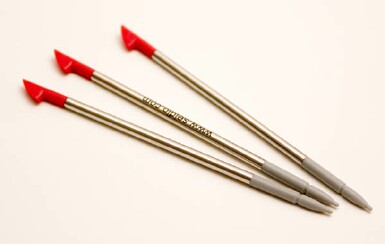 The companyís 2-in-1 Pen and Stylus comes in a pack of three identical units. The kit comes in black, red (yes!), pink, or white, to match or coordinate with the available Sprint and AT&T Centros (so far). Individually baggied styli come bundled into a master baggie with a sticky label on it. The styli come unassembled Ė or maybe they disassembled in storage and shipping. To use, retrieve the (red, in my case) plastic cap and push it firmly onto the penís writing end. Replace the stylus in your Centro and youíll have a pen when you need one.
The product directly replaces the original Centro stylus, which has gathered some boos and hisses in the TreoCentral forums for being plastic with some give. Seidioís 2-in-1 pen/stylus is just a ballpoint pen refill with a plastic stylus top on one end. Itís metal, however, so it wonít flex nearly as much. Indeed, I think it has a much better overall feel than the plastic original.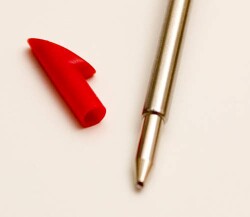 Alas, the 2-in-1ís plastic cap does not store on its stylus tip while youíre using the pen. Maybe this is why the product comes in a kit of three. Two to use, one to get its cap lost in the rug. I could definitely wish for a better arrangement than having to stash the little cap in a pocket, or leave it rolling around on a table, or take the time and trouble to poke it back into the Centro while using the pen. Seidio should consider retooling the cap so it fits onto the pointing end of the stylus for storage Ė the place I expected to park it.
The pen itself is quite good. The fine-point ballpoint yields an easy, smooth flow. Although its skinny body affords nowhere near the feel of a Montblanc MeistersterstŁck BohÍme or even a decent Bic, itís a good writing pen. I wouldnít want to make a living with it, but of course you donít get three Montblancs in a baggie for $17.95.
The Seidio 2-in-1ís ink is black Ė all three units. Thereís no refill. When the ink is out, the productís usefulness as a writing implement is a goner. Move on to the next one. Maybe hang onto the little cap, just in case.
---
Differences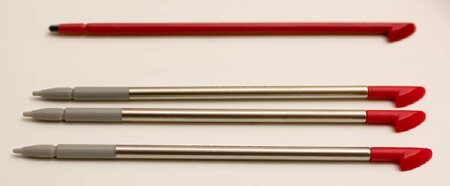 Iím comparing the red 2-in-1 to the one in my red Sprint Centro. I donít have an AT&T model. The stylus end of the Seidio unit is a little sharper pointed than the original Centro stylus. This makes no difference that I can tell.
The 2-in-1 feels a little heftier than the original stylus Ė makes sense, as itís metal. However, my kitchen scale wonít register either one of them, since theyíre under a gram. With both of them on the glass, they almost cause the scale to read a single gram. I conclude the weight difference is negligible.
Then thereís the cap. On the Centro, this fits snugly against the back-top-side corner of the smartphone, completing its rounded curves. The Seidio 2-in-1 Pen Stylus does the same, and it does a great job of replicating the curvatures. However, its matte finish doesnít duplicate the Centroís shiny gloss. This is a minor matter, because the cap on the stylus is small, and doesnít bother me at all. Iím way willing to trade the tiny interruption in the finish for the convenience of having a pen when I need one.
---
Conclusion
With a pen in my Centro and a replacement stylus thatís not as springy as the original, I feel much better prepared for what the world can dish out.
Criteria

Rating

Design
4
Usability
5
Fit and finish
4
Cost/Benefit
4
Overall
(not an average)

Pros
Handy to have a pen when you need one

Fine-point black-ink ballpoint with smooth writing qualities

Stylus does not have as much give as the original plastic model

Cons
Red stylus cap does not exactly match Centro shiny finish

Pen cap does not store on other end of stylus

Stylus tip slightly sharper than original
Copyright 1999-2016 TreoCentral. All rights reserved : Terms of Use : Privacy Policy

TREO and TreoCentral are trademarks or registered trademarks of palm, Inc. in the United States and other countries;
the TreoCentral mark and domain name are used under license from palm, Inc.
The views expressed on this website are solely those of the proprietor, or
contributors to the site, and do not necessarily reflect the views of palm, Inc.
Read Merciful by Casey Adolfsson