treocentral.com >> Stories >> Special Reports
Mobius 2002
Phones that are smart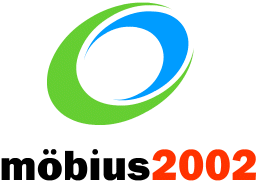 This past week, I and a group of other handheld journalists attended Mobius 2002, a symposium held at Microsoft's headquarters in Redmond that discussed handheld computers and the future of the Pocket PC. This time last year, Microsoft was just releasing its Pocket PC 2002 operating system and was talking about future smartphone products. This year, the focus was all about smartphones.

The conference opened with a discussion of Mobile2Market. It was demonstrated how one could search for applications over GPRS and download them directly to a Pocket PC. Payments are handled by the mobile carrier. This type of purchasing system can be very useful to mobile users who don't want to have to enter their credit card number every time they make a purchase, and makes it less of a hassle for developers who don't want to have to register their wares with multiple websites; it will only be necessary to register with a few catalogues to make software available to all mobile carriers.

As for the devices themselves, I was able to get my hands on a Pocket PC Phone Edition, and in the coming weeks I will at some point do a comparison article between it and the Treo 270. We also got to see the smartphone that will come out later this year. The Pocket PC Phone Edition (PPE) is designed for users that are more interested in sending and receiving data on their handhelds than phone calls.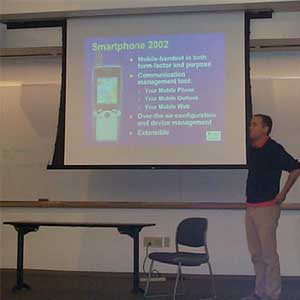 Likewise, the smartphone is a phone first and then a data device second. At first glance, I like the smartphone more than the PPE; it's smaller and lighter and doesn't feel like someone just stuck an antenna on an iPAQ. The smartphone will take some getting used to, as there is no touchscreen -- all input is via the phone's hardware buttons. This could take some getting used to for someone that has previously owned a handheld device.

One thing that troubled me about these devices is their potential DRM (digital rights management) uses. By the use of certificates, operators and enterprise customers could cause their users' Pocket PCs to refuse to install applications that were not certified by Microsoft or have a security certificate. There are no DRM controls on the Pocket PC that I know of, but when I asked Microsoft about DRM during an official Q&A session, a spokesperson said that the hardware identifier was for DRM, and it will find its way into the Pocket PC at some point.

On a lighter note, we also got to see some of the gaming capabilities of the Pocket PC, and it is impressive. Hundreds of colorful objects were going all over the screen, and in one demo objects were moving at 110 frames per second (FPS).


Smart Displays & Tablet PCs >>



Copyright 1999-2016 TreoCentral. All rights reserved : Terms of Use : Privacy Policy

TREO and TreoCentral are trademarks or registered trademarks of palm, Inc. in the United States and other countries;
the TreoCentral mark and domain name are used under license from palm, Inc.
The views expressed on this website are solely those of the proprietor, or
contributors to the site, and do not necessarily reflect the views of palm, Inc.
Read Merciful by Casey Adolfsson