treocentral.com >> Products & Reviews >> Software
Buzz
Overview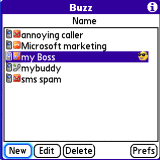 Toysoftís Buzz provides an all-in-one MP3 ringtone/call-management solution for PalmOS Treos and Centros. The Buzz program is advertised on the Toysoft website as ďa light version of LightWav,Ē which is described as ďThe ultimate MP3/OGG/WAV Ring tone and caller ID Manager.Ē LightWav, which sells for $5 more than Buzz, offers a much nicer-looking interface, the ability to use video in place of caller ID photos, a ďsimple yet powerfulĒ profile manager, and several other notable features. After testing Buzz out for a week, I have to hope that LightWav is worth that extra 5 bucks. This Buzz has left me with a bit of a hangover.
Buzz offers the following features:
MP3/WAV/OGG ringtones
SMS and Voicemail MP3 notification
Custom and group ringtones
Safe mode ringtone when your SD Card is ejected
Works with picture Caller ID
Block SMS messages
Block callers not in your phone book
Block unknown callers (no Caller ID)
Block any caller's phone number
Block area codes
Wildcard blocking
Block during specified time of day
Block on all or any day of the week
Only allow callers that are in your Contact address database to call you
Log file
Filters can be turned on or off very easily
Buzz provides two distinct functions that are sorely lacking from the PalmOS Phone application: the ability to use MP3s (as well as .wav and .ogg files) as ringtones and to block certain callers from calling you. MP3 ringtones are a ridiculously complicated piece of business on the PalmOS smartphones that handle them (Treo 680 and Centro only, as far as I know) and other than turning off your phone or muting the ringer in preferences, you canít block people from calling you. Buzz does a fairly good job of managing the MP3 ringtones, but the call-blocking leaves a lot to be desired.
---
Setup
When you open the Buzz application, you are greeted with a most unwelcoming opening screen. No pretty graphics or fancy text or any immediate indication as to where to start here, just the good olí Filter Names screen. This is the main screen for the application.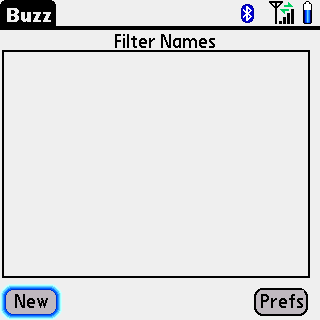 One thing Buzz gives us is a good example of how helpful a user-friendly interface can be. It is a rare occurrence when I have to go to the developerís website, download and print the user manual for a piece of software. Due to a language barrier, I had a hard time understanding some of the manual. Itís not horrendous, but I found myself having to read some phrases several times to get the intended meaning. The manual was semi-helpful, but by the time I got to that point I was pretty frustrated. Had I been trying out the demo, I certainly would not have bought the license.
The Prefs button on the main screen is where you set up all of the programís default-type settings, such as enabling a log of all the programís activity and default MP3s for calls with and without caller ID. You can also set MP3 ringtones for SMS messages and voice mail alerts, as well as for when you eject the external storage card.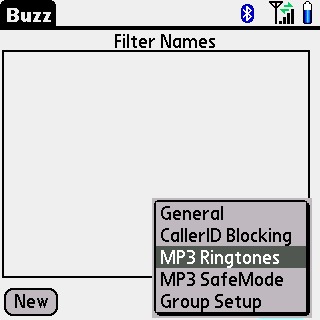 Two interesting features come to light while adjusting the preferences for MP3 ringtones. First, you can choose a portion of the audio file to use for the ringtone, which means your ringtone doesnít have to start at the beginning of the song. But the UI severely hampers this feature, as it employs a buggy little slider that makes finding the exact point in the song a truly soul-sapping experience. If there were only a field where you could just enter 2:46 instead of tweaking that miserable slider, Buzz would be a much better ringtone manager.
Also interesting is the MP3 Safemode, where you can set up backup ringtones from sound files you have stored on your phone's internal memory. This way, if you remove or switch expansion cards, youíll still get a ringtone and not miss a call.
The New button on the main screen refers to the filters you can apply to specified callers. The seven available filters are:
Allow Caller: always let this number through, no matter how other filters are set
Block Caller: deny this caller and send them to voice mail
Pick Up Hang up: pick up the call and immediately hang it up (nice for telemarketers and such)
Send to Voice Mail: exactly like Block Caller as far as I can tell
SMS Message: block SMS messages from a particular caller
MP3 Ringtone: set an MP3 (or .wav/.ogg) ringtone for the caller
Auto Answer: automatically pick up the call after a specified period of time
You can schedule specific times and days to apply the blocking filters, which is cool. Another place where the user interface really hurts the program is when you enter phone numbers for these filters. There is a Contact search, which lets you enter numbers you have stored in your phone, but when you select a contact, Buzz enters the phone numbers in the standard (888) 777-8888 format. The program will only recognize the numbers without parentheses, spaces or dashes, and you must place a 1 in front, if youíre in North America, at least (for example, 18887778888). You have to enter the numbers exactly as your phone sees them for the filters to work. So, if you do use the Contact search (which you almost certainly will) youíll have to edit all the numbers to match the proper format. This is very annoying, to say the least.
One nice feature here is that you can set up multiple filters for the same phone number. For example, if you want to block your job from calling you between say, 6:00 pm and 6:00 am on Monday thru Friday, then block them for the entire weekend you can set up 2 separate filters to do so. You can also add another filter for a special ringtone, so when a call from your boss does come through youíll recognize it immediately and know to ignore it. This sounds nice and all, but for the filters to be effective they need to be set up in the proper sequence, which opens up another can of frustration.
You can also set up wildcards to block numbers, which work very well. You can set up a filter that blocks all those annoying (888) numbers by entering 1888*. If people from Delaware, for instance, really get on your nerves, you can set a filter for 1302* and block all callers from the (302) area code.
Another annoyance with the user interface presents itself when you start to fill the Filter Names list. There are tiny icons next to the names to indicate the type of filter, which are difficult to read and manage when you have a long list of filters. If you have a long list of filters and you need to prioritize some of them, those crucial little icons will provide yet more frustration. If you donít need to prioritize your filters, you might not have as much of a problem with this one.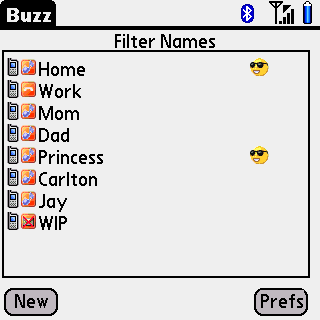 ---
Performance
As a ringtone manager, Buzz performs well. Iíve used Ringo for years now, and I have to say that for all its faults, Buzz outperforms Ringo in just about every way. For one, Ringo will not let you select a portion of a song. I used to trim the MP3 on the computer before I would save it to my expansion card. Buzz makes it so I donít have to do that, even if it is a pain to set up. Also, when you receive a call, the ringtone starts almost immediately, where Ringo always had a noticeable lag between the time the screen displayed the call and when the song would start playing. The only thing Ringo can do that Buzz cannot is display a specified picture for caller ID, but since PalmOS smartphones have been performing that task since the Treo 600, I believe, you wonít miss that feature much.
As a call manager, Buzz leaves much to be desired. Assuming you finally get everything set up correctly, the program often takes a second to pick up and block the calls you set filters for. This isnít very noticeable when the phone is set to the audible ring, as the screen will turn on and the caller ID will be displayed for a brief second. The ringtone will not play and the phone will remain silent. When the ringer switch is turned off, however, the phone will indeed vibrate for a quick second. If I want to block unimportant calls during a meeting or when Iím at the movies or whatever, I donít want to be disturbed at all, regardless if itís only for that quick second. Also, there is no ďglobalĒ block, where you can block all callers and/or SMS messages. You would really think there would be a reasonable way to do this. For example if you are in a meeting and you donít want ANY calls or messages to come through except from your ďVIPsĒ (the numbers you always let through), you should be able to do this quickly by pressing a button or checking a box somewhere. Instead you are given an inane procedure on page 21 of the manual that isnít even worth mentioning here. Trust me. There is no reasonable way to do it.
---
Conclusion
All said and done, it is very, very difficult to recommend this program. The stark interface and shoddy call-blocking are just too much to ignore. Itís only $19.95, but there has to be a better solution than Buzz. The MP3/OGG/WAV ringtones work fairly well, but there are plenty of other programs out there that offer everything Buzz offers and more, and they arenít much more expensive.
Criteria

Rating

Design
1
Usability
2
Features
3
Cost/Benefit
2
Overall
(not an average)

Pros
Decent MP3 ringtone manager

Good feature set

Cons
Horrendous user interface

Not all features work very well

Blocked calls still vibrate phone
Copyright 1999-2016 TreoCentral. All rights reserved : Terms of Use : Privacy Policy

TREO and TreoCentral are trademarks or registered trademarks of palm, Inc. in the United States and other countries;
the TreoCentral mark and domain name are used under license from palm, Inc.
The views expressed on this website are solely those of the proprietor, or
contributors to the site, and do not necessarily reflect the views of palm, Inc.
Read Merciful by Casey Adolfsson