treocentral.com >> Products & Reviews >> Software
Bejeweled 2 for Pocket PC
Overview
First off, let me say that I have been a big fan of Bejeweled for as long as it's been around! This, by the way, has been around 7 years, wow! I was always facinated that someone was able to get such detailed, high-res, colorful jewels on the small screen that belongs to mobile devices. The music and exciting game play has made for many hours of enjoyment. Howard Tomlinson, Astraware's CEO once said "Bejeweled is simple to play, quick to learn, and maddeningly addictive. We couldn't be happier as we celebrate a tremendous first year for Bejeweled." I couldn't agree more! Nor could the thousands upon thousands (millions?) of people who have discovered and fallen in love with Bejeweled.
Then comes Bejewled 2!!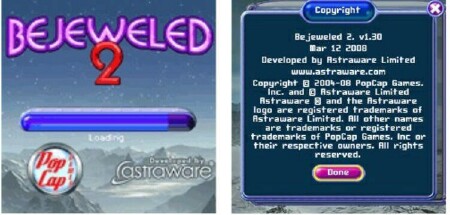 In March of this year, Astraware released the first major update for Bejeweled 2 in a number of years. The game has been brought fully up-to-date on Astraware's current games framework and controls have been optimized for play with either 5-way or stylus. Bejeweled 2 is recognized by both public and media as the must-have puzzle game for your Palm OS or Windows Mobile device, and this update supports an even wider range of devices than ever before! Most noteable is that Bejeweled 2 now offers support for 320x320 Windows Mobile Professional and Classic devices such as Samsung's SGH-i780 smartphone.
---
Compatibility and Setup
Bejeweled 2 for the Pocket PC is compatible with the Treo 700w and 700wx and the Treo 750 and 750v.
You can download the free trial at the TreoCentral store which allows you to run the game/play the game for 5 games - after which, you must register to continue playing. You can choose to download the install file to your desktop or download to your PDA/Smartphone by SMS or by E-mail.
Once installed, it's time to have some fun!! (I registred immediately after the trial expired, knowing how much I already loved the prior versions).

Once installed, you can also fine-tune the in-game settings to your liking. From the settings menu, you can set the general game settings to display tips, to display clock and battery level and set the board transparency. You can also change the sound settings such as the volume of the sound effects and music or choose to mute one or the other, or both. You can even set the screensaver settings to 'none', 'demo', 'slideshow' and allow sound or mute it altogether. For those who prefer a language other than English, players may choose from 4 other languages - German, Spanish, French or Italian. Very nice customization possibilities!
While I'm mentioning the screensaver mode, let me show you just a few of the backgrounds that are displayed during screensaver mode. These screenshots I took don't do them justice - they are BEAUTIFUL! - and plentiful.
---
Gameplay
The rules of classic Bejeweled are simple. Players must match the colored jewels in lines of three horizontally or vertically to clear them from the board. Lines of four jewels are awarded with a Power Gem whilst lines of five award the much sought-after Hyper Cube. Both special jewels trigger their own unique jewel-clearing devices. Bejeweled 2 throws four flavors of the game at you to choose from
In each of the four modes, there is a progress meter to the left of the screen which fills with each match of 3, 4 and 5 jewels you complete.
---
The Four Modes of Play
Classic Mode
In the 'Classic' mode, your goal is to match 3, 4 or even 5 jewels of the same size and color by choosing an intial jewel, then exchanging it with a jewel to either side, above or below the jewel. Each successful match advances the progress meter up a set amount. Once the progress meter is filled, you're advanced to the next level - during which you're presented with a beautiful fullscreen planetary background image, which is revealed as an ever-expanding circle expands and finally reveals the picture. The jewels for the next level are dropped into place, and you're once again faced with making enough jewel matches to advance your way to yet another level. There is, of course, a running score at the top of the screen, and when you're finally out of moves, if you've scored high enough, you enter your name into the 'High Scores'! Registered users can even export their high scores to compare to other players for bragging rights!
Action Mode
In the 'Action' mode, you race against the clock as the meter/timer builds as you quickly match three jewels and just as quickly runs down as you frantically search for the elusive three jewel matches! I managed to make it to level 4 my first time playing this twist on the game. I'm more in to the classic, non-timed style of the original Bejewled hehe! I gave this mode a few more plays and found my skill increased measurably, as did my ability to pick out those hard-to-find matches. This game mode is definitely a challenge and not for the weak of heart or those easily irritated (just kidding!). Give this mode a shot if you want the real challenge!
Puzzle Mode
In 'Puzzle' mode, your goal is to clear the board by connecting three matched gems while at the same time leaving no stranded jewels which can't be matched in sets of three. This is not as easy as it may sound grin. I stranded three non-adjacent jewels on the very first level - back to the drawing board for level one! It took me a disappointing 6 attempts to complete the first level, upon which I was presented with a screen which read "Press WARP to advance to the next planet, or beat the last puzzle for complete victory." Each new level adds a bit more challenge, which is, again, nice as it keeps the mind sharp! There are games out there which market their ability to do just that - this games does this in addition to just being FUN!
Endless Mode
In the 'Endless' mode, it is just that - endless. You play till you just don't wanna play anymore. Tips are given if the game feels you're stumped as to the available match(es), which could be nice if you're impatient - as I can be at times hehe! I suppose this mode is for those times when you just want to spend some time taking your mind off worldly things and keep your mind sharp at the same time.. mindlessly.. hmm, not thoughtfully concentrating as to where the next matching chain of three jewels is located. I like this mode because there's no chance of the game abruptly ending and sending me into a fit of rage! (like that would ever happen.. *innocent look*) I like to challenge myself to find a move to match three, four or five gems before the game suggests a move - a small feeling of accomplishment hehe.
By combining 4 of the same gems, you create a Power Gem, which explodes when you match 3 or more gems. You can also create a Hyper Cube, which when swapped with a gem, clears all the gems of that color from the screen. The Hyper Cube is seen in action below.
---
Bells and Whistles
The graphics in this game are top notch. It's amazing how much detail Astraware brings to the 'small screen' of the Palm OS devices that run this game! The jewels are highly detailed, with hints of light gleaming off their sides and the occasional sweep of light aross the screen glistens off the jewels on its path across the screen. The music took me a bit to get used to, as I have a tendency to turn the volume down or off on games - so I can concentrate. But, the music actually adds to the enjoyment of the game and I've had only one moment when the music 'got' to me hehe. I was deep in concentration looking for that darned move that would keep my game a'going, and realized that the music was repeating the same short sequence over and over, it seemed.. Just when I was about to shout "SHUT UP!", the music changed to a rather enjoyable tune - whew!
While I'm mentioning the sounds in the game - the game occasionally gives you praise for moves with 'on screen' prompts such as 'EXCELLENT' and even says the word - a nice feature! When you use a 'Hyper Cube', there is a sudden flash of lightening that eminates from jewel to jewel, clearing out ALL gems of that color from the screen! A nice touch to the game as well.
Combine the awesome graphics and epic soundtrack and you have one superb game!
---
And that's not all!
As if FOUR exciting modes of play weren't enough, low and behold as you progress through these four standard levels of play - five special bonus modes can be unlocked! Trust me, I love this game - but, haven't experienced the bonus modes.. YET! I fully intend on seeing every level of this glorious game, though!
---
Conclusion
I Googled Bejeweled 2 to see how much of a stir this great new version caused, and I found forums where people post their high scores, tips for game play and even 'cheats' to get a high score and 'beat the game'. Personally, I play to beat a game without cheats, else - why bother? A high score or beating a game with cheats feels like an empty victory to me. But, I might consider them ONCE, to see what the BONUS levels look like or if there's a nicely animated ending for beating the game.
Bejeweled 2 offers hour upon hour of gameplay, a variety of play modes and would make an ideal way to pass the time while riding in a car (while someone else is driving of course, hehe!). On a scale of 1 to 10, I would personally give Bejeweled 2 a strong 9!
Take your mobile device to new heights and pick up Bejeweled 2 today!
You can get Bejeweled 2 for the Pocket PC here for $19.95. Bejeweled 2 is also available for Palm OS here for the same $19.95.
Of note: Bejeweled 2 is a sequel and not an upgrade, registration codes for Bejeweled will not work with this product.
Criteria

Rating

Design
5
Features
5
Playability
5
Cost/Benefit
5
Overall
(not an average)

Pros
Beautiful hi-res graphics

Awesome music

4 modes of play plus bonus modes

Screensaver mode

Repeat playability factor

Fun and addictive

Cons
Music hung on the screensaver mode occasionally
Copyright 1999-2016 TreoCentral. All rights reserved : Terms of Use : Privacy Policy

TREO and TreoCentral are trademarks or registered trademarks of palm, Inc. in the United States and other countries;
the TreoCentral mark and domain name are used under license from palm, Inc.
The views expressed on this website are solely those of the proprietor, or
contributors to the site, and do not necessarily reflect the views of palm, Inc.
Read Merciful by Casey Adolfsson