treocentral.com >> Products & Reviews >> Software
BackupMan
---
Wed May 7, 2008 - 10:17 AM EDT - By Joe Tunon
---
Overview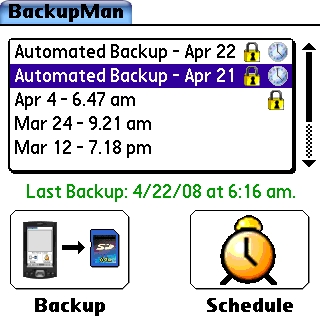 Let's get the only little imperfection out of the way. 5 Way Nav support only gets a B. You can page up and down your backup sets, but you cannot select individual sets with the Nav button alone. You have to tap the screen. Big whoop. Okay. Let's get to the important part, which gets an A .
We've all done it. We've downloaded some piece of software that causes problems, un-installable at best, but utterly device-crashing at worst. BackupMan comes to the rescue, and gets you completely back up and running in a shorter time than it takes to reboot the phone (no exaggeration)!
Some Features:
simple to use for both novice and advanced users.
a reliable solution that you do not have to constantly worry about.
a fully automated backup solution.
fast! After each daily backup subsequent operations often take less than 10 seconds.
redundant, allowing you to store many independent copies of your data on a single card.
able to secure your data with a powerful encryption engine
a flexible solution that allows multiple schedules to ensure your most important data remains current
configurable. You choose what happens and when.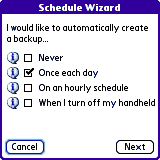 All of the configurable options work like a champ. You can schedule backups, make them incremental (backing up only the files that have changed since the last backup), exclude files (like those pesky files that have trouble restoring that you never use anyway), make as many backup sets as you can fit on your card (and it's nice enough to tell you just how many you fill it with), and the single most important feature in any backup software: it restores your entire device in one tap.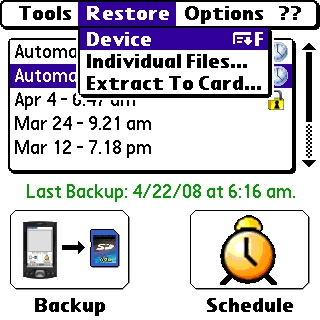 In fact, the way it is implemented outdoes some of its competitors. After a hard crash or reset, you simply insert your memory card with BackupMan.prc, launch it straight from the card, and a simple little box pops up and says "Hey! Your device looks like it got wiped! Wanna put it back the way it was?" Okay, I'm paraphrasing. But you get the gist. It really does restore everything in one tap.
Here's another real timesaver. If you ever need to exchange your phone, there's no need to wait to get back to your PC to re-hotsync everything (which doesn't always work anyway!). You simply go into the store, wipe your phone, take out the card, give them the phone, get your replacement, stick in your card, launch BackupMan (right from the card), tap once, and a minute later walk out as if your phone never crashed. It just doesn't get any easier than that.
---
Conclusion
BackupMan couldn't be quicker, easier, or more reliable. It's D.R. for your device. You can get BackupMan here for $14.95.
Criteria

Rating

Look and Feel
3
Usability
4
Security
5
Cost/Benefit
5
Overall
(not an average)

Pros
Extremely intuitive

Encrypted

Very fast

Very configurable

Cons


Needs a bit more 5 way Nav support (still need the stylus for some operations)

Has trouble restoring certain files on some devices (all backup products are susceptible to this, though)
Copyright 1999-2016 TreoCentral. All rights reserved : Terms of Use : Privacy Policy

TREO and TreoCentral are trademarks or registered trademarks of palm, Inc. in the United States and other countries;
the TreoCentral mark and domain name are used under license from palm, Inc.
The views expressed on this website are solely those of the proprietor, or
contributors to the site, and do not necessarily reflect the views of palm, Inc.
Read Merciful by Casey Adolfsson