treocentral.com >> Stories >> Commentary
Sharpen Your Cell Signal With The Freedom Blade
Overview
Last month I reported on Sprint's AIRAVE device that creates a CDMA signal for your mobile phone (like a miniature cell tower) and improves your coverage up to 5,000 square feet. Sprint is still testing the AIRAVE in specific areas as far as I know. AT&T is supposed to start testing the femtocell technology later this year.
Today I saw a drool inducing video by Chris Leckness over at Mobility Site, one of my favorite tech sites. Chris was demonstrating The Freedom Blade, which is a small, sleek cell antenna booster made by Arc Wireless. Chris was testing the Freedom Blade with his AT&T card in his laptop. He was in an office on the 2nd floor, in the middle of a brick building where he never gets a signal. You can also use the Freedom blade with cell phones. You just have to get the correct adapter. Anyway, Chris showed how he had no bars on his laptop's connection. Then he connected the Freedom Blade. Oh....my....Gosh! The Freedom Blade made the "no bars" signal that Chris had go to 4 bars just like that! It was so cool!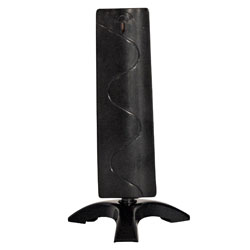 The Freedom Blade is perfect for those who travel or are on the go frequently. When using the Freedom Blade with laptop AirCards where the signal is not optimal, this antenna will increase your data speed. With a large diversity of signal strengths across wireless networks in airports, hotels and other remote locations, increased data speeds makes your wireless experience more rewarding. The Freedom Blade uses the same patented technology as the Freedom Antenna and works with all major wireless carriers and technologies.
Features:
Perfect for Cell Phones, AirCards, PDAs, Laptops
For Home, Work, Travel
Decrease Dropped Calls
Reduces Dead Spots
Enhanced Voice Clarity
Works with all Major Wireless Carriers
I looked on the ARC Wireless website and checked to see if they had adapters for Treos/Centros. They have an adapter for all Treos but I didn't see one for the Centro listed. I'm waiting to hear from someone at ARC Wireless to let me know if they have or will be getting an adapter for the Centro. I would think though that one of the adapters would be compatible with the Centro. They probably just haven't updated their site and added the Centro to their list. Of course I don't actually "know" that to be true; just guessing. The Freedom Blade sells for $50, depending on the adapter and retailer.
Update: Well, the representative from ARC Wireless just returned my call. She said that there are no adapters for the Centro. See my pic below showing where I've removed the little antenna plugs from my Treo 680 and Centro. That is where the adapter would plug into. I sure hope that someone will come out with an adapter for the Centro!

I will be getting one of these Freedom Blades soon! My husband went on a business trip to Indiana this week and when he called me from his hotel room via his iPhone, I could only hear like his every other word. I told him that he was breaking up. He said that he had 4 bars so it must be me who had the bad connection. So I looked at my Centro, and sure enough, I had like one measly bar. Grrrrrrr!!!! So I walked to the living room and sat near a window to see if my connection got stronger. It did but just a little. That really annoyed me. I'm getting tired of having to walk around my house, trying to find a spot to talk where I have more than one or two bars. It's just ridiculous. I guess my house is just not in a good location for cell coverage. We're in a hilly area surrounded by lots of woods.
Anyway, I was thrilled to see Chris demonstrating the Freedom Blade and I plan to get one as soon as possible! Thanks Chris! ;-)
Copyright 1999-2016 TreoCentral. All rights reserved : Terms of Use : Privacy Policy

TREO and TreoCentral are trademarks or registered trademarks of palm, Inc. in the United States and other countries;
the TreoCentral mark and domain name are used under license from palm, Inc.
The views expressed on this website are solely those of the proprietor, or
contributors to the site, and do not necessarily reflect the views of palm, Inc.
Read Merciful by Casey Adolfsson