treocentral.com >> Stories >> Commentary
Side Shot of the Treo 800w
Overview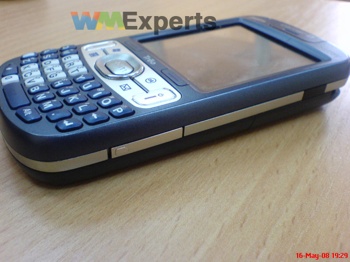 Another neat photo of the Treo 800w surfaced on Friday, this one a side shot, via WMExperts, from Shadowmite.
I really see more of a resemblance to the Centro from the side shot because of the silver edging. Of course we already saw the similarity in the first photo since the phone send/end keys and the 5-way nav key looks a lot like the Centro's too.
Silicon Alley Insider posted an article over the weekend about the Treo 800w photo. Dan Frommer wrote that they'd spent the previous two years with a Palm Treo and found it to be both the best and worst phone they'd ever owned. But they plan to upgrade to an Apple 3G iPhone next instead of a Treo. Silicon Alley Insider thinks that the upcoming Treo 800w looks hideous:
Pretty much everyone else in the mobile business has been able to lift at least some of the features that make the iPhone so appealing -- large, glossy screen; thin, elegant case; etc. Not Palm.
Regarding whether or not the 800w will sell, they think that it'll do okay if Palm sells it at $199 and no higher.
Silicon Alley Insider also said:
Palm still has a little time to figure things out: We won't know much about the company's long-term prospects until its new, Linux-based operating system -- and whatever slick new phones they can sell along with it -- comes out in 2009. The smartphone business is going to grow rapidly for several years, so if Palm can deliver a competitive product, there's still plenty of growth opportunity for them. But they're going to have to do much, much better than this.
Hmmm, I don't find the photo of the 800w hideous at all. I like how it looks. I'm happy that this Treo will finally have WiFi but I do agree that this is something we should have seen a long time ago from Palm.
I do hope that Palm will include bigger screens in their future devices since the iPhone has come out, making that feature an important one to include. I also hope to see a much better web browser than Blazer.
I guess we'll see what Palm has to show us whenever their new OS and devices come out. I can't wait! And of course I can't wait for the Treo 800w either, which won't be much longer! ;-)
Copyright 1999-2016 TreoCentral. All rights reserved : Terms of Use : Privacy Policy

TREO and TreoCentral are trademarks or registered trademarks of palm, Inc. in the United States and other countries;
the TreoCentral mark and domain name are used under license from palm, Inc.
The views expressed on this website are solely those of the proprietor, or
contributors to the site, and do not necessarily reflect the views of palm, Inc.
Read Merciful by Casey Adolfsson