treocentral.com >> Stories >> Business
Palm Launches "Virtual Development Lab" to Help Palm Application Developers
Overview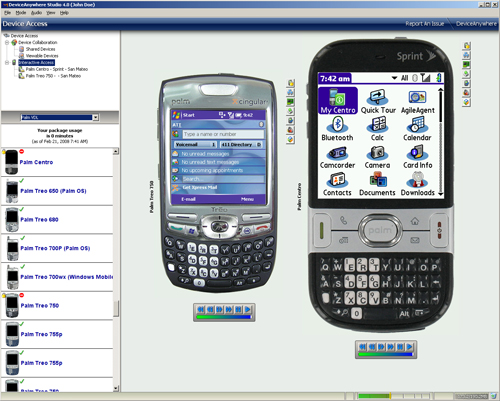 DeviceAnywhere(tm) today unveiled the new public Palm Virtual Developer Lab (VDL) - a remote testing service designed to dramatically reduce the time and resources required to develop, test, monitor, and deploy applications and content for Palm smartphones.
The on-line service is available globally to all developers who register for DeviceAnywhere's Palm package and provides support for in-market devices released by Palm, Inc., including the Treo 755p and the new PalmCentro smartphone.
Developers will be able to collaborate and work in partnership with each other anytime and from anywhere through DeviceAnywhere. This will make for a better connected community of developers, bringing forth better quality products and faster time to market.
DeviceAnywhere is a revolutionary online service that provides access to more than 1000 real handsets, on live worldwide mobile networks, remotely over the Internet, meeting all development, porting, testing, and monitoring needs. Developers will be able to work with real, physical handsets instead of emulator/simulator-based solutions. The result is that anything a user can do with a device in his/her hand, he/she can do with the handsets in DeviceAnywhere, in real time. Developers can press device buttons, tap on touch screens, connect/disconnect the battery, view the LCD, listen to ringers and speakers, and open/close a handset. Cool!
DeviceAnywhere is cost-effective and efficient, and eliminates the inefficiencies of manual testing and the high costs of acquiring handsets and service plans. Plus it enables developers to bring content to market faster than ever before.
"Through the DeviceAnywhere service, developers get the benefits of testing their application on multiple devices through the convenience of their desktop development environment," said Mark Bercow, Palm SVP, business development. "The service also allows Palm to make devices available to thousands of developers who request devices for their development purposes."
To access the Palm Virtual Developer Lab, users simply register by selecting the Palm VDL option on DeviceAnywhere's Web site.
Once registered, users are able to access Palm smartphones within the Virtual Developer Lab, press buttons, view LCD displays, and listen to ringers and speakers. Additional DeviceAnywhere features - such as monitoring and test automation - are also available on all Palm Virtual Developer Lab smartphones, empowering users to more efficiently create better applications and content for the marketplace.
"Smartphones continue to be among the most sought after handsets for application development and Palm continues to be a leader in the smartphone community," said Faraz Syed, CEO and co-founder of DeviceAnywhere. "Now, especially with the launch of the Centro - which has proven to be a boon for Palm - the Palm Virtual Developer Lab is a very valuable extension of DeviceAnywhere for our users."
Wow, this sounds great! Developers should really be able to get their apps out much faster with DeviceAnywhere. I'm sure this virtual lab will be much better than having to work with emulators.
You can read the full press release here and the Social Media News Release here.
Copyright 1999-2016 TreoCentral. All rights reserved : Terms of Use : Privacy Policy

TREO and TreoCentral are trademarks or registered trademarks of palm, Inc. in the United States and other countries;
the TreoCentral mark and domain name are used under license from palm, Inc.
The views expressed on this website are solely those of the proprietor, or
contributors to the site, and do not necessarily reflect the views of palm, Inc.
Read Merciful by Casey Adolfsson