treocentral.com >> Stories >> Rumors
Verizon Centro $199.99 on June 13?
Overview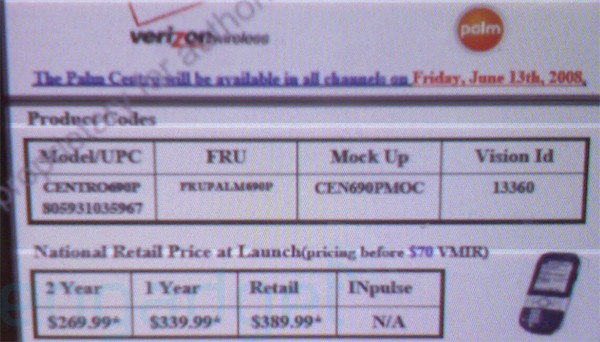 Engadget Mobile is reporting via an anonymous tipster and a Verizon document that the Verizon Centro will supposedly hit all retail channels next Friday, June 13. And it looks as if Verizon Centro buyers will have to pay a huge price of $269.99 before a $70 mail-in rebate.
That's a big difference from Sprint's Centro only costing $100 after a $100 mail-in rebate. Hopefully that price of $269.99 is wrong. Ugh.
We'll be sure to let you know if we hear differently.
---
Update: I just read in our forums that someone just purchased a Verizon Centro.
Forum member andybrownstl said:
just purchased my new vzw centro over the phone.she said I should have it in 3 days!..... PS-the ridiculous pricing plan is true and it totally sux!...but I wanted it so I was willing to pay....
And forum member Jas O stated:
I just spoke to customer service at VZW. $269 is the price. $100 data discount and $70 MIR which gets us to $100.00 If you have NE2 then $0.
He said it depends on the store whether on not you can get one now or not.
Forum member cheesehead007 also put in an order over the phone.
Forum member eTard called Verizon also. eTard said:
I just called and I was told they are not selling or shipping them now (as in today). they said they would take a preorder.. but would NOT guarantee when you will get it or even its release date and she said the web will get it first. she was even stunned that some rep told that guy above he would get it "in 3 days". yeah, yeah.. I know, you could call back and get a different rep and maybe they can, but she put me on hold, looked into it and said no dice with buying now and getting now. they could "preorder" now, but not promise it goes out ASAP, next day, next week or next month.
So that's the latest. If you've been waiting patiently for a Verizon Centro, you might as well start calling like these guys and see if you can get one ordered or pre-ordered. It can't hurt to try. Good luck! ;-)
Be sure to read this entire thread because it's full of interesting comments on the rumored price of the Verizon Centro.
Copyright 1999-2016 TreoCentral. All rights reserved : Terms of Use : Privacy Policy

TREO and TreoCentral are trademarks or registered trademarks of palm, Inc. in the United States and other countries;
the TreoCentral mark and domain name are used under license from palm, Inc.
The views expressed on this website are solely those of the proprietor, or
contributors to the site, and do not necessarily reflect the views of palm, Inc.
Read Merciful by Casey Adolfsson