treocentral.com >> Products & Reviews >> Software
Pocket Tunes 4.1.0 for Windows Mobile
Overview
As a long-time fan of Pocket Tunes on the Palm OS platform, I was very excited when the folks at NormSoft, Inc. provided me with an advance beta version of Pocket Tunes 4.1.0 for Windows Mobile, a.k.a. Pocket Tunes Deluxe ($37.95 at pocket-tunes.com). It installed easily on my Treo 750 and is a welcome alternative to Windows Media Player on my Treo. Pocket Tunes Deluxe is rich with features and offers customization, playback of numerous types of audio file formats, and streams music online quite well using the 3G speed available on my Treo. Keep reading for my full review!
Given that Pocket Tunes Deluxe is NormSoft, Inc.'s first Windows Mobile product (having developed Palm apps exclusively), this is an impressive entrance. I'm a music lover and usually have one of my iPods handy, but often it is more efficient and necessary to carry just one device. My Treo is an indispensable item and I always have it with me, so having Pocket Tunes Deluxe installed as my music player is a huge plus. Not only do I have the ability to play music I've installed on my memory card, but I can stream music from the internet with a choice from hundreds of stations. Whatever the genre, whatever your tastes, it's out there and can be streamed into your Treo and through your earphones for your listening pleasure using Pocket Tunes Deluxe.
---
Under The Hood
Pocket Tunes Deluxe allows for a variety of syncing methods to get the music files you want onto your Treo. You can use Windows Media Player on your PC to sync music to Pocket Tunes. For PC users, you can also sync via iTunes. I'm generally a Mac user, so I'm a bit disappointed that there is no super-easy way to sync music while using a Mac, but fortunately there is a third way to add music to your Treo by adding music files directly to your storage card. Of course, I highly recommend having a storage card for your Treo because the Treo's internal memory is a laughable option for carrying around your tunes (unless your music library consists of 5 songs -- you really should buy more music!).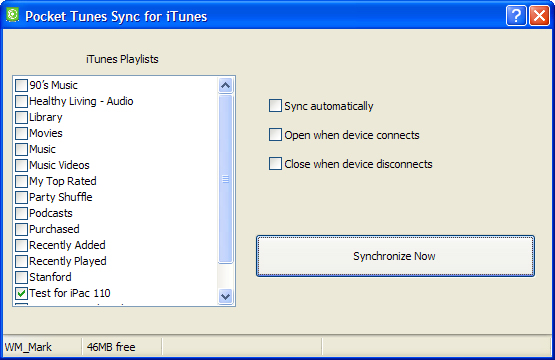 Once you have your music loaded, you can get down to business and enjoy your tunes! Or, if you are an audio book lover, you can "read" on the go as well. Pocket Tunes Deluxe supports multi-tasking, so while playing your tunes, you can run other apps and be productive or play a game while listening to your favorite music. Skins are available on the Pocket Tunes site to give your Pocket Tunes a different look; it's a nice way of customizing it to your tastes and making it your own.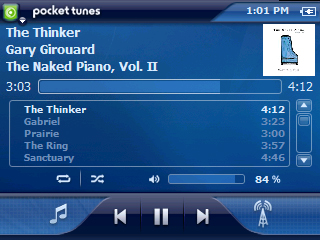 Pocket Tunes is easy to use. The 5-way pad on your Treo can control all the player functions; center button for play/pause, up/down to increase or decrease the volume, and left/right to play the previous song or next song. If listening to internet radio, left/right on the 5-way will move you to the previous or next internet radio station. Keyboard shortcuts are also built-in for quick player navigation. Accessing music via the menus is also intuitive and easy. Pocket Tunes sorts your music by album, artist, genre and playlist so you can organize and find your music with ease.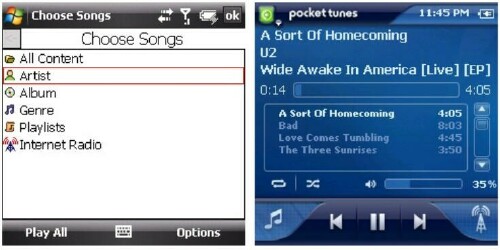 The sound quality, whether playing your music files from memory or using internet radio, is good. I was particularly impressed with the sound quality of the online radio stations -- I did not experience any choppiness or buffering delays. Your coverage area can affect performance, of course, but in my experience in good coverage areas, the internet radio stations were just fine. I usually don't dial up the radio when I'm on the fly -- I prefer choosing my music from my iPod, CD or pre-loaded music files on my PDA -- but having access to hundreds of internet radio stations on Pocket Tunes is practically irresistible. You just have to try it.
Having audio books on the go is another feature. I usually like to read my literature rather than listen to it, but Pocket Tunes makes it easy to get addicted to audio books. Bookmarking and auto-bookmarking is included with Pocket Tunes so you can go back to your audio book without losing your place and having to search for the spot where you left off. If you normally don't have time to pick up a book, just carry your Treo loaded with an audio book or two -- you can't (and shouldn't) read a book while driving, but you can certainly listen to one. Don't worry about missing important phone calls either. Pocket Tunes will pause for an incoming call and resume when the call is completed.
Although I don't use bluetooth earphones, they are supported for Pocket Tunes Deluxe. Additional features for your music include crossfade, gapless playback, a high-fidelity equalizer, and both bass and volume boosting. Album art is supported, and another nice touch is having your battery meter and time displayed within the app.
---
Conclusion
Pocket Tunes Deluxe for Windows Mobile ($37.95 at pocket-tunes.com) is a very able music and audio book player for your WM Treo. Having the option of playing user-installed music and internet radio makes Pocket Tunes Deluxe an easy application to recommend. Sound quality is good, graphics are good, it's easy to use, and a 15 day trial period and 15 day user satisfaction guarantee makes Pocket Tunes Deluxe an easy choice for your WM Treo media player. Internet radio alone, for me, is a fantastic feature. If you want a media player that is more feature-rich and customizable than your stock player, then I happily recommend Pocket Tunes Deluxe by NormSoft, Inc.
Criteria

Rating

Design
5
Usability
4
Features
5
Cost/Benefit
5
Overall
(not an average)

Pros
Syncs with Windows Media Player and iTunes

Allows for manually loading music files also -- particularly useful for Mac users

Customizable, including lots of skins

Internet Radio!

Cons
No Mac support for iTunes, affecting overall usability

A wee bit pricey, but lots of bang for the buck
Copyright 1999-2016 TreoCentral. All rights reserved : Terms of Use : Privacy Policy

TREO and TreoCentral are trademarks or registered trademarks of palm, Inc. in the United States and other countries;
the TreoCentral mark and domain name are used under license from palm, Inc.
The views expressed on this website are solely those of the proprietor, or
contributors to the site, and do not necessarily reflect the views of palm, Inc.
Read Merciful by Casey Adolfsson