treocentral.com >> Stories >> Software
Facebook App for PalmOS Released!
Overview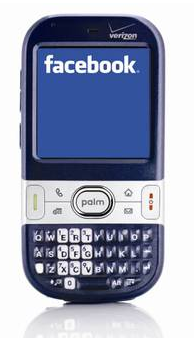 Over at the Official Palm Blog, we get this bombshell: There is now a native Facebook Application for the PalmOS. You can download the application at http://go.palm.com/facebook. Up until now, the Palm Centro's ability to appeal to the youth market has been quite good, but there was always a small cloud in that sky -- namely that the BlackBerry platform had a native Facebook app and the iPhone had a great iPhone-specific version of Facebook.
No more. With the new native Facebook app, Centro and PalmOS Treo owners are able to interact with their social networks much more quickly and easily. Check out the feature list:
Send and receive Facebook messages, and respond to friend requests.
Capture video using your smartphone and post it to your Facebook profile.
View and post photos, right from your smartphone, or snap and send off new ones.
Receive News Feeds, change your status, and get friendsí status updates on the go.
Browse friendsí profiles, post messages to their wall, and send friend requests or search for old friends through Facebook.
Open your Contacts and dial your friends with just one touch.
There's also a over-the-air download you can use directly from your Treo or Centro at http://mobile.palm.com/facebook. Unlike the iPhone-web version, the PalmOS app can upload photos directly. Unlike the BlackBerry app, it can upload *video* directly. Good stuff, big ups to Palm and Facebook for releasing this!
Discuss the new Facebook app in our forums.

Copyright 1999-2016 TreoCentral. All rights reserved : Terms of Use : Privacy Policy

TREO and TreoCentral are trademarks or registered trademarks of palm, Inc. in the United States and other countries;
the TreoCentral mark and domain name are used under license from palm, Inc.
The views expressed on this website are solely those of the proprietor, or
contributors to the site, and do not necessarily reflect the views of palm, Inc.
Read Merciful by Casey Adolfsson