treocentral.com >> Stories >> Software
Weather by DeluxeWare now a Subscription Service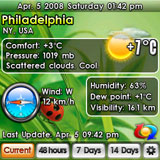 Weather Beta, by DeluxeWare is no longer in Beta and is now a subscription service.
I've received quite a few emails from the TreoCentral community asking me if I had any word on the recent error message when trying to update the current weather conditions.
Anatoly Terebilov contacted me, thanking me for Beta testing the program and letting me know about the change to the subscription service. I hope those of you who, like me, have enjoyed Weather will support DeluxeWare and purchase a subscription!
There are 3 subscription levels:
Purchase 3-months subscription for $4.95
Purchase 1-year subscription for $14.95
Purchase infinity subscription for $19.95
Those of you who have contacted me about Weather Beta all seem to have been as impressed as I was with this great program, so I hope many of you will go ahead and purchase some level of service!
I have the infinity subscription, so I will continue to enjoy this great program, hopefully, for years to come!
I'm still in contact with DeluxeWare in hopes of them releasing an on-screen keyboard for my Centro!
Keep up the good work, DeluxeWare!
For those of you not familiar with Weather, here's a short description from the DeluxeWare website:
Make your own weather station at Palm now! Current condition for the entire world (and for specific regions) updates every 15 minutes. Forecast information updates every 6 hours. Before making travel plans for a hotel or flight, it can be useful to check the weather for where you want to go. The auto update mode helps to keep the weather data timely. "Weather-guard" will improve Palm's standard KeyGuard and give the access to the current condition or 7-day forecast in an easy way.
Get it here today!
Copyright 1999-2016 TreoCentral. All rights reserved : Terms of Use : Privacy Policy

TREO and TreoCentral are trademarks or registered trademarks of palm, Inc. in the United States and other countries;
the TreoCentral mark and domain name are used under license from palm, Inc.
The views expressed on this website are solely those of the proprietor, or
contributors to the site, and do not necessarily reflect the views of palm, Inc.
Read Merciful by Casey Adolfsson