treocentral.com >> Stories >> Commentary
EPA Mobile Site
Overview
I read over at Gear Diary recently that the U.S. Department of Energy (EOE) and Environmental Protection Agency (EPA) have launched a new Web site designed specifically for mobile Internet devices.
If you're shopping for a new or used vehicle, or just want to check out the fuel economy on your current vehicle, you can get EPA fuel economy information on your Treo or Centro.
Here's what you can view:
Fuel economy ratings for all cars and light trucks sold in the U.S. back to model year 1985
Annual fuel cost estimates
Annual petroleum use (barrels of domestic and imported petroleum)
Carbon footprint (tons of carbon dioxide emitted annually)
Of course I was curious about this mobile website so I checked it out on my Centro. I drive a 2000 VW Beetle and it gets pretty good gas mileage, which is important especially now with gas prices through the roof. The last time I filled up my car, it cost me $50 and I was thinking, "You've GOT to be kidding!" I'd hate to own a large gas guzzler if my little VW costs that much to drive.
I got my Centro out and went to the EPA mobile site at fueleconomy.gov/m and proceeded to look up my car.

First I selected the model year. The years available for checking are 1985-2009. So I clicked on 2000. Then I was taken to a page where I chose the make and model which for me was a Volkswagen New Beetle. You also chose from Automatic or Manual transmission, and mine is a 5-speed stick.
According to the EPA mobile site, I guess the gas mileage I get isn't quite as good as I'd thought. I figured I got around 30 miles per gallon but it's not that good.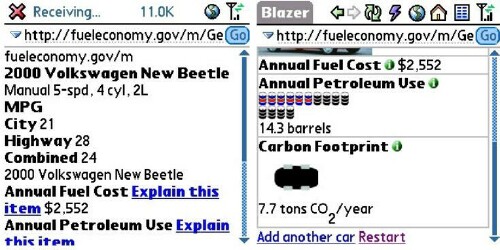 I also saw what the annual fuel cost is. The EPA mobile site has the 2000 VW Beetle having an annual fuel cost of $2,552. Adn the annual amount of petroleum use is listed as 14.3 barrels. And my car's carbon footprint is 7.7 tons CO-2 a year. That's a lot for a small car!
I thought that was interesting being able to check out that information on my Centro. Go check out how your vehicle does. And if you're shopping for a new vehicle, be sure to check out the info on it as well.
Copyright 1999-2016 TreoCentral. All rights reserved : Terms of Use : Privacy Policy

TREO and TreoCentral are trademarks or registered trademarks of palm, Inc. in the United States and other countries;
the TreoCentral mark and domain name are used under license from palm, Inc.
The views expressed on this website are solely those of the proprietor, or
contributors to the site, and do not necessarily reflect the views of palm, Inc.
Read Merciful by Casey Adolfsson