treocentral.com >> Products & Reviews >> Software
Facebook for PalmOS
Overview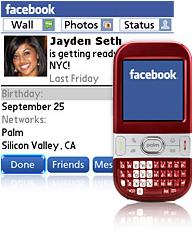 Palm doesn't release too many applications for the ol' Garnet (Palm) OS anymore, but the programs they have released have been very well done. The last one I remember was the Instant Messaging client that was originally released with the 755p, I think, and now comes standard with all PalmOS smartphones. The IM client, in my opinion, has a very nice, user-friendly interface and filled a gaping hole in the functionality of their smartphones. Don't get me wrong: the IM app is far from perfect (I don't even use it because I don't have unlimited text messaging and the app won't use the data connection), but you can definitely see what Palm was thinking. That same thinking extends to this Facebook app, except this time, Palm really, really hit the mark. Facebook is an absolute staple of the very crowd Palm is trying to reach out to with the Centro. And, like the IM app, the Facebook app adds another means to keep you "connected" through your PalmOS smartphone (phone, text messaging, instant messaging, email, social networking). If you are one of the 80 million Facebook users, you're gonna love this one. If not, you have to appreciate what Palm is doing here, and the execution gives me even more hope that the new NovaOS is going to be good.
---
Features
The PalmOS Facebook program gives you access to all of the "basic" Facebook stuff like searching for friends, sending and receiving messages and browsing through people's photo albums. You have acces to your "Wall", and you have a home page that displays all of your friend's status updates. Everything is wrapped up into a package that closely resembles Palm's latest Phone application (version 3.x), with main selection tabs for photos, status, the home screen, friends/contacts, and your inbox at the bottom of the screen. Using this setup shortens the learning curve by providing an interface first time users will be somewhat familiar with.
Now, that stuff is all well and good, but most of these features were available to those of us who have been using the mobile web version of Facebook through the Blazer browser. If this was all the PalmOS application had to offer it would be hard to complain. But Palm went all out here, adding a couple of smartphone-specific customizations that really make their Facebook application special.
The first of these customizations is found in the Contact/Friend interface. When you access this tab, the screen looks almost identical to the PalmOS contacts on your smartphone, and lists the telephone numbers of all your friends who have listed them on their Facebook accounts. From there, you're a center-button press and a confirmation from talking to that girl who wouldn't give you her phone number in high school, but totally forgot who you were and added you to her friend's list anyway. Now that's pretty cool. Unless you're that girl.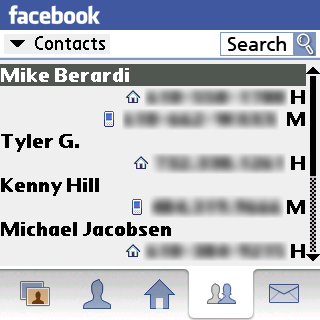 The other Palm-specific feature I found is within the Photo interface. The interface itself is very similar to the Pics&Videos app in the PalmOS, with the first page dedicated to viewing your albums and the "Photos of You" that have been tagged on other people's accounts. Select an album and you'll see the thumbnail page, where you can view 12 thumbnail photos at once. Select a thumbnail and you can see the full high-resolution picture. These pictures take several seconds to download on my AT&T, EDGE-enabled Centro, but the download time hasn't been enough to annoy me yet. I imagine that with one of those fancy-schmancy CDMA models, with their 3G EV-DO cconnections, you likely won't see much delay at all. Not that I'm bitter or anything. I love my Slowsky Centro.

But of course you can view the photos and albums of all your friends and you can view and write comments on them. It wouldn't be Facebook without those functions. Palm makes this application special by giving users the ability to take photos and upload them to your Facebook account on-the-fly. While in an album, you can select the Upload button, which gives you the choice of uploading pictures you already have on your phone (or memory card) or you can switch to the camera and take and upload a fresh new picture. These pictures will appear on your Facebook account immediately and will be viewable to those you allow. Very, very cool. (It should be noted here, that when you take pictures and upload them directly to your account, the camera app constrains the picture to a mere 640 x 480 resolution, assumably to create smaller, upload-friendly files. Also, the download page for the PalmOS Facebook app mentions the ability to upload videos, but I haven't been able to find that feature. Could video upload be restricted to the schmancy EV-DO models? Possibly, but I couldn't tell ya.)
---
Performance/Usability
Where this application really shines is under the hood, keeping you moving without having to wait forever for things to load. In many of the screens there are thumbnail pictures of your friends, which take time to download. When you enter a screen, like the inbox or status update screens, there are often several entries, each with a different picture that the phone has to download. Luckily, the application makes excellent use of cache memory, and keeps the downloaded thumbnails of your friends handy for when they have to be displayed again. Photos, both the thumbnails and the actual pictures, are also kept in cache for easy access. Without this cache usage, the extensive use of photos simply would not work here. And if the cache starts to take up too much space on your phone, you can clear it from the settings menu within the program.
The menu system is set up much like the rest of the PalmOS, making use of shortcuts via the menu button a letter on the phone's keyboard. These shortcuts are crucial: I wasn't able to find my Wall at first, and learned through the "tips" (similar to the tips found on many other PalmOS apps) that you can access your Wall from the Contacts tab with menu L. There are shortcuts for most of the functions included here, and I suppose that people that use this a lot will learn them fairly quickly and will appreciate them.
There are other noteworthy usability enhancements as well. When you send someone a message and begin filling out the name field, all of your friends that match your entry will appear in a dropdown list for you to choose from, which saves time when you're on the run and want to send someone a quick message. The search function is so robust I'm not exactly sure what it's doing. I figured it was just a way to search through your existing friend's list, but the resulting search produced my friends of that name first, then it apparently displayed other people of that name in my network, and finally people with that name over all the networks. For example, I typed in the name "Mike", and found the 3 friends named Mike I was looking for (and 1 Michael, by the way, which must be set up as an alias), then noticed another Mike I went to high school with not far down the list, followed by yet another Mike I knew in college. I'm not exactly sure how that search algorithm works, but I like it. I like it a lot.
---
Conclusion
The bottom line is that this is an excellent representation of what makes Facebook so popular to so many people. In all honesty, I have an account that I rarely used before I downloaded this thing and now I'm hooked all over again. And yes, Palm needed this: there has been a BlackBerry Facebook app for a while now, and Apple has marketed their Facebook web app for months. I give Palm credit for the execution, though, and this proves that they still have the ability to produce an excellent, user-friendly interface which has always been a staple of what they do. If you have a Facebook account, a PalmOS Treo or Centro, and an unlimited data plan, this is an absolute no-brainer. I mean, it's free and it's really good. Doesn't get much better than that.
Go download and see what you think.
Criteria

Rating

Design
5
Usability
5
Features
5
Cost/Benefit
5
Overall
(not an average)

Pros
Excellent user interface

Strong feature set

Upload pictures and videos directly from your phone.

Well-kept cache

Cons
Not ALL Facebook features are compatible
Copyright 1999-2016 TreoCentral. All rights reserved : Terms of Use : Privacy Policy

TREO and TreoCentral are trademarks or registered trademarks of palm, Inc. in the United States and other countries;
the TreoCentral mark and domain name are used under license from palm, Inc.
The views expressed on this website are solely those of the proprietor, or
contributors to the site, and do not necessarily reflect the views of palm, Inc.
Read Merciful by Casey Adolfsson