treocentral.com >> Stories >> Commentary
Jeepin' & Gabbin' Joyfully Hands-free
Introduction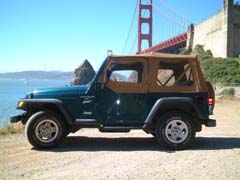 I am a proud owner of a Jeep Wrangler. In fact, the Jeep has been my primary mode of transportation for the last 15 years. Because I live in California, pretty much from April until Halloween, I have the joy of driving with the top down and skins off. Yeah, for those months, I'm happily wind-blown.
Due to a convergence of events, I found myself in a position to try something I didn't think was possible – making phone calls hands-free from my Jeep while going 65 mph down the freeway. The existence of headsets with superb noise cancellation capabilities combined with the upcoming California hands-free law motivated me to try out some options (Bluetooth and corded). So buckle up and enjoy the ride…
---
First, My Corded Confession…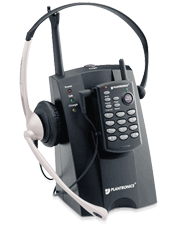 I was an early adopter of the cordless landline phone, and bought my first Plantronics CT10 more than 7 years ago. I was thrilled to find out that the headset that came with it (which goes by the model number M110) had a 2.5-millimeter jack that also worked with my cell phone. For inside the house, this was a great solution because all I had to do was switch the plug between landline and cell phone.
For me, the adventure was when I left the house. Whether it was to carry on a conversation while walking around the neighborhood, or driving in my Jeep Wrangler, the persistent winds of northern California made the M110 headset not viable for an "Annie-in-Motion" operating hands-free.
Then Harv Laser of TreoCentral did his review of theBoom "O". From what I read, UmeVoice had really done an awesome job incorporating noise cancellation capabilities into a form factor that was similar to what I had already been using.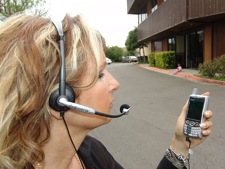 He wrote:
"When it comes to headsets, UmeVoice's theBoom is "daBomb" -- a winner for Wall Street and the Military, or anyone who just wants to hear and be heard on a call in any noisy environment. Just think, no more shouting into your phone to be heard over background noise. Utter privacy. UmeVoice's theBoom has the world's best noise-canceling microphone that boosts your voice while suppressing background noise. Their motto is "Whisper and be heard." Trust me, this isn't advertising hype –- it's the truth."
Before long, I was using theBoom "O" regularly in my home office. Not only was it comfortable, but it also allowed me to get away with having music playing in the background and a fan blowing without anyone I was speaking with knowing.
By the way, the "O" happens to be the headset of choice for many stock traders. You can imagine the challenges they have trying to hear or be heard among the cacophony of sound emanating from the trading floor.
For sure, my corded life was pretty darn awesome thanks to theBoom 'O".
---
Tale of Two Cellphones…
As much as I was an early adopter of cordless around the home office, I was woefully late to the Bluetooth revolution. There are a several reasons why. Let's start with the "borg effect."
I have a little head with little ears (seriously, I have to wear a child's size baseball cap!). The Bluetooth headsets made me look worse than a Robo-Annie cyborg. And it isn't just about looks. My little ears didn't like the feel of the various Bluetooth headsets I had tried (i.e. the BT160 by Jabra that I reviewed nearly two years ago.).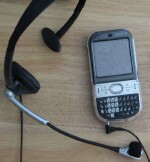 The second reason was that my main cell phone was a Samsung A890 with Verizon. That phone won raves when it was introduced at CTIA 2005, but didn't have Bluetooth. As far as I was concerned, as long as it had a 2.5-millimeter jack, I was set.
My other phone is a Palm Centro from Sprint, which I absolutely love but use primarily for data (Web access) and as a personal information manager. I occasionally make calls from it. Whenever I do, I just plug in theBoom "O" and it's all good.
---
Bluetooth Day of Reckoning Comes Early
Since the beginning of this year, those of us living and driving in California have been warned about the hands-free driving law (SB1613) that was going to be enforced starting July 1 (Note: My colleague, Jay Gross wrote a nice story about it earlier this month).
It just so happened that in March, I took on a project that had me in my Jeep for a commute that lasted one hour in the afternoons. I figured since we'd be crawling at under 20 mph, doing calls from my Wrangler would be a non-issue. I could use theBoom "O" with my Verizon phone or select a Bluetooth headset for use with my Centro. Now I had an excuse to try out the Aliph Jawbone.
I had heard a lot of good things about it. And ever since I saw the Jawbone Presents: Rugby Drinking Party video, I knew this would be the one to try.
So I multi-tasked well during my afternoon crawl up the freeway. At 20 mph or below, the Jawbone was sweet. Then one day, while I was speaking with an associate of mine, the traffic congestion in front of me suddenly cleared and I was able to drive at 65 mph. She immediately asked me if I had the windows rolled down. That's when I knew, for sure, that I had tapped out the noise cancellation capabilities of the Aliph Jawbone 1.0 as far as using it in my Jeep was concerned.
---
Enter the NoiseAssassin
On May 15, Aliph announced the new Jawbone Bluetooth headset with NoiseAssassin technology (call it Jawbone 2.0). I was thrilled for a couple of reasons. First of all, according to the press release:
"The new Jawbone features military-grade NoiseAssassin technology, which is unmatched in its ability to address real-world noise environments like busy streets, cars and airports, and blocks out up to ten times more noise energy than its closest competitor."
That certainly got my attention. And noted technology pundit, Walt Mossberg wrote in his column on May 15 titled "Cellphone Headsets With Less Bulk, Background Noise,":
"The biggest flaw in the original Jawbone, in my 2006 tests, was its performance in wind, which was poor. The Jawbone did much better in my latest tests. During a Jawbone call from a car with all the windows down and the sunroof open, my voice was easy to make out, according to the person I was calling."
And there's more! I found out that it weighs 50% less than the original Jawbone (only 10 grams versus 19 grams for the original). Wow! Where do I sign up?
---
Jeepin' it with my NoiseAssassin
I ordered the new Jawbone and set out to test it under fairly harsh conditions – driving 65 mph over the Richmond-San Rafael Bridge. That's pretty darn windy!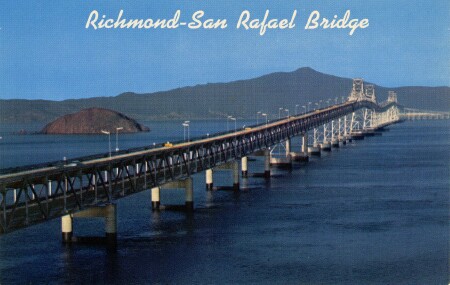 Whoa! Not only could I hear my colleague well, but he said he had no idea I was barreling over the bridge in my Jeep while we were talking. He said I sounded slightly distant, but there was no wind noise. And I could hear him clearly with the NoiseAssassin engaged. In fact, I was fairly confident that I could participate in a conference call from my Jeep and not miss a word. That was never an option before.
Another thing to note, the Jawbone 2.0 was extremely comfortable to wear and seemed to adhere itself to my body without me noticing it. Why should I raise this? Because in a windy Jeep, you better believe that you need to have anything that's light tied down because it'll blow away. Don't think it didn't cross my mind that the wind would whip my new Jawbone into the Richardson Bay. However, it wasn't an issue.
---
For those wanting to be "Cordinated", try theBoom "O"
Circling back to what I mentioned before, I know that there are many folks who are still running around with cell phones that don't support Bluetooth. So while stopped at a light, I disabled the Bluetooth on my Centro and plugged in theBoom "O" to give corded a try. When I got back on the freeway, I called back my colleague and we talked while I was doing 65 mph up 80 and over to Highway 4. He said he could hear me well and there was no indication of wind. For sure, I had no problem hearing him. The windscreen that comes with the "O" really helps.
I had a chance to speak with Adithya Padala, president and CEO of UmeVoice about the comparison I was doing between the new Jawbone and theBoom "O," and asked him to educate me on why his corded headset worked so well. He replied, "The main difference in our technology is that all our patents are acoustic (passive). This means that the physics of reflection ensures a clear signal. What Jawbone does is try to measure the ambient sound and reverse it which makes it difficult when the ambient sound is changing since there is a lag time for the noise canceling to kick in. Also it could take away some of your voice."
Humm… I'll admit that was a bit over my head. One thing I will say is that if you're going to invest in a corded headset that you can use with your cell and with your home phone, you can't go wrong with theBoom "O."
---
Conclusion – Both are Viable Options!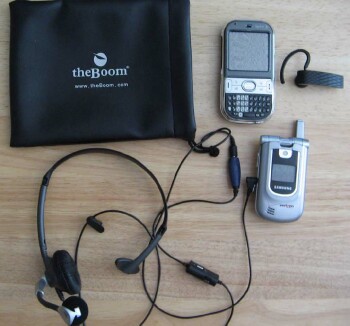 A long time ago, I was told that anything worth doing is worth doing right. Two very "right" options for operating a phone hands-free are the Aliph Jawbone 2.0 ($129.95) and the UmeVoice theBoom "O" ($99.95). If they can handle the harsh conditions of carrying on a conversation in my Jeep Wrangler zooming at freeway speeds, they can handle just about anything.
Still, your number one priority behind the wheel is to drive. And knowing that for the next few weeks, there will be a whole bunch of people fumbling around with their new hands-free headsets and speakers as they make adjustments to their "talking-while-driving" habit, you can rest assured that I will be keeping my Centro and Samsung cell phone stowed away because I know I need to be extra alert. Please keep that in mind, and remember to use your cell phone responsibly while driving!
Copyright 1999-2016 TreoCentral. All rights reserved : Terms of Use : Privacy Policy

TREO and TreoCentral are trademarks or registered trademarks of palm, Inc. in the United States and other countries;
the TreoCentral mark and domain name are used under license from palm, Inc.
The views expressed on this website are solely those of the proprietor, or
contributors to the site, and do not necessarily reflect the views of palm, Inc.
Read Merciful by Casey Adolfsson