treocentral.com >> Stories >> Commentary
Jaunted Giving Away Palm Centros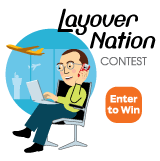 I had a Google alert letting me know that Jaunted, a travel website, is having a Layover Nation Contest.
Looks pretty simple to enter. You just think up a cool thing to do at any airport and then post a comment. The best of the best of ideas will win someone a free, 3-day trip to the Turks & Caicos. Runners up will win Palm Centro smartphones.
I know people who are stuck at airports all the time during layovers. I don't even fly, but if I did and had to stick around during a layover, I'd certainly have my Centro in hand and we all know the hundreds of things we can do with that little wonder.
I guess if the layover was extended, you could head out and see some local scenery. Anyway, the contest sounds like fun. I'd rather win a Centro than a trip myself. ;-)
To enter the Layover Nation Contest, head over to Jaunted.
Copyright 1999-2016 TreoCentral. All rights reserved : Terms of Use : Privacy Policy

TREO and TreoCentral are trademarks or registered trademarks of palm, Inc. in the United States and other countries;
the TreoCentral mark and domain name are used under license from palm, Inc.
The views expressed on this website are solely those of the proprietor, or
contributors to the site, and do not necessarily reflect the views of palm, Inc.
Read Merciful by Casey Adolfsson