treocentral.com >> Stories >> Business
Touch-screen lawsuits hit Palm, Apple, HTC, and Others
Gavel Time!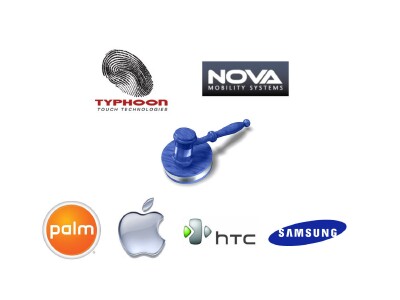 With the never-ending saga of technology lawsuits comes yet another one as Typhoon Touch Technology and co-plaintiff Nova Mobility Systems, re-tooling a pantent infringement suit at Dell from 2007, have added Apple, Palm, Fujitsu, Toshiba American, Lenovo U.S., Panasonic Corp. of North America, HTC America, Inc., Samsung Electronics America, Nokia Inc, and LG Electronics USA to its list of defendants. Sheesh, looks like just about everybody who puts touch-screen technology on their devices!
Seems it started with an original complaint of Typhoon alleging that Dell and Motion Computing Inc. were "using and profiting from" the company's patented technologies.
According to a BetaNews article that I spotted via Pocket PC Thoughts, Typhoon holds two patents on fundamental elements of touchscreen technologies, and both patents share the title "Portable Computer with Touch Screen and Computer System employing Same," and have practically identical abstracts.
And look at all those other companies out there using touchscreens. Can't have that, can we? So, KaBoom! Lawsuit time! And a "typhoon" of them at that! Well, the outcome should be interesting as all the big companies are included in the lawsuit. I have a feeling this thing will drag on and on.
Copyright 1999-2016 TreoCentral. All rights reserved : Terms of Use : Privacy Policy

TREO and TreoCentral are trademarks or registered trademarks of palm, Inc. in the United States and other countries;
the TreoCentral mark and domain name are used under license from palm, Inc.
The views expressed on this website are solely those of the proprietor, or
contributors to the site, and do not necessarily reflect the views of palm, Inc.
Read Merciful by Casey Adolfsson