treocentral.com >> Stories >> Commentary
Treo 850 Accessory Spotted
Overview
As we eagerly await the release of Palm's upcoming WM Treos, any little scrap here and there excites me. Ed Colligan said that the WM Treos would be released by the end of the summer, so we're thinking sometime later this month or August.
I received an email today from a long time TreoCentral reader (thanks Anissa!)who was telling me how much she loves Nutshell cases and that she has bought several of them for her devices because they are the best case out there. We have a couple of Nutshell cases in the TreoCentral Store and they do look nice. We'll be reviewing the one for Centro soon.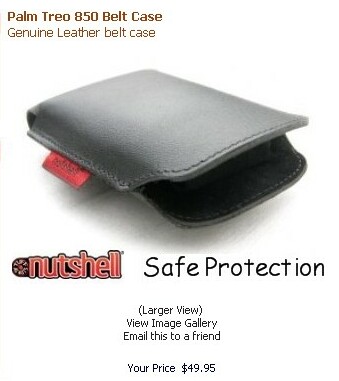 Anyway, I was over at Nutshell's website browsing around, looking to see what all kinds of cases they carry. And they sure do carry a wide variety for several kinds of devices. After looking at some digital camera cases, I went back to the Palm case section. And what did I spot? Why, a listing for a case for the Treo 850! That's the first accessory I've seen so far for the upcoming device. The case looks pretty much identical to the Nutshell Natural Leather for Centro that the TC Store carries.
So seeing an accessory for the 850 just got my drool glands all worked up and I'm getting more excited about the 850's upcoming release. I can't believe that it's July already! So it shouldn't be too long before we start hearing more about the WM Treos and hopefully seeing some juicy leaked shots!
Hey, Happy 4th of July TreoCentral readers!!!! I hope everyone has a great one and a long and relaxing weekend! And thanks for continuing to hop over here and read each day! We love and appreciate all our readers! ;-)
While you're lounging today by the pool or just hanging out in a cool spot, be sure to tune in and listen to today's TreoCentral TreoCast! That's what I'm fix'n to do right now! And if that's not enough audible gadget porn for ya, head over to WMExperts and tune in to their WMExperts Podcast! You'll definitely want to give this one a listen because Dieter and Mal discuss what just may be the final Treo 800w (prerelease) rumor! Hmmm, I think I'll go listen to that podcast first! ;-)
Copyright 1999-2016 TreoCentral. All rights reserved : Terms of Use : Privacy Policy

TREO and TreoCentral are trademarks or registered trademarks of palm, Inc. in the United States and other countries;
the TreoCentral mark and domain name are used under license from palm, Inc.
The views expressed on this website are solely those of the proprietor, or
contributors to the site, and do not necessarily reflect the views of palm, Inc.
Read Merciful by Casey Adolfsson