treocentral.com >> Stories >> Commentary
Google shows PalmSource site to be unclean
Overview
I just received a Google Alert for an interesting article over at The Inquirer. Seems that the folks at The Inquirer discovered that Google is flagging the remnants of a Palm OS software guide as "dangerous" for your computer.
While searching for utilities for the Palm Centro, The Inquirer found that "This site may harm your computer" warning comes attached to almost all results on the applications.palmsource.com web site which is still indexed by Google despite the fact that Access software has stopped using that domain some time ago.
From the article:
As thing stands right now, besides seeing this ominous warning attached to each Google search result, when you click on each URL you are sent to an interceptor web page like this one which reads: "Warning - visiting this web site may harm your computer!". It suggests two alternatives: returning to the previous page or doing another web search. It also warns you that if you proceed, you do so "at your own risk".
Below is a screenshot I took after typing in a search myself.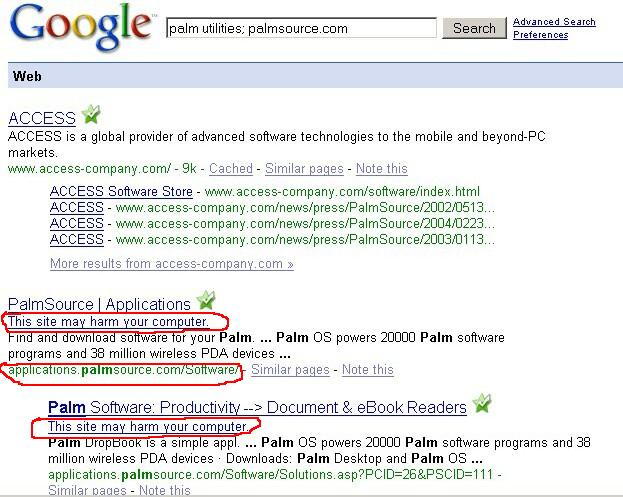 Hmmm, very strange. The Inquirer suspects that it's just a result of Access's mistake in failing to pull the plug on the zombie web site applications.palmsource.com domain name. It's still very odd that Google thinks that a web page with broken links should immediately become a source for malware. The Inquirer says that another option is that someone might be abusing Google's "report malware" web page.
The Inquirer says that they asked Access for comment on the zombie web site and this flagging by Google but they haven't received a reply yet.
If you're looking for Palm software for your Treo or Centro or Palm PDA handheld, you can find plenty at the TreoCentral Store, Palm's Software Store, and PocketGear, formerly PalmGear.
Copyright 1999-2016 TreoCentral. All rights reserved : Terms of Use : Privacy Policy

TREO and TreoCentral are trademarks or registered trademarks of palm, Inc. in the United States and other countries;
the TreoCentral mark and domain name are used under license from palm, Inc.
The views expressed on this website are solely those of the proprietor, or
contributors to the site, and do not necessarily reflect the views of palm, Inc.
Read Merciful by Casey Adolfsson