treocentral.com >> Products & Reviews >> Accessories
Prima Vertical Jacket
---
Thu Jul 17, 2008 - 11:04 AM EDT - By Jay Gross
---
Overview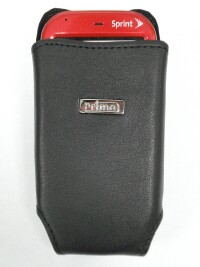 When the weather is a mess, as it often is, you put on a jacket before braving the elements. Prima Cases has a new one for your Centro. Protect it from flying objects and keep its finish out of harmís way while leaving the device ready at a momentís notice to make or take a call. The jacket is a good idea, skillfully executed in Italian leather. Black.
Primaís low-profile Centro Vertical Jacket attaches to your belt, clothing, or book bag strap with a plastic clip. Iím happy to report that the clip is both rotatable and removable. Moreover, when itís removed, only a thin button remains, so itís not too obtrusive in a pocket or purse. The button is permanent, to say the least. Itís embedded and stitched, blazing a trail in immovable. Nice and secure.
The vertical jacketís back is strong, firm, barely bendable, and padded on the outside with leather. The product, which once came in either red or chocolate, is now sold only in black. My review unit is a little deeper shade of red than my (red!) Centro. The inside padding is covered in a black felt-like material. Iím including pictures provided by the manufacturer, since the red model is no longer available.
On the outside, the neatly stitched leather covering, complete with elastic bands on the sides, offers good protection to the Centro.
Neither TreoCentral nor CentroDepot carries this particular item, but you can get it for $24.95 directly from the company. TreoCentral does carry Primaís Nicole Miller Buckle Case for Centro, and that oneís a much sweeter looking case, anyway. Itís $29.95, and comes in ďgrey suede.Ē A brown model is imminent, too.
The Vertical Jacket, unlike the Nicole Miller case, has no top flap. It remains open to the air. Yet, the Centro is unlikely to fall out, since the bands of elastic on the sides hold it in rather snugly. Indeed, the fit is so snug it can be a little challenging to extract the phone in a hurry Ė like when the phoneís ringing Ė while juggling a large decaf and half a blueberry muffin. I tried. Makes me wish for a convent extraction handle like a lanyard or a little nubby antenna like Palmís original Treos. Okay, antennas are passť.
---
Usability and protection
While in the vertical jacket, the Centroís ports and controls stay pretty much inaccessible. You could put it into the case upside down to preserve chargeability and still be able to attach a wired headset Ė Iím sure I just heard someone muttering ďBluetoothĒ Ė but the screen, buttons, and controls remain out of reach till you remove the phone from the caseís clutches. Thereís a benefit to the cover, however, and thatís the potential for resistance to a light rain. No way on a dunk or even a major splash, but a quick run through an errant lawn sprinkler might be okay.
As for a drop (Youíre on your own for all drop testing), the backing plate should take the brunt of most endwise or flat-on-back falls. Unfortunately, thatís not the only way the Centro could hit the ground, and you know whatís said about the jelly side of hurtling toast. Iíll spare you the gory details and simply proclaim that dropping your Centro is unwise, jacket or not.
---
Conclusion
Attached to your person (or not) by a removable clip that rotates, the Prima Cases Vertical Jacket for Centro surrounds your treasure with soft, neatly stitched leather. The product has a luxurious feel, excellent workmanship, and great looks, besides offering good protection from knocks and flying objects.
Criteria

Rating

Design
4
Usability
4
Protection
4
Cost/Benefit
4
Overall
(not an average)

Pros
Quality workmanship and materials

Soft felt lining

Removable, rotating belt clip


Cons
Needs a scooped shape on sides to add grip when removing Centro from jacket

Belt clip needs longer grip for better leverage.
Copyright 1999-2016 TreoCentral. All rights reserved : Terms of Use : Privacy Policy

TREO and TreoCentral are trademarks or registered trademarks of palm, Inc. in the United States and other countries;
the TreoCentral mark and domain name are used under license from palm, Inc.
The views expressed on this website are solely those of the proprietor, or
contributors to the site, and do not necessarily reflect the views of palm, Inc.
Read Merciful by Casey Adolfsson