treocentral.com >> Stories >> Commentary
Dial Up A San Francisco Parking Place
---
Mon Jul 21, 2008 - 9:59 AM EDT - By Jay Gross
---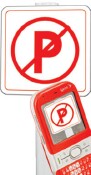 If all the planets are properly aligned, if you're holding your mouth right and if you avoided walking under that ladder, you might, just might, be able to find a parking space in San Francisco. Or anywhere, really, but San Francisco is about to try to help. With your smartphone.
This fall, the city is planning to fit 6,000 of its 24,000 metered parking places with a wireless sensor that transmits the status of the spot, available or (just my luck) occupied. Nearby drivers will be able to find empty spaces by looking at maps on the screens of their smartphones.
According to this story in the The New York Times:
They may even be able to pay for parking by cellphone, and add to the parking meter from their phones without returning to the car. Solving the parking mess takes on special significance in San Francisco because two years ago a 19-year-old, Boris Albinder, was stabbed to death during a fight over a parking space.
"If the San Francisco experiment works, no one will have to murder anyone over a parking space," said Donald Shoup, a professor of urban planning at the University of California, Los Angeles, whose work on the pricing of parking spaces and whether more spaces are good for cities has led to a revolution in ideas about relieving congestion."
In New York, a study released in June by a public transit advocacy group claimed that 28 to 45 percent of traffic on some city streets is generated by people circling the blocks looking for a place to park.
I've been to San Francisco, but I didn't have to find a parking place, as I used cabs and buses the whole time. Whew! I'm very familiar with circling the blocks, though, even in this much smaller city. I see a big problem with the high-tech approach, too. Namely, all the sensors reporting the inevitable: there's no place to park.
Copyright 1999-2016 TreoCentral. All rights reserved : Terms of Use : Privacy Policy

TREO and TreoCentral are trademarks or registered trademarks of palm, Inc. in the United States and other countries;
the TreoCentral mark and domain name are used under license from palm, Inc.
The views expressed on this website are solely those of the proprietor, or
contributors to the site, and do not necessarily reflect the views of palm, Inc.
Read Merciful by Casey Adolfsson